About IQAC
As per National Assessment and Accreditation Council (NAAC) guidelines every accredited institution should establish an Internal Quality Assurance Cell (IQAC) as a pre-accreditation quality sustenance measure. Since quality enhancement is a continuous process, the IQAC becomes a part of the institution's system and works towards realization of the goals of quality enhancement and sustenance.
The prime task of the IQAC is to develop a system for conscious, consistent and catalytic improvement in the overall performance of institutions. AKGEC was accredited by NAAC in 2015 for the first cycle. IQAC established at AKGEC continued to strive for the betterment of processes and setup. The NAAC visited the AKGEC Campus from 22nd to 24th January 2015.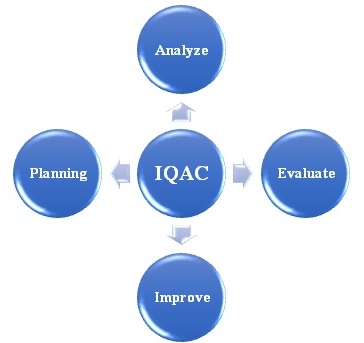 Goals of IQAC
Its aim is to introduce a consistent plan of action that would lead the organization towards progress. It involves preparing strategies for –
* Efficient & timely work processes
* Academic research & programs
* Affordable & innovative approaches
* Use of ICT for modernization of education
* Best assessment process for maintaining quality
* Ensuring the best infrastructure to achieve goals
Benefits of IQAC
The following are the top 10 benefits of IQAC in the NAAC accreditation process.
1. Best Practices: IQAC ensures clarity of the work processes and enables the stakeholders to "re-think" the current work processes.
2. Internalization Of Quality Culture: The continuous assessment patterns make it possible to create an internalization of quality education culture in higher education institutions.
3. Better Collaboration of Departments: IQAC ensures a better collaboration between various departments of the HEIs and eradicates the communication gap with frequent evaluation & feedbacks from the stakeholders.
4. Improved Functioning of The HEIs: With a greater level of transparency & assessments, institutions are able to make better decisions and improve their overall functioning.
5. Proper Documentation: IQAC allows the faculty to properly create authentic documentations & keep their records for future reference in the NAAC assessment process.
6. Encourages R&D: IQAC encourages HEIs to pay attention to R&D and make the faculty future-ready by empowering them.
7. Greater Transparency: IQAC peer team verifies all the documents, evidence, and facts and resolves the challenges faced by the HEIs.
8. Project-Based & Service-Based Learning: Students are taught the value of practical knowledge by involving project-based learning as well as service-based learning.
9. Professional Practices: To help children grow academically as well as develop skills, the IQAC team encourages conducting various programs & lectures of professional experts.
10. Global Platform: Unlike traditional teaching-learning culture, IQAC tries to provide a globalized platform to students by inculcating the "think locally- act globally" mindset.
IQAC Members
 
The composition of the IQAC is as follows
1.
Chairperson
 
Dr. R.K. Agarwal, Director General
2.
Management Member
 
Shri. Vinay Garg
3.
Co-ordinator
 
Dr. P.K. Chopra, Director
4.
Faculty Members
 
Prof. Neelesh Kumar Gupta, ECE Department

Prof. Anil Rai, EN Department

Prof. Pramod Bhatia, ME Department

Prof. Inderjeet Kaur, CSE Department

Asso. Prof. Meenakshi Awasthi, ECE Department

Asso. Prof. Anupama Sharma, IT Department

Asst. Prof. Dushyant Singh Chauhan, ECE Department

Asst. Prof. Richa, ECE Department

Asst. Prof. Abhishek Tiwari, ECE Department

5.
Administrative Officers
 
Mr. Rajeev Mishra, Manager Special Projects

Mr. Pradeep Bhardwaj, Manager Placements

6.
Student Members
 
Ms. Molshree Gupta, 4th Year, CSE branch

Mr. Kavish Agarwal, 4th Year, ECE branch

Mr. Kartikeya Verma, 3rd Year, ECE branch

Ms. Shubhangi Shukla, 3rd Year, CSE branch

7.
Alumni Members
 
Dr. Abhijeet Upadhaya

Mr. Samyak Shukla, R&D Engineer, Synopsis India.

8.
Industry Members
 
Mr. Ashok Singh Tomar, AGM, BSNL, New Delhi

Mr. Rohan Kumar Sudan, Newgen Software Technologies Ltd, Noida, U. P
Annual Quality Assurance Report (AQAR)
Additional Documents
2.6 – Student Performance and Learning Outcomes
2.7 – Student Satisfaction Survey
2.7.1 – Student Satisfaction Survey (SSS) on overall institutional performance.
(Link)
Criteria IV INFRASTRUCTURE AND LEARNING RESOURCES
4.1.2 Details of augmentation in infrastructure facilities during the year
| | |
| --- | --- |
| Description | Link |
| Augmentation in Infrastructure Facilities | LINK |
4.2.2 – Library Services
| | |
| --- | --- |
| Description | Link |
| Library Service Details | LINK |
4.2.3 – E-content developed by teachers such as: e-PG- Pathshala, CEC (under e-PG- Pathshala CEC (Under Graduate) SWAYAM other MOOCs platform NPTEL/NMEICT/any other Government initiatives & institutional (Learning Management System (LMS) etc
| | |
| --- | --- |
| Description | Link |
| E-Content | LINK |
4.4 – Maintenance of Campus Infrastructure
CRITERION VII – INSTITUTIONAL VALUES AND BEST PRACTICES
7.2 – Best Practices
7.3.1 – Provide the details of the performance of the institution in one area distinctive to its vision, priority and thrust.
| | |
| --- | --- |
| Description | Link |
| Institutional Distinctiveness | LINK |
Functions of IQAC
* Setting quality benchmarks with consistent work
* Creating parameters to reach academic as well as non-academic learning goals
* Creating a student-centric teaching-learning environment
* Enabling faculty to efficiently use ICT tools for innovation in education
* Considering the feedback of students, faculty & parents for the best practices
* Organizing various workshops & seminars for the quality education environment
* Documenting all the activities in chronological order & keeping a tab on improvements
* Preparing & submitting one of the most important – Annual Quality Assurance Report (AQAR) as per the instructions of the NAAC