The Sustainable Production Center (SPC) is a startup that was initiated by the Value Education (VE) Cell at AKGEC (Ajay Kumar Garg Engineering College). The center is located at the back of the boy's hostel on the AKGEC campus, covering an area of approximately 27 feet by 18 feet. The center was conceptualized in January 2022, and after a few months of planning, it was finally registered with partnership deeds on July 1st, 2022, with a holistic approach in mind.
The primary objective of the VE Cell in establishing the SPC was to create an eco-friendly and people-friendly production center that not only helps reduce the excessive burden of non-renewable resources on nature but also enriches nature and benefits the local community. The center is committed to preparing products using local resources and labor, in a decentralized production system. The initial product line of the center includes handmade soaps made from Aloe Vera and Neem grown on the campus, with three different types available: Aloe Vera Soap, Aloe Vera Soap with Mogra Fragrance, and Neem Soap that works as a natural scrubber.
The SPC follows a decentralized production system, which offers numerous benefits. Firstly, the center prepares the soaps locally, reducing transportation costs and saving fuel, which ultimately reduces the burden on nature. Secondly, the center uses bio-degradable polythene instead of traditional packaging materials, thereby reducing the cost of the soap and significantly lessening the burden on nature in terms of fuel, paper, and transportation. Thirdly, the center produces soaps based on need, rather than greed. This means that the center only prepares a second lot of soap when the first lot is sold out, and there is no need to create false advertisements. People who use the soap tell each other about the quality of the product, creating a self-sustaining customer base. Lastly, the SPC employs local people and trains them to prepare the soaps, providing employment opportunities and contributing to the local economy. The center is committed to hiring more local people in the future to produce their products.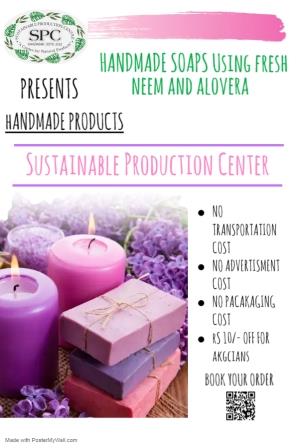 Overall, the SPC is a positive example of how a decentralized production system can benefit both the local community and the environment. By using local resources and labor, and minimizing packaging and transportation costs, the center is creating a sustainable model for producing high-quality products that are beneficial to both people and nature.