Department of Electronics and Communication Engineering at AKGEC was established in 1998. The department provides an outstanding research environment complemented by excellence in teaching. Ever since its inception, the department has been a pioneering academic centre for higher education, research, and innovation in all major areas of Electronics and Communication Engineering.
The Electronics and Communication stream represents two fastest growing technology areas in view of exponential growth taking place in the communication networks in the country. The department is organized in tune with these latest developments in terms of curriculum, well-qualified faculty and the state-of-the-art labs for B.Tech. course in Electronics & Communication Engineering along with M.Tech. course in Electronics & Communication Engineering. Intake of B.Tech. (ECE) course is 180 students and for the M.Tech. course it is 18 students. The department has its technical society-Phoenix. The society organizes quizzes, technical seminars, mock interviews, aptitude tests and technical paper presentation etc for the students. B.Tech. ECE is accredited by National Board of Accreditation (NBA).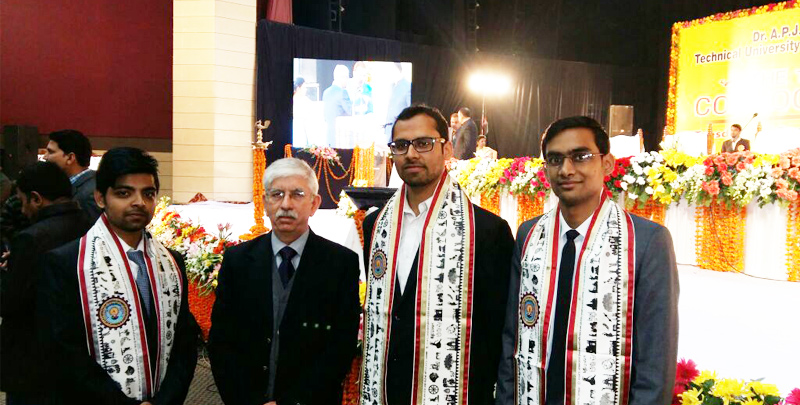 Vision
To supplement intellect with the right skills & knowledge so as to nurture Electronics & Communication experts of tomorrow.
Mission
To enable students acquire the right theoretical and practical Electronics & Communication skills currently in demand which would steer them to become global engineers.
PEOs, POs and PSOs
PEO 1.
Engineering Graduates will excel in Electronics & Communication fields both in the industry and academics by analyzing the requirement technically and applying their knowledge in a professional manner.
PEO 2.
Will enable Engineering graduates effectively solve engineering problems and develop through research advanced Electronics & Communication devices and products.
PEO 3.
Engineering graduates will be capable of applying their knowledge both individually and as part of a team. They will be able to effectively communicate the same through the required media.
PEO 4.
Graduates will be capable of realizing the untoward and hazardous impacts of their contributions/innovations and keep ethical and societal values and responsibilities before individual achievements.
PEO 5.
Keep pace with the ongoing improvements and advancements in the field of Electronics & Communication and not only incorporate but carry forward the same.
Engineering Graduates will be able to:
PO 1.
Engineering knowledge :- Apply the knowledge of mathematics, science, engineering fundamentals, and an engineering specialization to the solution of complex Electronics and Communication Engineering problems.
PO 2.
Problem analysis :- Identify, formulate, review research literature, and analyze complex engineering problems reaching substantiated conclusions using first principles of mathematics, natural sciences, and engineering sciences.
PO 3.
Design/development of solutions :- Design solutions for complex Electronics and Communication Engineering problems and design system components or processes that meet the specified needs with appropriate consideration for the public health and safety, and the cultural, societal, and environmental considerations.
PO 4.
Conduct investigations of complex problems :- Use research-based knowledge and research methods including design of experiments, analysis and interpretation of data, and synthesis of the information to provide valid conclusions.
PO 5.
Modern tool usage :- Create, select, and apply appropriate techniques, resources, and modern engineering and IT tools including prediction and modeling to complex engineering activities with an understanding of the limitations.
PO 6.
The engineer and society :- Apply reasoning informed by the contextual knowledge to assess societal, health, safety, legal and cultural issues and the consequent responsibilities relevant to the professional engineering practice.
PO 7.
Environment and sustainability :- Understand the impact of the professional engineering solutions in societal and environmental contexts, and demonstrate the knowledge of, and need for sustainable development.
PO 8.
Ethics :- Apply ethical principles and commit to professional ethics and responsibilities and norms of the engineering practice.
PO 9.
Individual and team work :- Function effectively as an individual, and as a member or leader in diverse teams, and in multidisciplinary settings.
PO 10.
Communication :- Communicate effectively on complex engineering activities with the engineering community and with society at large, such as, being able to comprehend and write effective reports and design documentation, make effective presentations, and give and receive clear instructions.
PO 11.
Project management and finance :- Demonstrate knowledge and understanding of the engineering and management principles and apply these to one's own work, as a member and leader in a team, to manage projects and in multidisciplinary environments.
PO 12.
Life-long learning :- Recognize the need for, and have the preparation and ability to engage in independent and life-long learning in the broadest context of technological changes in the field of Electronics and Communication.
PSO 1.
Graduates of the program will be able to analyze real world engineering problems in the field of Electronics and Communication engineering.
PSO 2.
Graduates of the program will be able to design and develop systems/processes based on core concepts of Electronics and Communication engineering to provide solution to multidisciplinary engineering problems.
HOD
Gp. Capt. (Dr.) Pradeep Kumar Chopra (R),VSM entered the field of education in the year 2004 after 24 years of exemplary service in the technical branch of the Indian Air Force. He earned his Bachelors degree in Engineering (Electronics) from Delhi College of Engineering in the year 1979 and Masters in Technology from IIT Delhi in the year 1985. He also graduated from the prestigious Defence Services Staff College, Wellington and earned Masters degree in Defence Studies in the year 1993 from Madras University. While he was in the Indian Air Force he was part of, and headed, a number of important technical projects. For his exemplary services he was awarded "Vishist Seva Medal" by the President of India for engineering skills of highest order in the year 1993. He took voluntary retirement from the IAF in the year 2004 and entered the field of education. He has done his Ph.D in the field of 'Electronics & Communication Engineering' from the prestigious G.G.S.I.P University, New Delhi. Presently he is the Dean and Head of Department of Electronics & Communication Engineering and Electronics & Instrumentation Engineering. His areas of specialisation are Radar and Satellite Communication. He is Fellow of Institution of Electronics & Telecommunication Engineers, New Delhi. He is also an expert of National Board of Accreditation (NBA) in new system of outcome based education under Washington accord for Tier-I and Tier-II. Inspect Engineering colleges for NBA accreditation for UG/ PG Engineering courses as specialist member of NBA accreditation team.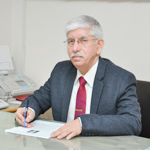 Prof. (Dr.) Pradeep Kumar Chopra
BE, MSc, M.Tech & Ph.D
09350023027 / 09810489479
hodece@akgec.ac.in, pradeepkchopra@gmail.com
ECE Faculty
ECE Department faculty members are motivated and encouraged for pursuing higher qualifications and attending Seminars / Workshops / Conferences and Faculty Development Programs in concerned Technical as well as Non-Technical areas.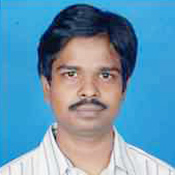 Dr. Kousik Midya
Assistant Professor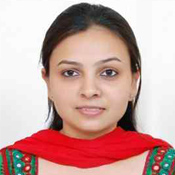 Ms. Sakshi Mittal
Assistant Professor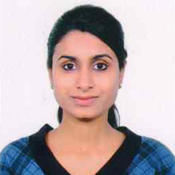 Ms. Nilufar Yasmin
Assistant Professor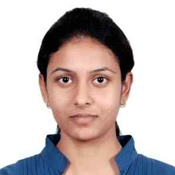 Ms. Swati
Assistant Professor
Labs
Utilization and Ambience of ECE Department Laboratories through Photographs
Departmental Activities
A number of Technical Activities are organized by ECE Department on regular basis for the overall devlopment of Faculty, Staff Members and Students of the department.
Departmental Society
Phoenix, the student society associated with the department of Electronics and Communication Engineering, was formed on 20th September, 2005 by a group of six motivated students of batch 2006.