Indian Society for Technical Education
The Indian Society for Technical Education (ISTE) is a national, professional, non-profit making Society registered under the Societies Registration Act 1860. It was first started in 1941 as the Association of Principals of Technical Institutions (APTI) and converted into "Indian Society for Technical Education" in 1968 with a view to enlarge its activities to advance the cause of technological education.The major objective of ISTE is to assist and contribute in the production and development of top quality professional engineers and technicians needed by the industries and other organisations.
Being the only national organisation of educators in the field of Engineering and Technology, ISTE effectively contributes in various missions of the Union Government. The Ministry of Human Resource Development, AICTE/DST/MIT/State Govts. are well associated with the ISTE for programmes related to technical education.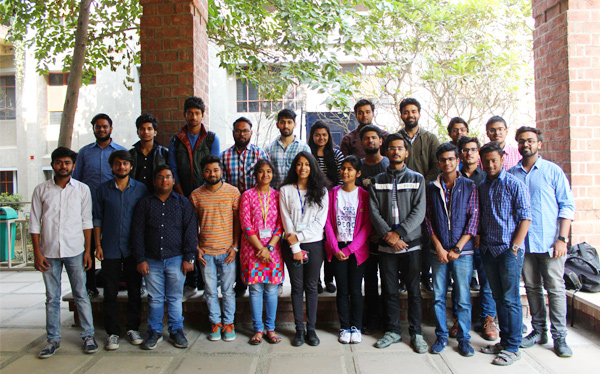 ISTE is a professional organization basically comprising of academicians,faculty & students of countrywide engineering colleges. ISTE is primarily setup for promotion of higher studies & technical education and carries out (directly or through its various chapters) the following activities:
Publication of bi – monthly magazine / newsletter.
ISTE / AICTE sponsored courses / seminars on relevant and state-of-the-art subjects/ topics through summer / winter schools / workshops.
Holding of annual National Convention of faculty / students.
Conduct of national Seminar regarding awards of faculty / students for technical competence / innovation / research work done.
Awards of best M.Tech. thesis in various branches of engineering.
Best student of each chapter award, annually.
Faculty and student Chapter of ISTE been functional in the college from july 2015 onwards. ISTE students have been actively involved in organizing and coordination of ISTE activities. The ISTE students organized an Inter College Technovation in four different domains on 8 April 2017 during the Even Semester (2016-17).
The ISTE students organized a workshop on Promotional Activities for Entrepreneurship during the academic year. The Chapter organized an inter college "ISTE Symposium 15" on 21 Feb 2015. The symposium provided a common platform to engineering students of various streams of the engineering colleges of NCR to think and act towards providing, designing and structuring the various concepts/ideas to make India's villages situated in coastal areas, hilly terrain and plain land, the real smart ones.
ISTE Student Chapter of AKGEC aims at enlarging its activities to advance the cause of quality technical education in the college. Providing guidance and training to students to develop better learning skills, pleasing personality and industry ready engineering professionals, are the key result areas of the College ISTE Student Chapter. For efficient and result oriented functioning of the society, interview is conducted every year to select society coordinators from all the engineering branches of the college . The society is presently having 422 members from all the branches of the college.

HEAD COORDINATOR
ADITYA PATEL
ME

CORE COORDINATOR
MUKUL GOYAL
IT

CORE COORDINATOR
PULKIT SAXENA
CE

STUDENT SECRETARY
AVINASH RAI
CSE

CORE COORDINATOR
VIVEK SINGH
CSE

CORE COORDINATOR
UTKARSH VARMA
IT

CORE COORDINATOR
SWETANK ASIT SRIVASTAVA
ECE

CORE COORDINATOR
ARIHANT JAIN
IT