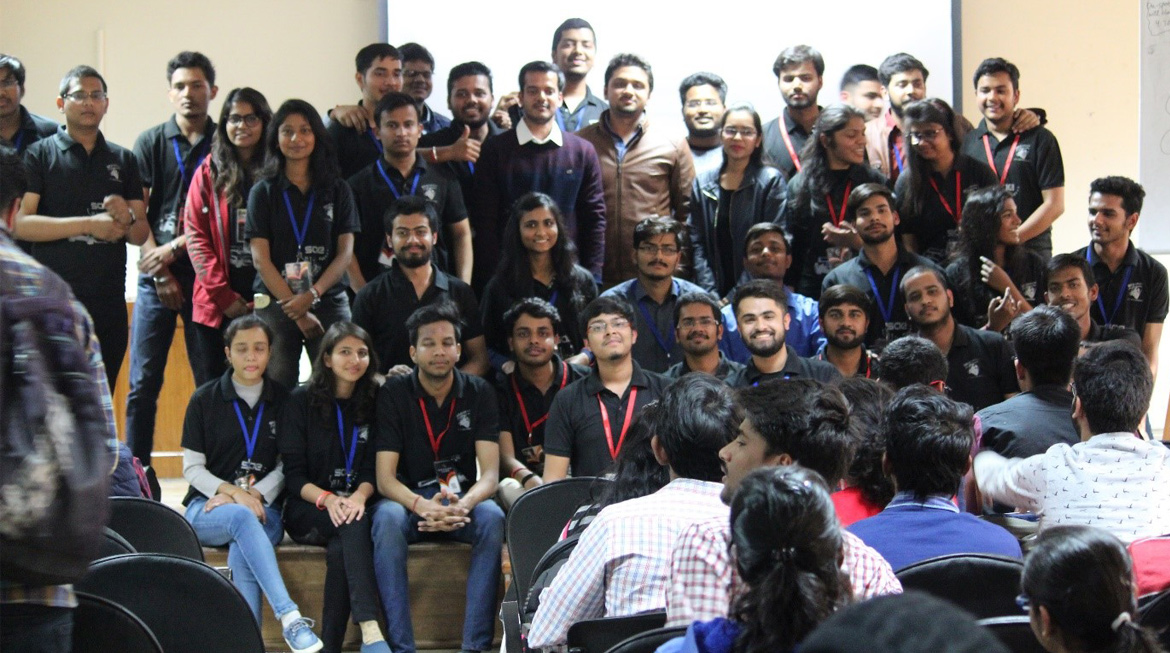 Founded in 1994, is an affiliate society of SAE International, registered as an Indian non-profit engineering and scientific society dedicated to the advancement of mobility community in India. As an individual member driven society of mobility practitioners, SAE INDIA comprises members who are individuals from the mobility community, which includes engineers and executives. Principal emphasis is placed on transport industries such as automotive, aerospace, and commercial vehicles. SAE India holds a variety of competitions every year for engineering students across the country.
SUPRA SAE India Student Formula
EFFI Cycle
The SAE Collegiate Club AKGEC organized the AACAR 8.0 workshop on 13th and 14th May 2023, with the primary aim of fostering awareness about automobiles among junior participants. The event, held in the Main Seminar Hall, focused on providing participants with comprehensive theoretical knowledge about automobile components and systems, supplemented by practical demonstrations. With SAE's commitment to engineering innovation, the workshop aimed to bridge the gap between theoretical learning and practical application.
Over the two-day workshop, participants were immersed in a rich learning experience. Theory sessions covering chassis, brakes, transmission systems, engine, suspension, steering and electronic system. Practical demonstrations included the disassembly and reassembly of Maruti's K12MN engine, showcasing the inner workings of the engine, featuring demonstrations of Ambassador's gearbox overhaul, braking system functionality, and chassis concepts using a Swift Dzire, along with presentations on power steering and electronic components. The event concluded with a quiz competition and introductions of mentors and coordinators, fostering a holistic learning experience.
In conclusion, the AACAR 8.0 workshop successfully delivered a comprehensive understanding of automobile systems through theoretical sessions and hands-on demonstrations. The event not only deepened participants' knowledge but also inspired them to think innovatively and practically, aligning perfectly with SAE – AKGEC's commitment to promoting engineering creativity and application.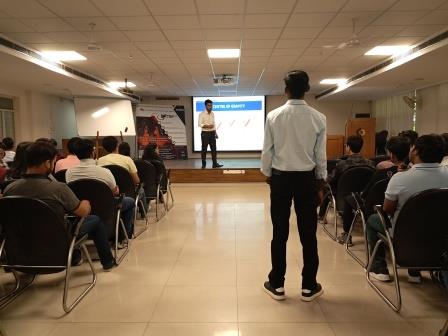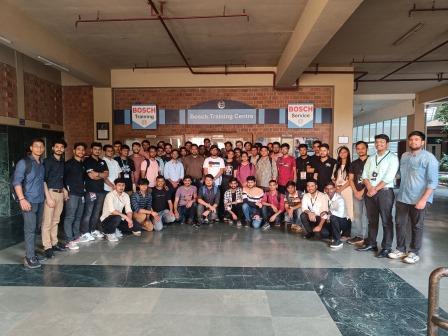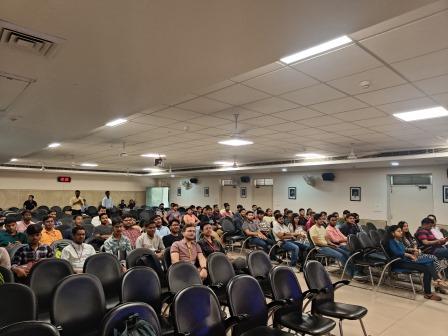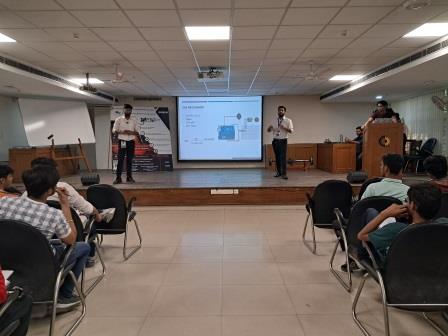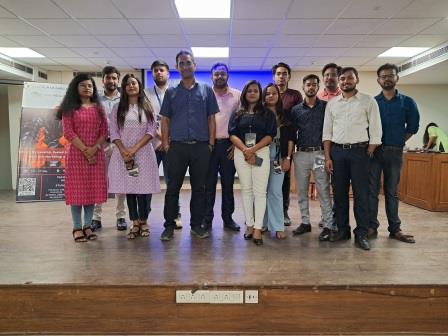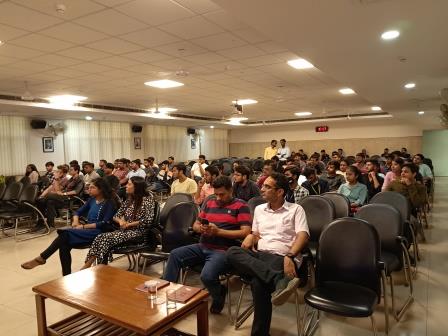 AACAR :- The main agenda of the workshop is to provide the students with a deep insight into the exciting world of automobiles. The workshop is about making students aware of the possibilities and advancements that can be achived and the multi domain innovation in the world of cars. The workshop is orgnised in the month of FEB. of every year.
INNOVACION :- The workshop challenges young minds to learn, compete and provides a platform to be an innovator. The workshop is about making students aware of the possibilities that exist with micro-controllers (Arduino) and Sensors. We want to encourage the students to think, create and be the change maker. The workshop is orgnised in the month of FEB. of every year.
SAE Collegiate Club AKGEC Team Bravado Motorsport participated in the SAE-INDIA SUPRA 2023, A National level engineering student competition organized by Maruti Suzuki India, during 10th July -13th July 2023 at Buddh International Circuit. Teams from various engineering colleges from all over India participate and engage in designing and fabricating open wheel formula-style vehicles powered by 610cc engines. The event provided a platform for young engineers to gain hands-on experience and compete in technical inspections, static (presentation-based) events, and dynamic challenges. The day wise description of the event is as follows.
Day 1 & 2, after registration and paperwork, the team set up in their designated pit area to prepare the vehicle for the Technical Inspection (TI) round. The TI round assessed vehicle safety and adherence to rules. involved multiple rounds of technical inspections. The team worked diligently to meet the stringent criteria, leading to a successful technical inspection by the end of the day.
Day 3 marked the noise and brake tests, essential for qualification. Despite initial challenges with the engine, the team's perseverance prevailed, but an electrical fault during the noise test barred them from dynamic events and the endurance run. Despite setbacks, the team demonstrated sportsmanship at the award ceremony and shared valuable takeaways.
While not achieving their intended goal, Team Bravado Motorsport's experience at SUPRA 2023 provided a foundation for growth and improvement in future competitions. The event showcased the dedication of young engineers and their commitment to pushing their limits within the realm of automotive innovation.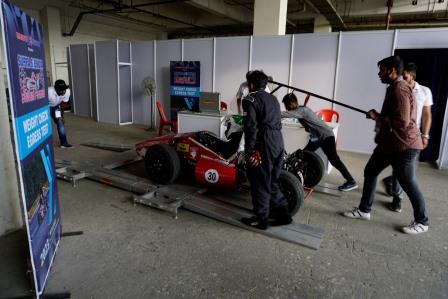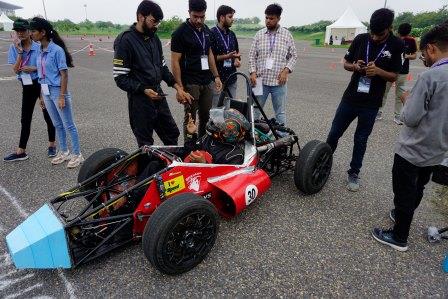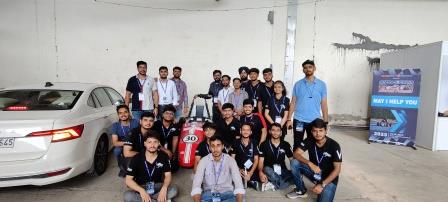 Team Bravado Motorsport is the premier Formula SAE team of AKGEC. It was built under the foundation of combining the simple ideals of innovation, clever design, and manufacturing to the highest caliber.
Even though having a successful competition is our end goal, our primary focus is to give our members a fun engineering and team experience to prepare for their futures in the workforce developing a fearless attitude and being ready to face any challenges.
Our motto is "Brave Like Bravado "!!
Members:
Utilizing a state-of-the-art machine shop & Fronius Welding Centre available in our college and a highly skilled team of dedicated engineering students, who are not only from Mechanical but also from Electrical/Electronics, IT, and CS domains, we mainly participate in SUPRA and Effi-cycle(Effi-Que) events to showcase our skills.
The Effi-Que was organized this year from 22nd November to 25th November 2022, at Lovely Professional University, Jalandhar, Punjab.
Our team consists of various domains: Suspension & Chassis, Brakes, Transmission, Steering, Electrical & Powertrain, and Project Management & Media. Each one has its projects that contribute to the team running smoothly and completing our car; you can find some of their work showcased here, on our website, or our Instagram!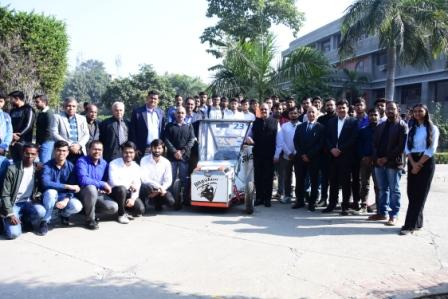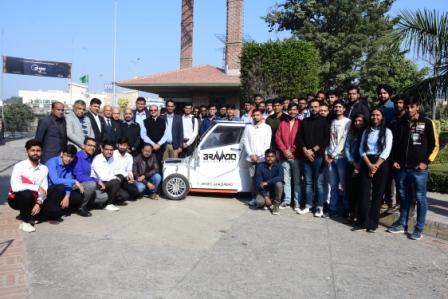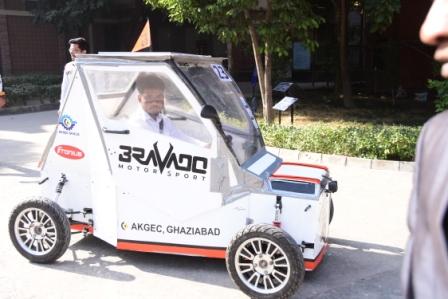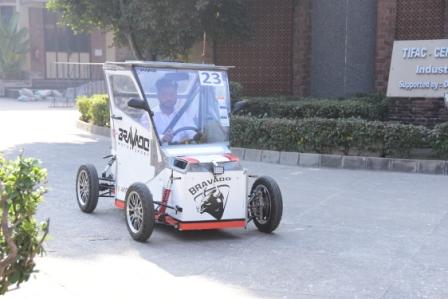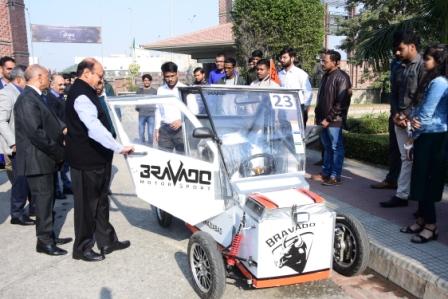 EFFICAR :- A fuel-efficient car conserves fuel by means of its construction and forward-thinking technologies, including a variety of advanced power train designs. Vehicle construction can be a major factor in fuel efficiency. A fuel-efficient car design often includes sturdy yet lightweight materials that help reduce the vehicle's overall weight. Lighter vehicles require less power for movement, thus consuming less fuel than heavier models.
EFFICYCLE :- EFFI-CYCLE derived from Efficient-Cycle promotes the objective of providing opportunity to the students to conceive, design and fabricate a three-wheel configuration vehicle powered by human-electric hybrid power and capable of seating two passengers catering to the day to day mobility needs. The vehicle must be aerodynamic, engineered for performance & safety and ergonomically designed. The objective is to promote innovation and generate consciousness amongst the young engineers towards environment friendly mobility solution. The student of have won the grade ability award in 2017.
SUPRA :- SAEINDIA, the Indian chapter of the Society of Automotive Engineers, has been organizing the event for its sixth consecutive year, which sees students from engineering colleges across the country battle it out against each other in their quest to apply their technical knowledge on the ground by conceptualizing and developing a formula racing car. Guided by a standard rule book, the Formula Supra requires teams to build a single-seat race vehicle, using an engine having a maximum capacity of 610cc. With numerous other guidelines over the construction, dynamics and safety of the vehicle, students attempt their hands at designing the car by utilizing various computer aided tools like CATIA, Unigraphics, ANSYS, etc. The student of have won the Best INNOVATION Award in 2016
FIRST Runner-up at International Go-Kart Championship (2015)
Dronacharya Award (SAE Supra 2015)
BEST CAE Award (Effi-car, 2016)
Best INNOVATION Award (SAE Supra 2016)
SECURED 20th POSITION AMONG 105 TEAMS AT SAE-NIS EFFI-CYCLE 2016 (FIRST TIME PARTICIPATION).
The student of have won the GRADEABILITY award in 2017.