International Conference/ National Conference (2019-20)

Faculty Name

Date

Conference Name

Paper Title

ISBN No.

Dr. Sachin Kumar

8/11/2019-09/11/2019

ITBT '19

A REVIEW : USER REMOTE AUTHENTICATION FOR SMART CARD

Mr. Vikas Kamra

8/11/2019-09/11/2019

ITBT '19

Design of an Innovative Clinical Strategy for a Specified Articulate Illness Model Based on AI

Dr. Vikas Goel

8/11/2019-09/11/2019

ITBT '19

Evolution of Hashing Indexing Techniques for Wireless Data Broadcast

Ms. Lipika Goel

8/11/2019-09/11/2019

ITBT '19

A Literature Review on Cross Domain Sentiment Analysis Using Machine learning Method

Dr. Sonam Gupta

8/11/2019-09/11/2019

ITBT '19

A Literature Review on Cross Domain Sentiment Analysis Using Machine learning Method

Mr. Pradeep Gupta

8/11/2019-09/11/2019

ITBT '19

Trusted Authentication Scheme using Anonymity for Wireless Enviroment

Mr. Dharmendra Kumar

8/11/2019-09/11/2019

ITBT '19

A Survey on Image Segmentation Techniques

Mr. Rohit Vashishth

8/11/2019-09/11/2019

ITBT '19

Future of Blockchain in Digital Market

Ms. Shiva Tyagi

8/11/2019-09/11/2019

ITBT '19

Software reliability analysis model

Mr. Ajay Kumar

8/11/2019-09/11/2019

ITBT '19

Ranking of Software Testing Tools Using Functional Metrics

Ms. Jaishree Jain

8/11/2019-09/11/2019

ITBT '19

Fog Computing: An Energy Efficient Computational Platform for Resource Provisioning

Mr. Jaykant Pratap Singh Yadav

8/11/2019-09/11/2019

ITBT '19

A Short Review on Tomato maturity Classification

Mr. Rajeev Singh

8/11/2019-09/11/2019

ITBT '19

Survey on Solving Bounded-Diameter Minimum Spanning Tree Problem

Mr. Bihari Nandan Pandey

8/11/2019-09/11/2019

ITBT '19

A Survey of Optimization Techniques for Satellite Image Segmentation using entropy based multi level thresholding

Ms. Arti Pandey

8/11/2019-09/11/2019

ITBT '19

Huffman Encoding Scheme for DNA based Efficient Storage

Ms. Priyanka Gaba

8/11/2019-09/11/2019

ITBT '19

Blockchain Technology in Healthcare

Ms. Lipika Goel

8/11/2019-09/11/2019

ITBT '19

Recommender Systems Overview and its Application in Recommending Research Papers

Dr. Sonam Gupta

8/11/2019-09/11/2019

ITBT '19

Recommender Systems Overview and its Application in Recommending Research Papers

Ms. Lipika Goel

8/11/2019-09/11/2019

ITBT '19

A Study on Sentiment Analysis for Depression Detection

Dr. Sonam Gupta

8/11/2019-09/11/2019

ITBT '19

A Study on Sentiment Analysis for Depression Detection

Mr. Santosh Kumar Upadhyay

8/11/2019-09/11/2019

ITBT '19

A Survey on Crop Yield Prediction using efficient Machine Learning Approaches

Ms. Monika Agarwal

8/11/2019-09/11/2019

ITBT '19

A New Text Steganographic Method Using Vowels

Dr. Charu Agarwal

8/11/2019-09/11/2019

ITBT '19

HSA based Image Watermarking

Mr. Akhilesh Verma

8/11/2019-09/11/2019

ITBT '19

Fingerprint Presentation Attack Detection Approaches in Open-Set Problem Scenario

Ms. Nishu Bansal

8/11/2019-09/11/2019

ITBT '19

Anomaly Detection Using Data Analytics v 1.1

Dr. Pratima Singh

8/11/2019-09/11/2019

ITBT '19

REVIEW PAPER ON ELECTRICITY CONSUMPTION PREDICTION USING
MACHINE LEARNING TECHNIQUE

Ms. Neha Bagwari

8/11/2019-09/11/2019

ITBT '19

IOT and Big Data in Vehicle Telematics

Ms. Priyanka Upadhyay

8/11/2019-09/11/2019

ITBT '19

Web content distributed data mining

Mr. Anuj Kumar Dwivedi

8/11/2019-09/11/2019

ITBT '19

RELATIONAL DATABASES WATERMARKING TECHNIQUE BASED ON RANDOMIZED MARK EMBEDDING

Dr. Vikas Goel

Oct-19

ELSEVIER International Conference ICRTCCNT'19, Chennai

A Comprehensive Comparative study of various methods of Information Dissemination Access

Ms. Lipika Goel

2019

Springer , International Conference on Micro-Electronics and Telecommunication Engineering(ICEMETE)

Cross Project Defect Prediction using PCA and Ensemble Learning Approach
International Conference/ National Conference (2018-19)

Faculty Name

Date

Conference Name

Paper Title

ISBN No.

Ms. Lipika Goel

18/04/2019-19/04/2019

Internet of Things Smart Innovation and usages 2019

Substantiation of software defect prediction using statistical learning: An empirical study

Dr. Sonam Gupta

18/04/2019-19/04/2019

Internet of Things Smart Innovation and usages 2019

Substantiation of software defect prediction using statistical learning: An empirical study

Mr. B.N. Pandey

28/12/2018-29/12/2018

IEEE International Conference on Advance Computation and Communication (ICACAT 2018)

A Literature survey of optimization techniques for satellite image segmentation

Mr. Vikas Kamra

10/01/2019-11/01/2019

9th International Conference on Cloud Computing, Data Science & Engineering (Confluence-2019) held at Amity University, Noida

Formulation of an Elegant Diagnostic Approach for an Intelligent Disease Recommendation System

Ms. Lipika Goel

31/10/2018-01/11/2018

5th International Symposium on Innovation in Information and Communication Technology (ISIICT 2018)

Implementation of Data sampling in class imbalance learning for Cross Project defect prediction: An Empirical study

Dr. Sonam Gupta

29/11/2018 - 30/11/2108

National Conference on Intelligent Computing, Communication and Data Science

Improved image stegnography using LSB

Dr. Arun Kumar Yadav

29/11/2018 - 30/11/2108

National Conference on Intelligent Computing, Communication and Data Science

An overview on Soft Computing

Mr. Jay Kant Pratap Singh Yadav

29/11/2018 - 30/11/2108

National Conference on Intelligent Computing, Communication and Data Science

An overview on Soft Computing

Dr. Sonam Gupta

02/11/2018 - 04/11/2108

UPCON-2018

Online food court payment system using

block chain

technology

Dr. Arun Kumar Yadav

02/11/2018 - 04/11/2108

UPCON-2018

Online food court payment system using

block chain

technology
International Journal/ National Journal (2018-19)

Faculty Name

Year, Vol. No.,page no. Year

Journal Name

Paper Title

ISSN No.

Dr. Sonam Gupta

2019,Volume 8, Issue 3,pp. 257-262

International Journal of Engineering and Advanced Technology

Identification of file and directory level near-miss clones for higher level cloning

2249-8958

Dr. Sachin Kumar

2018, Volume 118, Issue 20, pp. 1059-1066

International Journal of Pure and Applied Mathematics(Scopus Indexed)

Novel additive increase and multiplicative decrease algorithm for congestion control in TCP

1311-8080

Dr. Sachin Kumar

2018, Volume 77, Issue 12

Telecommunications and Radio Engineering

NuFish: A Phish detection in cloud services

0040-2508

Ms. Lipika Goel

In press

International Journal of Computer Aided Engineering and Technology (IJCAET) INDERSCIENCE (Accepted),2018

An empirical analysis of the statistical learning models for different categories of Cross Project Defect Prediction

-
International Conference/ National Conference (2017-18)

Faculty Name

Date

Conference Name

Paper Title

ISBN No.

Mr. Shashank Sahu

14/03/2018 - 16/03/2108

12th INDIACom-2018,

Computing for Sustainable Global Development

Adaptive Traffic Signal Control System using Three parameter based on Fuzzy Logic

Dr. Vikas Goel

9/03/2018-10/03/2018

ITBT-2018

Sentiment Analysis of Twitter Data

Ms. Swimpy Pahuja

9/03/2018-10/03/2018

ITBT-2018

Cloud Computing: VM Allocation and Selection

Dr. Arun Yadav

9/03/2018-10/03/2018

ITBT-2018

Re-order Code Clone Detection at File level

Ms. Sonam Gupta

9/03/2018-10/03/2018

ITBT-2018

Re-order Code Clone Detection at File level

Ms. Shiva Tyagi

9/03/2018-10/03/2018

ITBT-2018

Calculating the reliability of software based on the characteristics of quality quantification

Mr. Shashank Sahu

9/03/2018-10/03/2018

ITBT-2018

Dual Variable Adaptive Traffic Signal System

Dr. Sachin Kumar

9/03/2018-10/03/2018

ITBT-2018

Comparative Study of Encryption Algorithms

Mr. Rohit Vashisht

9/03/2018-10/03/2018

ITBT-2018

Energy Optimization at a Cloud Datacenter through Live Migration of Virtual Machines Using Dynamic Threshold Policy

Mr. Rajeev Singh

9/03/2018-10/03/2018

ITBT-2018

A Study On Distributed Shared Memory

Ms. Nishu Bansal

9/03/2018-10/03/2018

ITBT-2018

Hierarchical Temporal Memory : Numenta's initiative to replicate neocortex in silicon for Artificial General Intelligence

Ms. Nisha

9/03/2018-10/03/2018

ITBT-2018

MEDICAL IMAGE ENHANCEMENT

Ms. Neeti Pahuja

9/03/2018-10/03/2018

ITBT-2018

EMOTION RECOGNITION FROM SPEECH

Ms. Lipika Goel

9/03/2018-10/03/2018

ITBT-2018

Institutional Repositories: A Comparative Study

Dr.Inderjeet Kaur

9/03/2018-10/03/2018

ITBT-2018

Smart Garbage Monitoring Using IoT

Ms. Heena Rani

9/03/2018-10/03/2018

ITBT-2018

The Internet of Things: providing a platform for change in Healthcare Industry

Ms. Garima Modi

9/03/2018-10/03/2018

ITBT-2018

Customization of Dspace: An Institutional Repository

Ms. Gargi Amoli

9/03/2018-10/03/2018

ITBT-2018

Web Access Management and Principles of Access Control- A Review

Ms. Divya Gupta

9/03/2018-10/03/2018

ITBT-2018

Resolving Pattern Ambiguity for English to Hindi Machine Translation Using Wordnet

Mr. Dharmendra Kumar

9/03/2018-10/03/2018

ITBT-2018

High Payload audio watermarking algorithm based on lifting scheme

Mr. Dharmendra Kumar

9/03/2018- 10/03/2018

ITBT-2018

Blind Image Watermarking Technique Using Optimized Edge Detection Algorithm in Contourlet Domain

Ms. Deepti Singh

9/03/2018- 10/03/2018

ITBT-2018

A Survey: Emerging Technologies to Enhance Information Security

Ms. Deepika Varshney

9/03/2018-10/03/2018

ITBT-2018

A Survey on Phishing Detection Techniques

Mr. Deepak Rai

9/03/2018-10/03/2018

ITBT-2018

Evolution of Intelligent Computer Systems

Mr. Bihari Nandan Pandey

9/03/2018-10/03/2018

ITBT-2018

Color Image Segmentation Techniques Using Multilevel Thresholding

Dr. Arun Kumar Yadav

9/03/2018-10/03/2018

ITBT-2018

Artificial Neural Networks-A Study

Ms. Sonam Gupta

9/03/2018-10/03/2018

ITBT-2018

Artificial Neural Networks-A Study

Mr. Akhilesh Verma

9/03/2018-10/03/2018

ITBT-2018

Biometric Recognition

Ms. Divya Gupta

9/03/2018-10/03/2018

ITBT-2018

Autodidactic Deep Learning for Handwritten Character Recognition

Mr. Ajay Kumar

9/03/2018-10/03/2018

ITBT-2018

Evaluation of Software Testing Tools Based on Functional Metrics

Mr. Dharmendra Kumar

22/02/2018-23/02/2018

International Conference on signal processing and integrated networks (SPIN 2018), Amity University, Noida

Blind audio watermarking using adaptive quantization and

lifing

wavelet transform

Mr. Dharmendra Kumar

22/02/2018 - 23/02/2018

International Conference on signal processing and integrated networks (SPIN 2018), Amity University, Noida

Robust image watermarking technique using contourlet transform and optimized edge detection algorithm

Mr. Rajeev Singh

6/02/2018- 8/02/ 2018

IEEE International Conference on Recent Advances in Engineering, Technology

and

Computational Sciences, Shepherd Institute of Engineering & Technology, Allahabad

Similarity Detection in Biological Sequences using Parameterized Matching and Q-gram

Dr. Arun Kumar Yadav

4/01/2018- 06/01/2018

M3HPCST-2018

Improved Method of Steganography usinh modified LSB Technique

Ms. Shiva Tyagi

23/11/2017-25/11/ 2017

RAACE 2017

A Comprehensive Study Elaborating OSS: Understanding OSS Step-by-Step

Ms. Lipika Goel

26/10/2017-28/10/2017

4th IEEE Uttar Pradesh Section International Conference on Electrical, Computer

and

Electronics ,

GLA University, Mathura

A Literature Review On Cross Project Defect Prediction

Dr. Inderjeet Kaur

12/10/2017-14/10/2017

REDSET-2017

Real Time traffic Density and Pollution control measures in Urban Areas

Mr. ShashankSahu

22/09/2017

6thInternational Conference on Reliability Infocom technology and Optimization (ICRITO'2017)

Finding similarity in articles using various clustering technique

Mr. ShashankSahu

2/03/2017

6thInternational Conference on Reliability Infocom technology and Optimization (ICRITO'2017)

Finding similarity in articles using various clustering technique
International Journal/ National Journal (2017-18)

Faculty Name

Year, Vol. No.,page no. Year

Journal Name

Paper Title

ISSN No.

M

s. Nishu Bansal

Volume III, Issue IV, pp. 28-30, April 2018

International Journal of Research and Innovation in Applied Science

(IJRIAS)

Dynamic Memory Network Approach to Question Answering

Ms. Nishu Bansal

Volume III, Issue IV, pp. 28-30, April 2018

International Journal of Research and Innovation in Applied Science

(IJRIAS)

Question Answering using Dynamic Memory Network

Mr. Deepak Rai

Volume 39, Issue I, pp, 275-283, November 2017

JIOS, T&F

A review on Parameterized String Matching Algorithms

2169-0103

Mr. Shashank Sahu

Vol 5 issue IX

IJRASET

Comparison on distance measure of clustering techniques for finding similarity in articles

2321-9653

Mr. Shashank Sahu

Vol 20 issue 4

Journal statistic and management system (Special issues: machine learning and software system) ECS1 index

A Novel OLDA evolving agent architecture

0972-0510

Ms. Shiva Tyagi

Vol. 38 Issue 6, Page 971-988, October 2017

JIOS, T&F

Understanding the Nitty-Grities of Software Reliability ordits testing procedure: A different approach

2169-0103

Dr. Sachin Kumar

Vol. 38 Issue 6, Page 971-988, October 2017

JIOS, T&F

Understanding the Nitty-Grities of Software Reliability ordits testing procedure

2169-0103

Dr. InderjeetKaur

Vol. 5 Issue 6, Page 5504-5507,September 2017

IJSRM

A Review analysis of Parametric optimization Based studies in VANET

2321-3418
International Conference/ National Conference (2016-17)

Faculty Name

Date

Conference Name

Paper Title

ISBN No.

Dr. Sachin Kumar

5/05/2017-6/05/2017

ICCCA-17

Comparative study of TCP variants for continuous control in wireless network

Mr. Shashank Sahu

27/03/2017-29/03/2017

International Conference on Smart technologies in computer and communication (SMARTTECH-2017)

A novel OLDA revolving agent

Ms. Sonam Gupta

10/03/2017-11/03/2017

International Conference on Inventive Communication and Computation Technologies (IEEE ICICC-2017)

Detection of near miss clones using metrics and abstract syntax trees

Dr. Vikas Goel

17/02/2017- 18/02/2017

ITBT'17

Review On Cooperative Load Balancing and Dynamic Channel Allocation for Cluster-based Mobile Ad Hoc Networks

Dr. Inderjeet Kaur

17/02/2017-18/02/2017

ITBT'17

A Review of Fault Tolerance Routing protocols in Mobile Ad-hoc Networks

Divya Gupta

17/02/2017-18/02/2017

ITBT'17

An Overview of Feature Extraction and Feature Selection Techniques for Hindi Character Recognition

Akhilesh Verma

17/02/2017- 18/02/2017

ITBT'17

Recent Advancement In Biometric Security For Fingerprint Template Security

Sonam Gupta

17/02/2017-18/02/2017

ITBT'17

Image steganography using modified LSB method

Arun Yadav

17/02/2017-18/02/2017

ITBT'17

Image steganography using modified LSB method

Sonam Gupta

17/02/2017-18/02/2017

ITBT'17

Improved method of image steganography using 2D Haar DWT

Arun Yadav

17/02/2017-18/02/2017

ITBT'17

Improved method of image steganography using 2D Haar DWT

Shashank Sahu

17/02/2017-18/02/2017

ITBT'17

Generation of Test Paths using Genetic Algorithm

Dr. Vikas Goel

17/02/2017-18/02/2017

ITBT'17

Comparative Study between various Air Indexing Techniques used on Wireless Data Broadcast Communication

Deepak Rai

17/02/2017- 18/02/2017

ITBT'17

Critical Review on Multiple Sliding Window based Pattern Matching Algorithms

Sonam Gupta

17/02/2017-18/02/2017

ITBT'17

Near- miss Code Clone Detection

Shashank Sahu

17/02/2017-18/02/2017

ITBT'17

Approaches for estimation of software testing effort comparative analysis

Dr. Vikas Goel

17/02/2017-18/02/2017

ITBT'17

Analysis of Air Indexing Schemes for Data Broadcasting on Wireless Channels

Divya Gupta

17/02/2017-18/02/2017

ITBT'17

Supporting Large English-Hindi Parallel Corpus using Word Alignment

Nishu Bansal

17/02/2017-18/02/2017

ITBT'17

Knowledge Discovery in Database: Data Mining

Akhilesh Verma

17/02/2017-18/02/2017

ITBT'17

A Survey on Content-Based Image Indexing and Retrieval Techniques

Shiva Tyagi

17/02/2017- 18/02/2017

ITBT'17

Solid State Drive

B.N Pandey

17/02/2017- 18/02/2017

ITBT'17

Image Retrieval Process using high level images

Dharmendra Kumar

17/02/2017-18/02/2017

ITBT'17

A Study on software testing Automation

Deepti Singh

17/02/2017-18/02/2017

ITBT'17

Priortization of web pages using genetic algorithm

Neeti Pahuja

17/02/2017-18/02/2017

ITBT'17

Security requirements in cloud computing

Shubhangi Rastogi

17/02/2017-18/02/2017

ITBT'17

Need of parallel computation and interconnection networks

Ajay Kumar

17/02/2017-18/02/2017

ITBT'17

Developing Testability index for ranking different software testing techniques

Rajeev Singh

17/02/2017-18/02/2017

ITBT'17

A study on BDMST Algorithm

Swimpy Pahuja

17/02/2017- 18/02/2017

ITBT'17

Cloud Computing : An Overview

Dr. Sunita Yadav

17/02/2017- 18/02/2017

ITBT'17

Anomaly Detection In Traffic Time Series Analysis

Shashank Sahu

10/02/2017-11/02/2017

3rd International Conference on Computation Intelligence and Communication Technology (CICT) IEEE

Comparison of clustering techniques for measuring similarity in articles

Sonam Gupta

3/02/2017-4/02/2017

Advances in Computational Techniques & Research Practices, NIET Gr. Noida

Geographical Health Analysis using wavelet tree

Arun Yadav

3/02/2017-4/02/2017

Advances in Computational Techniques & Research Practices, NIET Gr. Noida

Geographical Health Analysis using wavelet tree
International Journal/ National Journal (2016-17)

Faculty Name

Year, Vol. No.,page no. Year

Journal Name

Paper Title

ISSN No.

Ms. Sonam Gupta

Vol. 4, Issue 5, May 2017

International Journal of advanced and applied sciences

A novel approach in detecting code clones in Java using DFS

2313-626X

Dr. Arun Yadav

Vol. 11, Issue 7, April 2017

International Journal of soft computing

Empirical Analysis of Live VM migration using KVM analysis

453458

Sonam Gupta

2016, Volume 153 - Number 4

International Journal of Computer Applications (IJCA)

Literature Survey of Software Clones

0975-8887

Arun Kumar Yadav

14 – 15 October 2016

ICSCSE-16

Optimizing Spatial Ambiguities in geographical Information Retrieval

-

Deepak Rai

14 – 15 October 2016

ICSCSE-16

Optimizing Spatial Ambiguities in geographical Information Retrieval

-

Arun Kumar Yadav

Vol 6, DOT: 104018/IJIRR.2016100102

International Journal of Information Retrieval Research

Efficient Textual Web Retrieval Using Wavelet Tree

-

Shubhangi Rastogi

Vol 6 Issue 1, 2016

Springer- SNAM

Comparative Analysis of queueing mechanisms Droptail, RED and NLRED

1869-5450

Sanjeev Prasad

Volume 8, Issue 2

International Journal systems, Control and Communications

April 2017

SMRRP: Scalable Multipath Reactive Routing Protocol for Mobile Ad hoc Networks

1755-9340

Sanjeev Prasad

Volume 9, Issue 1, pp. 1-7

Indian Journal of Science and Technology

December 2016

A Study on Dynamic Address Based Routing Protocols for Mobile Ad hoc Networks

ISSN (Print) : 0974-6846 ISSN (Online) : 0974-5645
International Journal/ National Journal (2015-16)

Faculty Name

Year, Vol. No.,page no. Year

Journal Name

Paper Title

ISSN No.

Ms. Prachi Maheshwari

Vol.9, Issue:6, August 2016

International Journal of theory and application

Comparative study of AODV and AOMOV routing protocol

0974-5572

Ms. Prachi Maheshwari

Vol.4, Issue 5, Page No. 166-170, May 2016

International Journal of Science and Technology

Review of reactive on-demand unipath and multipath routing protocol

2321-919X

Mr. Shashank Sahu

Vol.6, Issue:3, July 2016

International Journal of Soft Computing and Engineering

Similarity of articles using Hierarchial Clustering

0975-8887

Mr. Shashank Sahu

Vol.143,Issue:13, July 2016

International Journal of Computer Applications (IJCA)

Review of traffic signal control based on fuzzy logic

0975-8887

Ms. Kirti Seth

Vol. 34, May 2016

World Applied Science Journal

Effoet estimation of software maintain using software components Tech: A critical literature survey

1818-4952

Ms. Kirti Seth

DOI: 10.5.267/j.ds1.2015.6.005

Growing Sciences

Application of Fuzzy-MOORA method: Ranking of components for reliability estimation of CBSS

1929-5812

Mr. Shashank Sahu

Vol. 139, Issue 8, pg. no.17 -20, April 2016

International Journal of Computer Applications (IJCA)

Fire Evacuation using Ant Colony Optimization Algorithm

0975-8887

Mr. Shashank Sahu

Vol. 140, Issue 2, pg. no.32 - 34, April 2016

International Journal of Computer Applications (IJCA)

Review Paper on Agent Oriented Traffic Coordination

0975-8887

Dr. Sunita Yadav

Vol 10, Issue , pg no. ,Year

Journal of Current Bioinformatics

Searching gapped palindromes in biological sequences using enhanced suffix array

1574-8936

Mr. Vikas Goel

Vol. 40, Issue 7, pg. no. 2129-2142, Dec 2015

Springer-Sadhana

Partial index replicated and distributed scheme for full-text search on wireless broadcast

0973-7677

Mr. Arun Kumar Yadav

Vol. 8, pp1-7, Dec 2015

International Journal of Science and Technology.

Wavelet Tree Based Hybrid Geo-Textual Indexing Technique for Geographical Search

0974-5645

Dr. Mamta Bhusry

Vol. 7, pp 61-72, July-Dec 2015

International Journal of Electrical and Electronics Engineerin

Cloud based automatic accident detection and vehicle management system

2321- 2055

Dr. Inderjeet Kaur

Vol. 7, pp 61-72, July-Dec 2015

International Journal of Electrical and Electronics Engineering

Cloud based automatic accident detection and vehicle management system

2321- 2055

Dr. Sunita Yadav

Vol. 8, pp 1-9, Sept. 2015

International Journal of Science and Technology.

Searching Gapped Palindrome in DNA Sequences Using Dynamic Suffix array

0974-5645

Mr. Vikas Goel

Vol 385, Issue 2, pg no.125-135 , Aug 2015

Springer-Advances in Intelligent Systems and Computing

Distributed Air Indexing Scheme for Full-Text Search on Multiple Wireless Channel

978-3-319-23258-4

Dr. Inderjeet Kaur

Vol. 12, Issue 4, pg. no. 98-106, July, 2015

International Journal of Computer Science Issues (IJCSI)

A Comparative Study on Energy Efficient Routing protocols in Wireless Sensor Networks.

1694-0814 (print)

1694-0784

(online)
| | | | | |
| --- | --- | --- | --- | --- |
| Faculty Name | Date | Conference Name | Paper Title | ISBN No. |
| Ms. Reema Aswani | 8/04/2016- 9/04/2016 | Shannon 100- 3rd International Conference on Computing Sciences | A Novel Approach to Outlier Detection using Modified GWD & k-NN | |
| Ms. Deepti Singh | 16/03/2016- 18/03/2016 | 10th INDIACOM-2016 IEEE Conference on "Computing for sustainable global development" | Web Documents prioritization using Genetic Algorithm | 978-93-80544-21-2 |
| Mr. Shashank Sahu | 1/04/2016- 2/04/2016 | COMTECH-2016 | Intelligent Traffic Signal Control Techniques | |
| Mr. Shashank Sahu | 1/04/2016- 2/04/2016 | COMTECH-2016 | Metamorphic Tecting In Oracle Problem | |
| Dr. Inderjeet Kaur | 1/04/2016- 2/04/2016 | COMTECH-2016 | A Comprehensive Review of Network Based Routing Protocols in Wireless Sensor Network | |
| Dr. Inderjeet Kaur | 1/04/2016- 2/04/2016 | COMTECH-2016 | A Review of fault Tolerance Techniques in Mobile Adhoc Network using checkpoints | |
| Ms. Sonam Gupta | 1/04/2016- 2/04/2016 | COMTECH-2016 | Analysis of e-commerce market in India | |
| Ms. Charu Agarwal | 1/04/2016- 2/04/2016 | COMTECH-2016 | Analysis of Security in Cloud Computing | |
| Mr. Arun Kumar Yadav | 1/04/2016- 2/04/2016 | COMTECH-2016 | An approach to design spatial search engine for toponym resolution | |
| Mr. Deepak Rai | 1/04/2016- 2/04/2016 | COMTECH-2016 | A Review on String Matching Algorithm based on Pro Character shift | |
| Ms. Shiva Tyagi | 1/04/2016- 2/04/2016 | COMTECH-2016 | Fog Computing and Its Application in Internet of Things | |
| Ms. Prachi Maheshwari | 1/04/2016- 2/04/2016 | COMTECH-2016 | Review on Li-Fi Technology | |
| Ms. Prachi Maheshwari | 1/04/2016- 2/04/2016 | COMTECH-2016 | Review on Mobile learning | |
| Mr. Dharmendra Kumar | 1/04/2016- 2/04/2016 | COMTECH-2016 | A Survey on image segmentation techniques | |
| Ms. Reema Aswani | 1/04/2016- 2/04/2016 | COMTECH-2016 | Comparative Analysis of Classification Techniques Using Orange Tool | |
| Ajay Kumar | 1/04/2016- 2/04/2016 | COMTECH-2016 | An algorithm for evaluating Software Testing Techniques | |
| Ms. Prachi Maheshwari | 22/01/2016- 23/01/2016 | 3rd International Confrenece on Advance computing and communication system | Identifying anomalies in network traffic using hybrid IDS | 978-1-4673-9206-8 |
| Ms. Prachi Maheshwari | 22/01/2016- 23/01/2016 | 3rd International Confrenece on Advance computing and communication system | Performance anlysis of snort based IDS | 978-1-4673-9206-8 |
| Ms. Prachi Maheshwari | 7/01/2016-8/01/2016 | IEEE International Conference "Intelligent Systems And Control"(ISCO'16) | A Hybrid Intrusion Detection System: A Review | 978-1-4673-7807-9 |
| Ms. Prachi Maheshwari | 7/01/2016-8/01/2016 | IEEE International Conference "Intelligent Systems And Control"(ISCO'16) | PHAD:Packet Header Anomaly Detection | 978-1-4673-7807-9 |
| Dr. Inderjeet Kaur | 26/12/2015 | 6th International Joint Conference on Advances in Engineering & Technology (AET-2015) | Advanced Threshold Sensitive Stable Election Protocol for Clustered Hetrogeneous Wireless Sensor Networks:ATSEP | |
International Journal/ National Journal (2014-15)

Faculty Name

Year, Vol. No.,page no. Year

Journal Name

Paper Title

ISSN No.

Prof. B.M. Kalra

Vol. 8, pp 45-54, June 2015

International Journal of u- and e- Service, Science and Technology.

An implementation of Intelligent Searching and Curating Technique on Blog Web 2.0 Tool

2005-4246

Dr. Mamta Bhusry

Vol 120, Issue 20,pg. no. 25-31, June 2015

International Journal of Computer Application (IJCA)

Artificial Immune System: State of the Art Approach

0975-8887

Dr. Mamta Bhusry

Vol 120, Issue 12, pg. no. 25-31,June 2015

International Journal of Computer Application (IJCA)

Recommendation System: State of the Art Approach

0975-8887

Ms. Nishu Bansal

Vol 16, Issue 5,pg. no. 31-34, Sept-Oct 2014

IOCR Journal of CS

Image Encryption Techniques using Fractal Geometry: A Comparative Study.

2278-0661(print)

2278-8727

(online)

Shashank Sahu

Vol 03, Issue 08, pg no. 201-206, Aug 2014

Internatioanl Journal of Research in Enginieering and Technology (IJRET)

A Novel Approach for Evaluation of Applying Ajax in The Web Site

2319-1163

Shashank Sahu

Vol 03, Issue 07, pg no. 1-7, July 2014

Internatioanl Journal of Research in Enginieering and Technology (IJRET)

Review on "Service Granularity in Service Oriented Architecture"

2319-1163

Ms. Kirti Seth

DOI 10.1007/s13198-014-0287-5

International Journal of System Assurance Engineering and Management

Ranking of components for reliability estimation of CBSS using fuzzy TOPSIS
| | | | | |
| --- | --- | --- | --- | --- |
| Faculty Name | Date | Conference Name | Paper Title | ISBN No. |
| Mr. Shashank Sahu | 15/05/2015- 16/05/2015 | IEEE International Conference on Computing, Communication AND Automation (ICCCA 2105) | Software Effort Estimation using Enhanced Use Case Point model | 978-1-4799-8889-1 |
| Mr. Shashank Sahu | 15/05/2015-16/05/2015 | IEEE International Conference on Computing, Communication AND Automation (ICCCA 2105) | Tools & Methods for Software Effort Estimation Using Use Case Points Model-A Review | 978-1-4799-8889-1 |
| Mr. Shashank Sahu | 11/04/2015- 12/04/2015 | National Conference on Recent Advances in Embedded Technologies | Issues and Challenges in Evaluation of Agent Oriented Software Engineering Methodologies | |
| Mr. Shashank Sahu | 11/04/2015- 12/04/2015 | National Conference on Recent Advances in Embedded Technologies | Analysis of various Software Effort Estimation Techniques | |
| Mr. Shashank Sahu | 13/02/2015-14/02/2015 | IEEE International Conference on Computational Intelligence and Communication Technology (CICT-2015) | Review on "Really Simple Syndication (RSS) Technology Tools" | 978-1-4799-6022-4 |
| Mr. Ajay Kumar | 25/02/2015-26/02/2015 | National Conference on Innovation in Computing and Information Technology (Cognition – 2015) | Developing Testability Index of Software System. | 978-81-929991-80 |
| Mr. Akhilesh Verma | 13/02/2015- 14/02/2015 | First International Conference on Computational Intelligence and Communication Technology (ICCICT 2015) | A Survey on Recent Image Indexing and Retrieval Technique for low-level Feature Extraction in CBIR systems. | |
| Dr. Sunita Yadav | 13/02/2015- 14/02/2015 | IEEE ICCICT, Ghaziabad | Search Engine Results Improvement – A Review | 978-1-4799-6022-4 |
| Dr. Sunita Yadav | 13/02/2015- 14/02/2015 | IEEE ICCICT, Ghaziabad | Searching Gapped Palindrome using Inverted Suffix Array | 978-1-4799-6022-4 |
| Dr. Sunita Yadav | 6/01/2015-8/01/2015 | IEEE-ETTLIS, Noida | Handwritten Hindi Character Recognition using K-means clustering and SVM. | 978-1-4799-7999-8 |
| Ms. Priyanka Sethi | 7/08/2014-9/08/2014 | International Conference on Contemporary Computing (IC3),IEEE 2014 | Leveraging Hadoop Framework to develop Duplication Detector and analysis using MapReduce, Hive and Pig | 978-1-4799-5172-7 |
International Journal / National Journal(2013-14)

S.No

Faculty Name

Year, Vol. No.,page no.

Journal Name

Paper Title

ISSN No.

1

Dr. Sachin Kumar

Vol 03, No. 4, pg no. 34-39,June, 2014

International Journal of Innovation & Advancement in Computer Science (IJIACS)

Fairness based Comparitive Study of AIMD Congestion Control Techniques

2347-8616

2

Ms. Kirti Seth

Vol 31, No. 11, pg. No. 1983-1991, May 2014

World Applied Sciences Journal

A Heuristic Model for Estimating Component-Based Software System Reliability Using Ant Colony Optimization

1818-4952

3

Ms. Kirti Seth

Vol 10, No. Pg no. 38-51, May 2014

Applied Computing and informatics

An adaptive neuro fuzzy model for estimating the reliability of component-based software systems

2210-8327

4

Ms. Kirti Seth

Vol 31, No. 4, pg. No. 654-662, May 2014

World Applied Sciences Journal

Regression Test Case Optimization Using Honey Bee Mating Optimization Algorithm with Fuzzy Rule Base

1818-4952

5

Mr. Shashank Sahu

Vol 03, No. 4, pg. No. 1-5, April 2014

International Journal of Research in Engineering and Technology

A Model for performance testing of AJAX based web applications

2319-1163

6

Ms. Deepti Singh

Vol 4, Special Issue 1, pg. No. 376-381, Feb 2014

Internatioanl Journal of Emerging Technology and Advanced Engineering ( IJETAE)

A Survey on challenges in Multipath Routing for Adhoc Networks

2250-2459

7

Dr. Sachin Kumar

Vol 02, No. 9, pg no. 101-110, Sep 2013

International Journal of Application or Innovation in Engineering & Management (IJAIEM)

Data Mining Technique: Sequence Mining Using Hyper Graph Clustering, Planer Graph, Weighted Topological Sort and Caching

2319-4847

8

Ms. Shiva Tyagi

Vol. 3, Issue 2,pg no. 52-58 July- Dec,2013

International Journal of Engineering Science & Management

Use of Genetic Algorithm in Multi Objective Optimization of a Real World Problem using SCI Lab Genetic Tool

2231-3273

9

Dr. Rajesh Prasad

July-2013

International Journal of Computer Vision and Robotics (Inter Science)

Efficient Indexing techniques for Record Matching and Deduplication

10

Ms.Kirti Seth

Vol 38, No. 4, July, 2013

ACM SIGSOFT Software Engineering Notes

Bio-Inspired Optimization Techniques – A Critical Comparative Study

11

Dr. Sachin Kumar

Vol. 3 No. 3, pg. No. 287-294, 2013

Advance in Electronic and Electric Engineering (AEEE)

Extending the Network Lifetime in Wireless Sensor

2231-1297

International Conferences/ National Conferences(2013-14)

S.No

Faculty Name

Date

Conference Name

Paper Title

ISBN No.

1

Ms. Charu Agarwal

24/06/2014-26/06/2014

ICACNI,2014

A Novel Un-compressed Video Watermarking in Wavelet Domain using Fuzzy Inference System

978-3-319-07353-8

2

Mr. Akhilesh Verma

5/04/2014- 6/04/2014

NCISCL-2014

Content-based image Indexing and Retrival Techniques in cyber Security for review Evidener

3

Mr. Akhilesh Verma

5/04/2014- 6/04/2014

NCISCL-2014

ICA: A New Frontier for Prevention of Cyber Crime

4

Dr. Mamta Bhusry

8/03/2014- 9/03/ 2014

International Conference by CSI on Big Data

Two Approach Comparisions for Relative Evaluation of Faculty Performance Using Data Mining Techniques

978-1-4799-3064-7

5

Dr. Sunita Yadav

21/02/2014-22/02/2014

IACC 2014

A novel approach for link context extraction using Bison parser

978-4799-2571-1

6

Ms.Sangeeta Rani Prajapati

21/02/2014-22/02/2014

IACC-2014

A Novel Technique for Mining Closed Frequent item Sets using VSW

978-4799-2571-1

7

Dr. Mamta Bhusry

14/02/2014

ICECS 2014

A New Contrive to Evaluate Web Page Ranking

978-1-4799-2320

8

Mr. Vikas Goel

7/02/2014-8/02/2014

International Conference on Issues and Challenges in Intelligent Computing Techniques(ICICT)

wireless broadcast models and their performance

9

Mr. Arun Kumar Yadav

20/12/2013-22/12/2013

IEEE International Conference on MOOC, Innovation and Technology in Education (MITE)

A Concephual Frame Work on E-learning

978-14799-1625-2

10

Dr. Mamta Bhusry

8/11/2013- 9/11/2013

International Conference on Recent Trends in Communication and Computer Networks ComNet 2013

Analysis of Performance Parameter using Data Mining Techniques

978-81-910691-6-3

11

Dr. Sunita Yadav

23/08/2013-24/08/2013

Proceeding of International Conference on Human Computer Interactions (ICHCI'13)

Structure Based Handwritten Hindi Character Recognition Using SVM

12

Ms. Charu Agarwal

8/08/2013- 10/08/2013

IEEE 6th International Conference (IC3-2013)

An Optimized Un-Compressed Video Watermarking Scheme based on SVD & DWT

978-1-4799-0190-6

13

Mr. Arun Kumar

8/08/2013- 10/08/2013

IEEE 6th International Conference (IC3-2013)

New Methodology in GIR System: Improving Web Document Serching

978-1-4799-0190-6

14

Dr. Sunita Yadav

3/08/2013-4/08/2013

Proceeding of International Conference on Control, Computing, Communication and Materials

Multi-Parametric Load Balancing In Grid Computing Environment

978-147-9913-732

15

Dr. Mamta Bhushry

3/08/2013-4/08/2013

International Conference on Control, Computing, Communication and Materials(ICCCCM-2013)

Analysis of Web Link Algorithms for Web Page Ranking

978-1-4799-1375
| | | | | |
| --- | --- | --- | --- | --- |
| Date | Topic | Name | Brochure | Report |
| 08/11/2019-09/11/2019 | Information Technology for Business Transformation | ITBT19 | Brochure | View |
| 08/07/2019-12/07/2019 | Current Research Trends in Artificial Neural Networks Sponsored by AKTU, Lucknow under TEQIP-III | FDP on Current Research Trends in Artificial Neural Networks | Brochure | View |
| 04/02/2019-08/02/2019 | Android Application Development Sponsored by AKTU, Lucknow under TEQIP-III | FDP on Android Application Development | Brochure | View |
| 04/12/2018-08/12/2018 | Machine Learning and Data Analytics with Python in association with E&ICT Academy, IIT Roorkee | FDP on Machine Learning and Data Analytics with Python | Brochure | View |
| 09/03/2018-10/03/2018 | Information Technology for Business Transformation | ITBT18 | Brochure | View |
| 09/02/2018-10/02/2018 | Basic Concepts of IOT, Scope of IOT, Practical Implementations of IOT using Arduino | FDP on Internet of Things | | |
| 17/02/2017-18/02/2017 | Information Technology for Business Transformation | ITBT17 | | |
| 17/06/2016-24/06/2016 | To draw attention towards the problems and challenges being faced by the people at individual, family, society and environmental levels and how to handle these | Human Values And Professional Ethics | | |
| 01/04/2016-02/04/2016 | Advances in Network Systems and Information System Security, Cloud Computing Technologies and Applications, Big Data Analysis and Knowledge Management,High Performance Computing, Software Engineering and Advanced Algorithms,Image and Multimedia Processing,Artificial Intelligence and Soft Computing,Mobile Computing and Adhoc Networks | Emerging Computer Technologies COMTECH-2016 | | |
| 05/02/2016-06/02/2016 | Network Concept, Multicast Comm. And SDN, Cryptography Algorithm, Open Source Software for Network, Network security, Open Source Tool like Cain and Abel, Kismet, Angry IP Scanner, Sam Spade, Kali Linux, Aircrack | FDP on " Network Security" | | |
| 13/07/2015-18/07/2015 | Introduction to Windows Phone 8.1, Installing Windows Phone SDK 8.1, phone 8.1 Emulator, XAML, Working with Windows Phone Controls, Basics of Layout and Events, Styling the App, Data Binding, JSON and Windows Phone, Advance Apps Designing Tools, Market Place and Project discussion | FDP on " Three Tier and MVC Architecture Development with Responsive Websites" using Microsoft Technologies | | |
| 30/01/2015-31/01/2015 | Natural Language Processing | FDP on "Natural Language Processing" | | |
| 14/07/2014-19/07/2014 | .Net, C# and SQL Server | FDP on Microsoft Technologies | | |
| 15/07/2013-19/07/2013 | Routing and Switching | FDP on "Routing and Switching" | | |
| 22/02/2013-23/02/2013 | IACC-2013, 3rd IEEE International Advance Computing Conference | International Conference | | |
| 12/04/2012-13/04/2012 | Functional Programming | FDP on "Functional Programming" | | |
| 14/01/2012 | Security in Cloud Computing | FDP on "Role of Life Sciences in significance to IT, Software Quality Assurance Software Estimation, Cloud Computing and security in Cloud Computing" | | |
| 18/01/2010-22/01/2010 | Network Architecture and Design, LAN/WAN Architecture, Routing and Addressing Techniques, Session Management and Cryptography, Management of network Services and Utilities | FDP on " Innovative And Effective Teaching Methodology For Computer Networks" | | |
Name

Name of Conferences / Seminars / Workshop / FDP

Duration

Place of Registration

Mr. Akhilesh Kumar

FDP on "Current Research Trends in Artificial Neural Networks"

08/07/19-12/07/19

AKGEC, Ghaziabad

Mr. Dharmendra Kumar

FDP on "Current Research Trends in Artificial Neural Networks"

08/07/19-12/07/19

AKGEC, Ghaziabad

Ms. Nishu Bansal

FDP on "Current Research Trends in Artificial Neural Networks"

08/07/19-12/07/19

AKGEC, Ghaziabad

Ms. Swimpy Pahuja

FDP on "Current Research Trends in Artificial Neural Networks"

08/07/19-12/07/19

AKGEC, Ghaziabad

Dr. Sonam Gupta

FDP on "Current Research Trends in Artificial Neural Networks"

08/07/19-12/07/19

AKGEC, Ghaziabad

Mr. Rohit Vashisht

FDP on "Current Research Trends in Artificial Neural Networks"

08/07/19-12/07/19

AKGEC, Ghaziabad

Dr. Arun Yadav

FDP on "Current Research Trends in Artificial Neural Networks"

08/07/19-12/07/19

AKGEC, Ghaziabad

Ms. Lipika Goel

FDP on "Current Research Trends in Artificial Neural Networks"

08/07/19-12/07/19

AKGEC, Ghaziabad

Mr. Santosh Kumar Upadhyay

FDP on "Current Research Trends in Artificial Neural Networks"

08/07/19-12/07/19

AKGEC, Ghaziabad

Mr. Vikas Kamra

FDP on "Current Research Trends in Artificial Neural Networks"

08/07/19-12/07/19

AKGEC, Ghaziabad

Mr. Jay Kant Pratap Singh Yadav

FDP on "Current Research Trends in Artificial Neural Networks"

08/07/19-12/07/19

AKGEC, Ghaziabad

Dr. Pratima Singh

FDP on "Current Research Trends in Artificial Neural Networks"

08/07/19-12/07/19

AKGEC, Ghaziabad

Ms. Neha Bagwari

FDP on "Current Research Trends in Artificial Neural Networks"

08/07/19-12/07/19

AKGEC, Ghaziabad

Mr. Deepak Rai

FDP on "Current Research Trends in Artificial Neural Networks"

08/07/19-12/07/19

AKGEC, Ghaziabad

Ms. Arti Pandey

FDP on "Current Research Trends in Artificial Neural Networks"

08/07/19-12/07/19

AKGEC, Ghaziabad

Dr. Sunita Yadav

FDP on "Current Research Trends in Artificial Neural Networks"

08/07/19-12/07/19

AKGEC, Ghaziabad

Dr. Sunita Yadav

FDP on "Android Application Development"

04/02/19-08/02/19

AKGEC, Ghaziabad

Ms. Arti Pandey

FDP on "Android Application Development"

04/02/19-08/02/19

AKGEC, Ghaziabad

Ms. Priyanka Upadhyay

FDP on "Android Application Development"

04/02/19-08/02/19

AKGEC, Ghaziabad

Ms. Divya Gupta

FDP on "Android Application Development"

04/02/19-08/02/19

AKGEC, Ghaziabad

Mr. Shashank Sahu

FDP on "Android Application Development"

04/02/19-08/02/19

AKGEC, Ghaziabad

Mr. Anuj Dwivedi

FDP on "Android Application Development"

04/02/19-08/02/19

AKGEC, Ghaziabad

Mr. Saket

FDP on "Android Application Development"

04/02/19-08/02/19

AKGEC, Ghaziabad

Ms. Arpana

FDP on "Android Application Development"

04/02/19-08/02/19

AKGEC, Ghaziabad

Mr. Dheeraj Kumar Singh

FDP on "Android Application Development"

04/02/19-08/02/19

AKGEC, Ghaziabad

Mr. Deepak Rai

FDP on "Android Application Development"

04/02/19-08/02/19

AKGEC, Ghaziabad

Mr. Santosh Kumar Upadhyay

FDP on "Android Application Development"

04/02/19-08/02/19

AKGEC, Ghaziabad

Ms. Neha Bagwari

FDP on "Android Application Development"

04/02/19-08/02/19

AKGEC, Ghaziabad

Dr. Pratima Singh

FDP on "Android Application Development"

04/02/19-08/02/19

AKGEC, Ghaziabad

Mr. Jay Kant Pratap Singh Yadav

FDP on "Android Application Development"

04/02/19-08/02/19

AKGEC, Ghaziabad

Mr. Vikas Kamra

FDP on "Android Application Development"

04/02/19-08/02/19

AKGEC, Ghaziabad

Ms. Lipika Goel

FDP on "Android Application Development"

04/02/19-08/02/19

AKGEC, Ghaziabad

Dr. Charu Agarwal

FDP on "Android Application Development"

04/02/19-08/02/19

AKGEC, Ghaziabad

Dr. Arun Yadav

FDP on "Android Application Development"

04/02/19-08/02/19

AKGEC, Ghaziabad

Ms. Shiva Tyagi

FDP on "Android Application Development"

04/02/19-08/02/19

AKGEC, Ghaziabad

Mr. Rohit Vashisht

FDP on "Android Application Development"

04/02/19-08/02/19

AKGEC, Ghaziabad

Ms. Deepti Singh

FDP on "Android Application Development"

04/02/19-08/02/19

AKGEC, Ghaziabad

Dr. Sonam Gupta

FDP on "Android Application Development"

04/02/19-08/02/19

AKGEC, Ghaziabad

Ms. Neeti Pahuja

FDP on "Android Application Development"

04/02/19-08/02/19

AKGEC, Ghaziabad

Ms. Nishu Bansal

FDP on "Android Application Development"

04/02/19-08/02/19

AKGEC, Ghaziabad

Mr. Rajeev Singh

FDP on "Android Application Development"

04/02/19-08/02/19

AKGEC, Ghaziabad

Ms. Swimpy Pahuja

FDP on "Android Application Development"

04/02/19-08/02/19

AKGEC, Ghaziabad

Dr. Arun Yadav

FDP on "Universal Human Values and Professional Ethics (Level-2)"

15/01/19-22/01/19

KIET, Ghaziabad

Mr. Saket

FDP on "Universal Human Values and Professional Ethics"

07/01/19-14/01/19

ABESEC, Ghaziabad

Mr. Santosh Kumar Upadhyay

FDP on "Universal Human Values and Professional Ethics"

07/01/19-14/01/19

ABESEC, Ghaziabad

Mr. Saket

FDP on "Entrepreneurship Development"

10/12-18-21/12/18

ITS, Noida

Dr. Inderjeet Kaur

FDP on "Universal Human Values and Professional Ethics (Refresher)"

17/12/18-24/12/18

AKGEC, Ghaziabad

Dr. Vikas Goel

FDP on "Universal Human Values and Professional Ethics (Level-3)"

03/12/18-10/12/18

ABES, Ghaziabad

Mr. Akhilesh Verma

FDP on "Universal Human Values and Professional Ethics (Level-3)"

03/12/18-10/12/18

ABES, Ghaziabad

Mr. Deepak Rai

CEP Course on "Big Data Computing: A Practical Approach"

03/12/18-07/12/18

IIT, Patna

Mr. Vikas Kamra

FDP on "Machine Learning and Data Analytics with Python"

04/12/18-08/12/18

AKGEC, Ghaziabad

Ms. Neha Bagwari

FDP on "Machine Learning and Data Analytics with Python"

04/12/18-08/12/18

AKGEC, Ghaziabad

Mr. Santosh Kumar Upadhyay

FDP on "Machine Learning and Data Analytics with Python"

04/12/18-08/12/18

AKGEC, Ghaziabad

Dr. Charu Agarwal

FDP on "Machine Learning and Data Analytics with Python"

04/12/18-08/12/18

AKGEC, Ghaziabad

Mr. Jay Kant Pratap Singh Yadav

FDP on "Machine Learning and Data Analytics with Python"

04/12/18-08/12/18

AKGEC, Ghaziabad

Mr. Ajay Kumar

FDP on "Machine Learning and Data Analytics with Python"

04/12/18-08/12/18

AKGEC, Ghaziabad

Mr. Rohit Vashisht

FDP on "Machine Learning and Data Analytics with Python"

04/12/18-08/12/18

AKGEC, Ghaziabad

Ms. Swimpy Pahuja

FDP on "Machine Learning and Data Analytics with Python"

04/12/18-08/12/18

AKGEC, Ghaziabad

Mr. Rajeev Singh

FDP on "Machine Learning and Data Analytics with Python"

04/12/18-08/12/18

AKGEC, Ghaziabad

Ms. Shiva Tyagi

FDP on "Machine Learning and Data Analytics with Python"

04/12/18-08/12/18

AKGEC, Ghaziabad

Mr. Dharmendra Kumar

FDP on "Machine Learning and Data Analytics with Python"

04/12/18-08/12/18

AKGEC, Ghaziabad

Mr. B.N Pandey

FDP on "Machine Learning and Data Analytics with Python"

04/12/18-08/12/18

AKGEC, Ghaziabad

Ms. Nishu Bansal

FDP on "Machine Learning and Data Analytics with Python"

04/12/18-08/12/18

AKGEC, Ghaziabad

Ms. Deepti Singh

FDP on "Machine Learning and Data Analytics with Python"

04/12/18-08/12/18

AKGEC, Ghaziabad

Dr. Pratima Singh

FDP on "Machine Learning and Data Analytics with Python"

04/12/18-08/12/18

AKGEC, Ghaziabad

Ms. Lipika Goel

FDP on "Machine Learning and Data Analytics with Python"

04/12/18-08/12/18

AKGEC, Ghaziabad

Dr. Sonam Gupta

FDP on "Machine Learning and Data Analytics with Python"

04/12/18-08/12/18

AKGEC, Ghaziabad

Dr. Arun Yadav

FDP on "Machine Learning and Data Analytics with Python"

04/12/18-08/12/18

AKGEC, Ghaziabad

Ms. Neeti Pahuja

FDP on "Machine Learning and Data Analytics with Python"

04/12/18-08/12/18

AKGEC, Ghaziabad

Dr. Arun Yadav

FDP on "Universal Human Values & Professional Ethics"

23/06/18 - 30/06/18

IPEC, Ghaziabad

Ms. Neeti Pahuja

FDP on "Universal Human Values & Professional Ethics"

23/06/18 - 30/06/18

IPEC, Ghaziabad

Ms. Sonam Gupta

FDP on "Universal Human Values & Professional Ethics"

23/06/18 - 30/06/18

IPEC, Ghaziabad

Mr. Deepak Rai

FDP on "Universal Human Values & Professional Ethics"

14/06/18 - 21/06/18

KIET, Ghaziabad

Ms. Nisha

FDP on "Automation and Robotics"

21/05/2018-25/05/2018

AKGEC, Ghaziabad

Mr. Shashank Sahu

FDP on "Universal Human Values & Professional Ethics"

01/05/18 - 08/05/18

ABES, Ghaziabad

Ms. Nishtha Ahuja

FDP on "Machine Learning"

23/04/2018-27/04/2018

DTU, Delhi

Ms. Lipika Goel

FDP on "Android App Development"

15/03/2018-19/03/2018

ABESIT, Ghaziabad

Ms. Sonam Gupta

FDP on "Android App Development"

15/03/2018-19/03/2018

ABESIT, Ghaziabad

Dr. Sachin Kumar

FDP on " Internet of Things"

09/02/2018-10/02/2018

AKGEC, Ghaziabad

Dr. Pratima Singh

FDP on " Internet of Things"

09/02/2018-10/02/2018

AKGEC, Ghaziabad

Dr. Inderjeet Kaur

FDP on " Internet of Things"

09/02/2018-10/02/2018

AKGEC, Ghaziabad

Mr. Shashank Sahu

FDP on " Internet of Things"

09/02/2018-10/02/2018

AKGEC, Ghaziabad

Dr. Vikas Goel

FDP on " Internet of Things"

09/02/2018-10/02/2018

AKGEC, Ghaziabad

Mr. Akhilesh Kumar

FDP on " Internet of Things"

09/02/2018-10/02/2018

AKGEC, Ghaziabad

Ms. Deepti Singh

FDP on " Internet of Things"

09/02/2018-10/02/2018

AKGEC, Ghaziabad

Ms. Nishu Bansal

FDP on " Internet of Things"

09/02/2018-10/02/2018

AKGEC, Ghaziabad

Mr. Dharmendra Kumar

FDP on " Internet of Things"

09/02/2018-10/02/2018

AKGEC, Ghaziabad

Ms. Shiva Tyagi

FDP on " Internet of Things"

09/02/2018-10/02/2018

AKGEC, Ghaziabad

Mr. B.N Pandey

FDP on " Internet of Things"

09/02/2018-10/02/2018

AKGEC, Ghaziabad

Mr. Rajeev Singh

FDP on " Internet of Things"

09/02/2018-10/02/2018

AKGEC, Ghaziabad

Ms. Divya Gupta

FDP on " Internet of Things"

09/02/2018-10/02/2018

AKGEC, Ghaziabad

Ms. Swimpy Pahuja

FDP on " Internet of Things"

09/02/2018-10/02/2018

AKGEC, Ghaziabad

Ms. Neeti Pahuja

FDP on " Internet of Things"

09/02/2018-10/02/2018

AKGEC, Ghaziabad

Ms. Nishtha Ahuja

FDP on " Internet of Things"

09/02/2018-10/02/2018

AKGEC, Ghaziabad

Ms. Heena Rani

FDP on " Internet of Things"

09/02/2018-10/02/2018

AKGEC, Ghaziabad

Mr. Rohit Vashishtha

FDP on " Internet of Things"

09/02/2018-10/02/2018

AKGEC, Ghaziabad

Ms. Garima Modi

FDP on " Internet of Things"

09/02/2018-10/02/2018

AKGEC, Ghaziabad

Ms. Gargi Amoli

FDP on " Internet of Things"

09/02/2018-10/02/2018

AKGEC, Ghaziabad

Ms. Nisha

FDP on " Internet of Things"

09/02/2018-10/02/2018

AKGEC, Ghaziabad

Ms. Deepika Varshney

FDP on " Internet of Things"

09/02/2018-10/02/2018

AKGEC, Ghaziabad

Ms. Komal Juneja

FDP on " Internet of Things"

09/02/2018-10/02/2018

AKGEC, Ghaziabad

Dr. Arun Kumar Yadav

FDP on " Internet of Things"

09/02/2018-10/02/2018

AKGEC, Ghaziabad

Ms. Sonam Gupta

FDP on " Internet of Things"

09/02/2018-10/02/2018

AKGEC, Ghaziabad

Ms. Lipika Goel

FDP on " Internet of Things"

09/02/2018-10/02/2018

AKGEC, Ghaziabad

Dr. Sunita Yadav

FDP on " Internet of Things"

09/02/2018-10/02/2018

AKGEC, Ghaziabad

Dr. Mamta Bhusry

FDP on " Internet of Things"

09/02/2018-10/02/2018

AKGEC, Ghaziabad

Deepak Rai

Short term course on "Network Security (NETSEC-18)"

08/01/2018-12/01/2018

IIT, Roorkee

Mr. Dharmendra Kumar

FDP on "Human values and Professional Ethics Refresher"

09/01/2018-16/01/2018

IPEC, Gzb

Mr. Ajay Kumar

FDP on "Human values and Professional Ethics"

09/01/2018-16/01/2018

IPEC, Gzb

Ms. Deepti Singh

Workshop on Universal Human Values & Professional Ethics

30/11/2017-07/12/2017

ABES, Ghaziabad

Mr. B.N. Pandey

Workshop on Universal Human Values & Professional Ethics

30/11/2017-07/12/2017

ABES, Ghaziabad

Dr. Vikas Goel

Advance Workshop on Universal Human Values & Professional Ethics

30/11/2017-07/12/2017

AKGEC, Ghaziabad

Akhilesh Verma

Workshop on VIrtual laboratories

16/09/2017-16/09/2017

IIT, Kanpur

Swimpy Pahuja

5G Communication and Implementation Issues

10/07/2017-15/07/2017

NIT, Kurushetra

Mr. Ajay Kumar

FDP on "Adaptive Neural Fuzzy Inference System"

10/07/2017-14/07/2017

KIET, Ghaziabad

Dr. Vivek Singh Verma

FDP on "Human values and Professional Ethics Refresher"

13/06/2017-20/06/2017

ABES, Gzb

Dr. Vikas Goel

FDP on "Human values and Professional Ethics Refresher"

13/06/2017-20/06/2017

ABES, Gzb

Rajeev Singh

FDP on "Introduction to programming and Data Structures"

01/07/2017-10/07/2017

AKGEC, Gzb

Mr. B N Pandey

FDP on " Machine Learning and Data Analysis"

12/06/2017-16/06/2017

IMSEC, Ghaziabad

Dr. Arun Kumar Yadav

FDP on " Machine Learning and Data Analysis"

12/06/2017-16/06/2017

IMSEC, Ghaziabad

Ms. Nishu Bansal

FDP on "Human values and Professional Ethics"

23/06/2017-30/06/2017

AKGEC, Gzb

Dr. Arun Kumar Yadav

FDP on "Human values and Professional Ethics"

23/06/2017-30/06/2017

AKGEC, Gzb

Ms. Sonam Gupta

FDP on "Human values and Professional Ethics"

23/06/2017-30/06/2017

AKGEC, Gzb

Ms Neeti Pahuja

FDP on "Human values and Professional Ethics"

23/06/2017-30/06/2017

AKGEC, Gzb

Mr. Deepak Rai

STC on Data Science using R for data visualization and Analysis

20/04/2017-22/04/2017

C-DAC Mumbai

Ms. Nishu Bansal

FDP on "Human values and Professional Ethics"

14/03/2017-16/03/2017

AKGEC, Gzb

Ms. Swimpy Pahuja

FDP on "Human values and Professional Ethics"

14/03/2017-16/03/2017

AKGEC, Gzb

Ms. Sonam Gupta

FDP on "Human values and Professional Ethics"

14/03/2017-16/03/2017

AKGEC, Gzb

Ms Neeti Pahuja

FDP on "Human values and Professional Ethics"

14/03/2017-16/03/2017

AKGEC, Gzb

Ms Neeti Pahuja

FEP on "Web Front End Technologies"

01/03/2017-05/03/2017

Infosys Ltd.

Mr. Shashank Sahu

Workshop on "Human values & Professional Ethics" (Resource Person)

14/03/2017-16/03/2017

AKGEC, Gzb

Mr. Akhilesh Verma

Workshop on "Human values & Professional Ethics" (Resource Person)

14/03/2017-16/03/2017

AKGEC, Gzb

Mr. Shashank Sahu

International Conference on Human Values in Higher education

10/02/2017-12/02/2017

IIT, Kanpur

Mr. Shashank Sahu

Human Values & Professional Ethics (Co-facilitator)

03/01/2017-10/01/2017

MIET, Meerut

Dr. Sachin Kumar

Human Values & Professional Ethics

26/12/2016-02/01/2017

ABES, Gzb

Mr. Akhilesh Verma

Human Values & Professional Ethics

27/12/2016-02/01/2017

AKGEC, Gzb

Dr. Inderjeet Kaur

Human Values & Professional Ethics

26/12/2016-02/01/2017

ABES, Gzb

Mr. Deepak Rai

Foundation Program 5.0

14/12/2016-16/12/2017

Infosys, Chandigarh

Dr. Sunita Yadav

FDP on "Recent Trends of Soft Computing in Software Engineering and Applications"

19/12/2016-24/12/2016

GBU, Greater Noida

Ms. Shiva Tyagi

Workshop on " Data Science and Research"

16/12/2016-18/12/2016

HCST, Mathura

Mr. Ajay Kumar

Workshop on "Human values & Professional Ethics"

14/10/2016

15/10/2016

17/10/2016

AKGEC, Gzb

Mr. Shashank Sahu

Workshop on "Human values & Professional Ethics" (Resource Person)

14/10/2016

15/10/2016

17/10/2016

AKGEC, Gzb

Mr. Akhilesh Verma

Workshop on "Human values & Professional Ethics" (Resource Person)

14/10/2016

15/10/2016

17/10/2016

AKGEC, Gzb

Ms. Swimpy Pahuja

Networking Simulation & Related Technologies using NetSIM Software

21/09/2016-23/09/2016

DELLSOFT Technologies Pvt. Ltd.

Ms. Nishu Bansal

Networking Simulation & Related Technologies using NetSIM Software

21/09/2016-23/09/2016

DELLSOFT Technologies Pvt. Ltd.

Ms. Sonam Gupta

Instrumentation and Automation with LabVIEW

09/09/2016-10/09/2016

AKGEC, Gzb

Ms. Charu Agarwal

FDP on "Advance Computer Network & Security"

11/07/2016-15/07/2016

ABES, Gzb

Ms. Sonam Gupta

FDP on "Advance Computer Network & Security"

11/07/2016-15/07/2016

ABES, Gzb

Mr. Vikas Goel

FDP on "Human values & Professional Ethics"

17/06/2016-24/06/2016

AKGEC, Gzb

Mr. B.N. Pandey

FDP on "Satellite Communication"

14/06/2016-18/06/2016

AKGEC, Gzb

Mr. Shashank Sahu

FDP on "Human values & Professional Ethics"

01/06/2016-08/06/2016

Maharana Pratap Enginerring College, Kanpur

Ms. Shubhangi Rastogi

STC under QIP on "Parallel Programming for HPC

23/05/2016-06/06/2016

IIT Delhi

Ms. Shubhangi Rastogi

Summer Faculty Research Fellow Programme (SERF)

18/05/2016-12/07/2016

IIT Delhi

Ms. Reema Aswani

Summer Faculty Research Fellow Programme (SERF)

18/05/2016-12/07/2016

IIT Delhi

Dr. Inderjeet Kaur

FDP on "Emerging Trends in Computer Science & IT"

16/05/2016-27/05/2016

Bharati Vidyapeeth Institute of Computer Application & Management, New Delhi

Ms. Nishu Bansal

FDP on "Emerging Trends in Computer Science & IT"

16/05/2016-27/05/2016

Bharati Vidyapeeth Institute of Computer Application & Management, New Delhi

Mr. Ajay Kumar

Latest trends in Communication Engineering

2 days

AKGEC, Gzb

Mr. Dharmendra Kumar

Latest trends in Communication Engineering

2 days

AKGEC, Gzb

Prof. B.M. Kalra

FDP on "Network Security"

05/12/2016-06/12/2016

AKGEC, Gzb

Dr. Sachin Kumar

FDP on "Network Security"

05/02/2016-06/02/2016

AKGEC, Gzb

Dr. Sunita Yadav

FDP on "Network Security"

05/02/2016-06/02/2016

AKGEC, Gzb

Dr. Mamta Bhusry

FDP on "Network Security"

05/02/2016-06/02/2016

AKGEC, Gzb

Dr. Inderjeet kaur

FDP on "Network Security"

05/02/2016-06/02/2016

AKGEC, Gzb

Mr. Akhilesh Verma

FDP on "Network Security"

05/02/2016-06/02/2016

AKGEC, Gzb

Mr. Vikas Goel

FDP on "Network Security"

05/02/2016-06/02/2016

AKGEC, Gzb

Ms. Shiva Tyagi

FDP on "Network Security"

05/02/2016-06/02/2016

AKGEC, Gzb

Ms. Charu Agarwal

FDP on "Network Security"

05/02/2016-06/02/2016

AKGEC, Gzb

Ms. Swimpy Pahuja

FDP on "Network Security"

05/02/2016-06/02/2016

AKGEC, Gzb

Ms. Shubhangi Rastogi

FDP on "Network Security"

05/02/2016-06/02/2016

AKGEC, Gzb

Reema Ashwani

FDP on "Advances in Information Security"

18/01/2016-22/01/2016

DTU, Delhi

Reema Ashwani

FDP on "Wireless & Mobile Communication"

04/01/2016-08/01/2016

AKGEC, Gzb

Ms. Neeti Pahuja

FDP on "Wireless & Mobile Communication"

04/01/2016-08/01/2016

AKGEC, Gzb

Priyanka Sethi

FDP on "Machine learning techniques & its applications"

04/01/2016-08/01/2016

ITS, Greater Noida

Prof. B.M. Kalra

FDP on "Open Source Technologies"

04/01/2016-08/01/2016

AKGEC, Gzb

Dr. Sunita Yadav

FDP on "Open Source Technologies"

04/01/2016-08/01/2016

AKGEC, Gzb

Mr. Shashank Sahu

FDP on "Open Source Technologies"

04/01/2016-08/01/2016

AKGEC, Gzb

Mr. Deepak Rai

FDP on "Open Source Technologies"

04/01/2016-08/01/2016

AKGEC, Gzb

Mr. Arun Kumar Yadav

FDP on "Open Source Technologies"

04/01/2016-08/01/2016

AKGEC, Gzb

Ms. Sonam Gupta

FDP on "Open Source Technologies"

04/01/2016-08/01/2016

AKGEC, Gzb

Dr. Pratima Singh

FDP on "Open Source Technologies"

04/01/2016-08/01/2016

AKGEC, Gzb

Prachi Maheshawri

One Day Awareness Program on "Digital Signatures and Public Key Infrastructure"

27/11/2015

CDAC, Noida

Mr. Ajay Kumar

FDP on "Global System for Mobile Communication"

5 days

AKGEC, Gzb

Mr. Deepak Rai

Faculty Enablement Program(FEP) on Foundation Program 4.0, Focus Area 2- Relational Database Management Systems

19/08/2015-21/08/2015

Infosys Limited, Chandigarh

Prof. B.M Kalra

FDP on "Three Tier and MVC Architecture Development with responsive Websites" using Microsoft Technologies (ASP.NET MVC Web App. Dev)

13/07/2015-17/07/2015

AKGEC, GZB

Mr. Vivek Singh Verma

FDP on "Three Tier and MVC Architecture Development with responsive Websites" using Microsoft Technologies (ASP.NET MVC Web App. Dev)

13/07/2015-17/07/2015

AKGEC, GZB

Ms. Deepti Singh

FDP on "Three Tier and MVC Architecture Development with responsive Websites" using Microsoft Technologies (ASP.NET MVC Web App. Dev)

13/07/2015-17/07/2015

AKGEC, GZB

Mr. B.N.Pandey

FDP on "Three Tier and MVC Architecture Development with responsive Websites" using Microsoft Technologies (ASP.NET MVC Web App. Dev)

13/07/2015-17/07/2015

AKGEC, GZB

Mr. Dharmendra Kumar

FDP on "Three Tier and MVC Architecture Development with responsive Websites" using Microsoft Technologies (ASP.NET MVC Web App. Dev)

13/07/2015-17/07/2015

AKGEC, GZB

Ms. Nishu Bansal

FDP on "Three Tier and MVC Architecture Development with responsive Websites" using Microsoft Technologies (ASP.NET MVC Web App. Dev)

13/07/2015-17/07/2015

AKGEC, GZB

Mr. Rajeev Singh

FDP on "Three Tier and MVC Architecture Development with responsive Websites" using Microsoft Technologies (ASP.NET MVC Web App. Dev)

13/07/2015-17/07/2015

AKGEC, GZB

Mr. Vikas Kumar

FDP on "Three Tier and MVC Architecture Development with responsive Websites" using Microsoft Technologies (ASP.NET MVC Web App. Dev)

13/07/2015-17/07/2015

AKGEC, GZB

Ms. Priyanka Sethi

FDP on "Three Tier and MVC Architecture Development with responsive Websites" using Microsoft Technologies (ASP.NET MVC Web App. Dev)

13/07/2015-17/07/2015

AKGEC, Gzb

Dr. Pratima Singh

FDP on "Three Tier and MVC Architecture Development with responsive Websites" using Microsoft Technologies (ASP.NET MVC Web App. Dev)

13/07/2015-17/07/2015

AKGEC, Gzb

Ms. Swimpy Pahuja

Online Course on Computer Programming

July,2015-Dec,2015

IIT Mumbai
[2019-20]
| | | |
| --- | --- | --- |
| Date | Topic | Speaker |
| 3/12/2019 | Night vision | Ms. Priyanka Upadhyay |
| 3/12/2019 | Building a real time, solar powered recommendation engine | Ms. Neha Bagwari |
| 28/11/2019 | An Owerview on soft computing | Mr. Jay Kant Pratap Singh Yadav |
| 28/11/2019 | Sources of Happiness | Dr. Vikas Goel |
| 12/10/2019 | Google Contact Lens | Mr. Vikas Kamra |
| 28/09/2019 | Tensor Flow | Mr. Saket Kumar Singh |
| 28/09/2019 | Project Loon | Mr. Santosh Kumar Upadhyay |
| 20/09/2019 | Apache Kafka | Ms. Nishu Bansal |
| 14/09/2019 | Dark Web | Ms. Monika Agarwal |
| 14/09/2019 | Quantum Computing | Mr. Pradeep Gupta |
| 14/09/2019 | Fog Computing | Ms. Priyanka |
| 26/08/2019 | Data Science | Mr. Rajeev Singh |
| 10/8/2019 | Computer generated Imagery | Mr. Dharmendra Kumar |
| 6/9/2019 | 3D Internet | Ms. Prachi Pundir |
| 6/9/2019 | Green Cloud Computing | Ms. Jaishree Jain |
Date

Topic

Speaker

06/05/2019

Test Driven Development

Ms. Lipika Goel

04/05/2019

Zabbix

Ms. Nisha

29/04/2019

3-D Password

Mr. Rohit Vashisth

05/04/2019

Smart Dust

Dr. Sonam Gupta

05/04/2019

Full Stack of Data Driven Products

Mr. Deepak Rai

28/03/2019

Shodh Vs. Anusandhan

Mr. Akhilesh Verma

28/03/2019

Java Card Technology

Ms. Swimpy Pahuja

19/03/2019

Digital Twins

Dr. Inderjeet Kaur

19/03/2019

Optical Camouflage

Mr. B.N.Pandey

18/03/2019

Biometric ATM

Ms. Deepti Singh

18/03/2019

Night Vision Technology

Ms. Divya Gupta

09/03/2019

Chip Based

Smart Cards

Dr. Sachin Kumar

09/03/2019

Microsoft Hololense

Ms. Arti Pandey

01/02/2019

Smart Screen

Mr. Ajay Kumar

29/11/2018

Digital Curation

Ms. Shiva Tyagi

16/11/2018

Block Channing and its applications

Dr. Arun Kumar Yadav

05/11/2018

Human Values - Intention

Mr. Shashank Sahu

05/11/2018

Project soli

Dr. Charu Agarwal

13/10/2018

Universe of minds

Ms. Priyanka Upadhyay

05/10/2018

Collaborative approach IOT and Big Data

Ms. Neha Bagwari

28/09/2018

Wisdom of Crowd

Ms. Pooja Mithoo

22/09/2018

Associative Memory

Mr. Jay Kant Singh Yadav

14/09/2018

Blue Brain – A Virtual / Artificial Human Brain

Mr. Vikas Kamra

08/09/2018

Outcome Based

Education – Module 5

Ms. Neeti Pahuja

08/09/2018

Outcome Based

Education – Module 1, 2 and 3

Dr. Vikas Goel

31/08/2018

Julia 1.0

Mr. Saket Kumar Singh

25/08/2018

Paper Battery

Mr. Santosh Kr. Upadhyay

25/08/2018

Duoskin

Ms.

Nishu Bansal

16/08/2018

Amazon Alexa

Mr. Dharmendra Kumar

03/08/2018

Blockchain

Mr. Rajeev Singh

03/08/2018

Transparent Evaluation Through Crowd Sourcing And Distributed Consensus

Ms. Deepika Varshney

14/05/2018

Basics of Industrial Robots& Control System

Ms. Nisha

03/05/2018

Translation Earbuds

Ms. Gargi Amoli

01/05/2018

GDB Debugger

Ms. Garima Modi

01/05/2018

Organs-on-Chip

Ms. Nishtha Ahuja

28/04/2018

TeleKinetic

Mr. Rohit Vasisth

28/04/2018

Gartner Top 10 Strategic Technology

Mr. Deepak Rai

31/03/2018

Magic Bench

Ms. Neeti Pahuja

23/03/2018

Haptic Technology

Ms. Heena Rani

23/03/2018

Version Control System

Ms. Lipika Goel

16/03/2018

4 D Printing

Dr. Inderjeet Kaur

16/03/2018

Cryptocurrency

Dr. Vikas Goel

24/02/2018

Artificial Passenger

Ms. Sonam Gupta

16/02/2018

Wireless Mobile Charging Using Microwaves

Ms. Swimpy Pahuja

16/02/2018

Biometric Spoofing

Mr. Akhilesh Verma

02/02/2018

IOT Security

Ms. Deepti Singh

27/01/2018

Traffic Management System

Dr. Sachin Gupta

27/01/2018

Hyperloop

Mr. B.N Pandey

08/12/2017

Green Computing

Mr. Ajay Kumar

08/12/2017

Invisible Cloaks

Ms. Divya Gupta

30/11/2017

Open Source Software

Ms. Shiva Tyagi

25/11/2017

Crowdsourcing

Mr. Shashank Sahu

20/11/2017

Eyephone

Dr. Arun Kumar Yadav

11/11/2017

Cassandra Database

Ms. Nishu Bansal

03/11/2017

Cyborgs

Mr. Dharmendra Kumar

28/10/2017

Data Science

Mr. Deepak Rai

28/10/2017

Grid Computing

Mr. Rajeev Singh

27/10/2017

IBM- BigFix

Ms.Nisha

22/09/2017

System Hacking

Ms.DeepikaVarshney

15/09/2017

Mind Reading Computers

Ms.GargiAmoli

08/09/2017

SQL Injection

Mr.RohitVashisth

01/09/2017

Latest Trends in Home Automation

Ms.Heena Rani

01/09/2017

Gadgets

Ms.GarimaModi

18/08/2017

Driverless Car

Ms. Nishtha Ahuja

12/08/2017

DSpace

Ms. Lipika Goel

04/08/2017

Digital Payment

Dr. Vikas Goel

28/07/2017

Green Cloud

Ms. Neeti Pahuja

21/07/2017

Password Pill

Ms. Sonam Gupta

27/04/2017

Data Science

Mr. Deepak Rai

27/03/2017

Free Net

Ms. Swimpy Pahuja

21/04/2017

Two Factor Authentication

Dr. Inderjeet Kaur

21/04/2017

Introduction to Latex

Dr. Vivek Singh Verma

07/04/2017

Statistical Relational Learning

Dr. Sunita Yadav

31/03/2017

Biometric ATM

Ms. Deepti Singh

24/03/2017

Mobile Phone Cloning

Mr. B N Pandey

22/03/2017

Google Web Master

Dr Sachin Kumar

10/03/2017

RAIN Technology

Ms. Shubhangi Rastogi

03/03/2017

Digital Scent Technology

Ms. Shiva Tyagi

25/02/2017

Corpus Based Machine Translation

Ms. Divya Gupta

17/02/2017

Netlogo Agent Tool

Mr. Shashank Sahu

10/02/2017

R Language

Dr. Arun Yadav

03/02/2017

Graph Database

Mr. Ajay Kumar

27/01/ 2017

Wireless Charging of Mobile Phones Using Microwaves

Ms. Nishu Bansal

20/01/2017

The Eye Tribe

Mr. Dharmendra Kumar

13/01/2017

Advanced Persistent Threats

Mr. Rajeev Singh

02/12/2016

VOLTE

Mr. Vikas Goel

26/11/2016

Why Software Projects Fails?

Dr. Mamta Bhusry

18/11/2016

Block Chaining

Ms. Neeti Pahuja

11/11/2016

7 Programming Languages by Google in 2016

Mr. Deepak Rai

4/11/2016

Rolltops

Ms. Sonam Gupta

28/10/2016

Harmony Search

Ms.CharuAgarwal

21/10/2016

Why does world need more programming Language

Mr.AkhileshVerma

06/10/2016

Netsim

Ms.SwimpyPahuja

30/09/2016

Windows 10 PC into a wireless hotspot

Mr. Vikas Kumar

24/09/2016

SmartNote Taker

Dr. Inderjeet Kaur

16/09/2016

Crypto-Biometric Verification Protocol

Dr. Vivek Singh Verma

10/09/2016

Trends, perspectives and prospects in machine learning

Dr. Sunita Yadav

02/09/2016

Watson

Ms. Deepti Singh

27/08/2016

Blue Jacking

Mr. B. N. Pandey

13/08/2016

Brain Fingerprinting

Ms.Divya Gupta

19/08/2016

Search Engine Management

Dr. Sachin Kumar

05/08/2016

Social Media Analytics

Ms.ReemaAswani

05/08/2016

High Performance Computing

Ms.ShubhangiRastogi

29/07/2016

Digital Identity

Dr. Kirti Seth

23/07/2016

AlfhaGo

Ms. Prachi Maheshwari

13/05/2016

Flexible Display

Mr. Ajay Kumar

07/05/2016

Mind Reading Computer

Ms. Shiva Tyagi

30/04/2016

Google Fiber

Mr. Shashank Sahu

22/04/2016

Spear Phishing

Ms. Nishu Bansal

16/04/2016

SCALA

Mr. Rajeev Singh

16/04/2016

MongoDB

Mr. Arun Kumar Yadav

08/04/2016

Fog Computing

Dr. Mamta Bhusry

02/04/2016

Vivo Stick

Mr. Vikas Goel

18/03/2016

Hawk Eye Technology

Mr. Dharmendra Kumar

12/03/2016

DAKNET

Ms. Neeti Pahuja

26/02/2016

Chromecast

Ms. Charu Agarwal

20/02/2016

Ongoing researches in Computer Science

Mr. Deepak Rai

12/02/2016

Screenless Display

Ms. Sonam Gupta

06/02/2016

4 D Printing

Dr. Pratima Singh

30/01/2016

CPU's of Carbon

Mr. AkhileshVerma

22/01/2016

IBM Watson

Ms. Priyanka Sethi

16/01/2016

Swift

Ms. SwimpyPahuja

20/11/2015

Curved TV

Mr. Vikas Kumar

20/11/2015

Object Detection in Images

Mr. Vivek Singh Verma

05/11/2015

Wearable Devices Using Bluetooth Technology

Dr. Inderjeet Kaur

31/10/2015

Deep Neural Network

Dr. Sunita Yadav

23/10/2015

Google Driverless Car

Ms. Deepti Singh

17/10/2015

Pixeom

Mr. B.N. Pandey

08/10/2015

Traffic Controller

Dr. Sachin Kumar

03/10/2015

Teaching Learning Based Optimization

Ms. Kirti Sethi

03/10/2015

Neural Interfacing

Ms. Shiva Tyagi

03/10/2015

Analytic Hierarchy Process (AHP)

Mr. Ajay Kumar

11/09/2015

Emotional Intelligence

Ms. Prachi Maheshwari

04/09/2015

Surface Computing

Mr. Shashank Sahu

28/08/2015

Brain Computer Interface

Ms. Divya Gupta

21/08/2015

Wolfarm Alpha

Ms. Shubhangi Rastogi

21/08/2015

EmoSpark

Ms. Reema Aswani

14/08/2015

Google Loon

Mr. Arun Kumar Yadav

07/08/2015

Femtocell

Ms. Nishu Bansal

01/08/2015

Lantern

Mr. Dharmendra Kumar

24/07/2015

Android L

Mr. Rajeev Singh

30/04/2015

Net Neutrality

Mr. Vikas Goel

30/04/2015

Green Cloud

Dr. Mamta Bhusry

24/04/2015

Google Project-ara

Ms. Neeti Chadha

17/04/2015

Blue Eyes

Ms. Sonam Gupta

11/04/2015

Internet of Things

Mr. Deepak Rai

27/03/2015

Self Plagiarism

Mr. Akhilesh Verma

27/03/2015

Open GL

Ms. Swimpy Pahuja

14/03/2015

Blue Ocean Strategy

Ms. Priyanka Sethi

02/03/2015

Application and Research in Image Processing

Mr. Vivek Singh Verma

21/02/2015

Window 10 OS

Mr. Vikas Kumar

13/02/2015

Smart Card: Technology for Secure Information Management

Dr. Inderjeet Kaur

07/02/2015

Power Talk

Ms. Charu Agarwal

31/01/2015

ATM Skimming

Ms. Deepti Singh

17/12/2014

Protein Based Memory

Mr. B. N. Pandey

17/12/2014

Neutrosophic Logic

Ms. Kirti seth

11/12/2014

Ergonomics

Ms. Shiva tyagi

11/12/2014

Basic of GNUPlot

Mr. Sachin Kumar

09/12/2014

E-Paper Technology

Ms. Prachi Maheshwari

04/12/2014

Bit Coin

Ms. Priyanka Gupta

20/11/2014

Z-Force Touch Screen

Mr. Ajay Kumar

15/11/2014

Memristor

Mr.Arun Kumar Yadav

15/11/2014

Multicore Technology

Mr. Shashank Sahu

06/11/2014

Claytronics:Synthetic reality

Ms. Nishu Bansal

06/11/2014

Blue Jeans

Ms. Divya Gupta

01/11/2014

Eye Gaze Communication

Mr. Rajeev Singh

01/11/2014

3D Printing

Mr. Dharmendra Kumar

10/10/2014

4K Technology

Mr. Vikas Goel

26/09/2014

E- Learning Framework

Dr. Mamta Bhusry

20/09/2014

Agile Methodology

Ms. Neeti Chadha

20/09/2014

Palm Vein Technology

Ms. Sonam Gupta

06/09/2014

Apache Cassandra- A No SQL Database

Mr. Deepak Rai

30/08/2014

Design and Implements: Image Processing IP Core for ASIC

Mr. Akhilesh Verma






22/08/2014

Mac OS X Mavericks

Ms. Swimpy Pahuja

16/08/2014

Duplication Detection and Analysis in Hadoop Framework

Ms. Priyanka Sethi

16/08/2014

5G

Mr. Vikas Kumar

02/08/2014

Ambience Intelligence

Dr. Inderjeet Kaur

02/08/2014

Metaheuristic Computing

Dr. Sunita Yadav

03/05/2014

Genetic Algorithm

Ms. Deepti Singh

03/05/2014

iTwin

Ms. Charu Agrawal

25/04/2014

Xgraph

Dr. Sachin Kumar

25/04/2014

Sixth Sense Technology

Mr. B.N. Pandey

18/04/2014

Indexing and Citation of Journals

Ms. Kirti Seth

05/04/2014

Smart Quill

Ms. Priyanka Gupta

29/03/2014

Computer Forensics

Ms. Shiva Tyagi

21/03/2014

3D Internet

Ms. Prachi Maheshwari

14/03/2014

Big Data

Mr. Shashank Sahu

14/03/2014

Motivating Today's College Students- The Millennial Generation

Mr. Ajay Kumar






21/02/2014

Open Source Learning Management System

Mr. Arun Kumar Yadav

21/02/2014

TDS

Ms. Sangita Rani

15/02/2014

Cyborgs

Ms. Neeti Chadha

15/02/2014

LTE

Mr. Rajeev Singh

01/02/2014

MT: An Indian Perspective

Ms. Divya Gupta

01/02/2014

Sql Injection

Ms. Nishu Bansal

25/11/2013

Li-Fi Technology

Ms. Sonam Gupta

25/11/2013

Network Projector

Mr. Dharmendra Kumar

16/11/2013

Text Mining

Ms. Mamta Bhusry

16/11/2013

Smart Key

Mr. Vikas Goel

19/10/2013

Focused Crawling

Dr. Sunita Yadav

19/10/2013

The Next Frontier in Computing: Your Brain

Mr. Akhilesh Yadav

05/10/2013

Firefly Algorithm

Ms. Charu Agarwal

05/10/2013

Brain Finger Printing

Mr. B.N, Pandey

07/09/2013

5 Pen PC Technology

Ms. Priyanka Gupta

07/09/2013

Adaptive Neuro Fuzzy Interface System(ANFIS)

Ms. Kirti Seth

21/09/2013

NS-2 : An Overview

Dr. Sachin Kumar

21/09/2013

Multimedia Data Compression & Information Theory

Ms. Deepti Singh






31/08/2013

Human Resource Management

Ms. Shiva Tyagi

31/08/2013

Network File System

Ms. Preeti Maheshwari

17/08/2013

Human Being as coexistence of self (I) & body

Mr. Shashank Sahu

17/08/2013

Expert System

Mr.Ajay Kumar

26/07/2013

Cloud Computing: Issues and Solution Approaches

Mr. Arun Kumar Yadav

26/07/2013

Body Area Network

Ms Sangita Rani

20/04/2013

MPI

Mr. Rajeev Singh

20/04/2013

Swarm Intelligence

Ms. Nishu Bansal

06/04/2013

Silent Sound Technology

Mr. Dharmendra Kumar

06/04/2013

Research And Research Mtehodology

Dr. Rajesh Prasad

16/03/2013

Referencing Styles

Ms. Mamta Bhusry

16/03/2013

Google Glass

Mr. Vikas Goel

02/03/2013

Information Retrieval: Current Trends

Dr. Sunita Yadav

02/03/2013

Human and Fish Vision

Mr. Akhilesh Verma

02/03/2013

E-Ball

Ms. Sonam Gupta

02/03/2013

Introduction to Hadoop

Ms. Neeti Chadha

02/02/2013

Network Queue model

Dr. Sachin Kumar

02/02/2013

MATLAB Basics

Ms Charu Agarwal

25/01/2013

Gaussian Mixture Model

Divya Gupta

25/01/2013

Introduction to GI-FI

Mr. B.N. Pandey

1/12/2012

Synchronization in OS

Ms Priyanka Gupta

1/12/2012

Particle Swarm Optimization

Ms. Kirti Seth

17/11/2012

3-D Optical Memory

Mr. Arun Kumar Yadav

17/11/2012

Multimedia and Authoring Tools

Ms. Shiva Tyagi

1/11/2012

Stable Marriage Problem

Ms Sangita Satapathy

1/11/2012

Data Fragmentation

Ms Prachi Maheswari

31/10/2012

Application of Automata

Dr. Rajesh Prasad

31/10/2012

Augmented Reality

Nishu Bansal

29/09/2012

Neural Network

Mr. Ajaya Kumar

06/10/2012

Introduction to Linux Environment

Mr. Rajeev Singh

06/10/2012

Wi-MAX

Mr Dharmendra Kumar

29/09/2012

Neural Network

Mr. Ajaya Kumar

21/09/2012

Experience gained during 'Human Value and Professional Ethics' workshop, part-II

Mr. Shashank Sahu

21/09/2012

Near Field Communication

Mr. Vikas Goel

01/09/2012

Plagiarism

Ms. Mamta Bhusry

01/09/2012

Image Watermarking

Ms. Deepti Varshney

18/08/2012

Experience gained during "Human Values and Professional Ethics" Workshop

Mr. Akhilesh Verma

18/08/2012

Cloud Computing: An emerging Trend

Ms. Niti Chadha

04/08/2012

Blue Brain

Ms. Inderjeet Kaur

04/08/2012

Skin put Technology

Ms. Sonam Gupta

20/04/2012

Packet Tracer

Dr. Sunita Yadav

20/04/2012

Ultra Books

Ms. Bhawna Malhotra

31/03/2012

Holographic Memory

Ms. Charu Agarwal

31/03/2012

Pattern Classification

Ms. Divya Gupta

24/03/2012

Latex

Ms. Kirti Seth

24/03/2012

Energy Management in AD-HOC Wireless Networks

Ms. Deepti Singh

06/03/2012

Honey pot

Ms. Priyanka Gupta

06/03/2012

Brain Gate

Mr. B. N. Pandey

25/02/2012

Security Challenges and Solutions in E-Commerce

/Ms. Shiva Tyagi

25/02/2012

A High Throughput MAC protocol for wireless Adhoc Networks

Ms. Prachi Maheshwari

17/02/2012

Digital Jewelry

Ms. Sangita Satapathy

28/01/2012

Column Based Database Systems

Mr. Arun Kumar Yadav

28/01/2012

4G Mobile Technology

Ms. Nishu Bansal

20/01/2012

Parameterized Matching: An Application in Plagiarism Detection

Dr. Rajesh Prasad

30/11/2011

Introduction to Parallel Computing

Mr. Rajeev Singh

30/11/2011

Bot Net

Mr. Dharmendra Kumar

12/11/2011

Extreme Programming

Mr Shashank Sahu

04/11/2011

GSM

Prof. R.P Saw

04/11/2011

Chain Codes

Mr. Ajay Kumar

04/11/2011

How to Motivate Students to Come to Class

Mr. Ajay Kumar

21/10/2011

A Data Mining Enabled Knowledge Management Approach

Ms. Mamta Bhusry

03/10/2011

Image Protection

Ms. Deepti Varshney

03/10/2011

Java Card Technology

Mr. Vikas Goel

10/09/2011

Parallel Algorithm in Image Processing

Mr. Akhilesh Verma

10/09/2011

ZigBee

Ms. Inderjeet Kaur

10/09/2011

Risk Management in software project

Dr. Sunita Yadav

27/08/2011

Digital Watermarking in Images

Ms. Charu Aggarwal

26/08/2011

Discretization

Ms. Bhawna Malhotra

12/08/2011

Brihaspati – An e-learning management system

Mr. Vaibhav Pandey

12/08/2011

Evolutionary multiobjective genetic algorithm

Mr. Rohit Saroha

30/07/2011

Latent Semantic Indexing

Ms Divya Gupta

30/07/2011

Ant Colony Optimization

Ms. Kirti Seth
[2019-20]
Date

Topic

Speaker

19-11-2019

"Introduction to Data Science"

Mr. Arjun Bandhan,

Data Scientist, Port Learn Analytics,Delhi

22-10-2019

"Duck Creek Technologies"

Mr. Anuj Kumar

NIIT Technologies, Greater Noida

30-09-2019

"Data Science and Its Application in Emerging Technology"

Mr. Mridul Bhardwaj

Program Manager, HCL Technology,Noida

26-08-2019

"Tool and Techniques used in Software Requirement Analysis"

Mr. Pramod Kumar Shukla

Business Analyst, BT Data and Servyaing India Pvt. Ltd.,Noida
Date

Topic

Speaker

18/04/2019

Angular7 And Spring Boot2.x

Mr. Nagendra Kumar Yadav

Technical Manager,CA Technologies

24/03/2019

Cloud Computing

Mr. Manoj Kumar Anand, Engineer,IQOR India Services, Noida

14/02/2019

Change in Software Development Process of AI and Big Data

Mr. Mridul Bhardwaj, Program Manager,HCL Technology, Noida

29/01/2019

Importance And Scope of Business Analysis in Current Market

Mr. Pramod Kumar Shukla, Business Analyst, BT Data and Serving Services India Pvt. Ltd., Noida

30/10/2018

Web API

Mr. Manoj Kumar Anand, Engineer,IQOR India Services, Noida

24/09/2018

How Automation Challenge The Traditional IT Work And How to prepare yourself

Mr. Mridul Bhardwaj, Program Manager,HCL Technology, Noida

30/08/2018

VUE.JS

Ms. Priyanka Sharma, Project Manager,Green Web Media, Noida

28/07/2018

Machine Learning - Hot Era of Programming

Mr. Pramod Kumar Shukla, Business Analyst, BT Data and Serving Services India Pvt. Ltd., Noida

05/04/2018

Scope of Business Analysis in Software Industry

Mr. Pramod Kumar Shukla, Business Analyst, BT Data and Serving Services India Pvt. Ltd., Noida

23/03/2018

Software Project Estimation

Mr. Mridul, Program Manager, HCL Technologies, Noida

20/02/2018

C# and OOPS

Mr. Manoj Kumar Anand, Engineer, IQOR India Services, Noida

29/01/2018

WordPress and WooCommerce

Mr.Prashant Dhama, Engineer at Hipster Coders

31/10/2017

Security Threats in Cyber world

Mr.Palvinder SIngh, PFA at Lucideus Technologies

15/09/2017

Big Data and Hadoop

Mr. Vikas Kumar Atray, Trainer, APTRON

23/08/2017

Android

Mr. Deep, SO Infotech Pvt. Ltd.

28/07/2017

Web Development

Mr. Punit Katiyar, Consultant & Developer, SO Infotech Pvt. Ltd.

11/04/2017

Fire-Base

Mr. Nikhil Kathuria, SO Infotech Pvt. Ltd.

30/03/2017

Cyber Security

Mr. Sawan Kumar, Sr IT Expert in CETPA Info Tech.

27/02/2017

Android Development and Network Security

Mr. Santu Purkait, Director at Netcamp Solutions Pvt. Ltd.

30/01/2017

Web Technology

Mr. Sumit Kumar, Sr. PHP Developer & Consultant, SO Infotech, Delhi

10/11/2016

Case Study of Involvement of Technologies in Incubation

Mr. Sanjay Sharma, Managing Director, Mudgal Engineers Pvt. Ltd., New Delhi

6/10/2016

Cloud Computing and its Application

Mr.Ashish Raj, Cloud Expert, Core Database System

20/09/2016

Android App Development

Mr. Shiladitya Raj, Senior Android Developer, S.O. Infotech Pvt. Ltd.

29/08/2016

Hadoop

Mr.Vinay Kumar, Project Manager, Core Database Systems.

26/07/2016

Application Development

Mr. Keshav Jha,CEPTA Global.,Noida

19/04/2016

User Interface

Mr. Avinash Malhotra,Corporate Trainer,Tech Altum,Noida

30/03/2016

Oracle Database

Mr. Vinay Kumar,Oracle Expert,CEPTA InfoTech.,Noida

24/02/2016

Insight into IT

Mr. Anurag Kumar Mudgal,Sr. IT Expert,CEPTA InfoTech.,Noida

20/01/2016

Cloud (Amazon Web Services)

Mr. Sanjay Sharma, Corporate Trainer,SSDN technologies Pvt. Ltd.,Gurgaon

16/11/2015

Introduction to Mobile Game Development Technologies

Mr. Prashant Chaudhary, Web Consultant In Vidz

05/10/2015

Applications of .NET

Mr. Rajesh Kumar Sharma

Senior Corporate Trainer, SSDN Technologies Pvt. Ltd.

04/09/2015

Linux

Mr. Sanjay Sharma

Corporate Trainer at SSDN Technologies Pvt. Ltd.

17/08/2015

Emerging Technologies for Android Application Development

Mr. SandeepTiwari

Founder Director of Issac I.T. Lab Solutions LLP Ltd.

30/07/2015

Paradigm Shift in concept of National Security and Cyber Warfare Technologies

Brig.(Dr.) Ashok Kumar Pathak (Retd.)

Guest faculty at Institute of Financial Management (NIFM),Faridabad And National Institute of Power Training, Faridabad

27/02/2015

Java Technology

Mr. Nazmul Hasan

Team Leader, Spice Lab Noida

30/10/2014

Android, The Emerging Technology

Mr. Divy Dhiman

DUCAT, Noida

26/09/2014

Telecom Network Management

Mr. Abhay Shukla

Senior Solution Designer

Tech Mahindra Ltd. Noida

07/08/2014

Benefits of Oracle Workforce Development Program

Mr.Raja Dasgupta – Head, Oracle Workforce Development Program and Certifications, India






28/07/2014

Changing Dynamics of IT Industry

Mr.Sooraj Sharma, Centre Manager, Edumore Learning, Ghaziabad

23/04/2014

Oracle Database





Ms. Shanti raju, Key Account Manager, Oracle, Gurgaon

12/03/2014

Microsoft Silverlight





Mr. Anil Kumar Singh, Director, Cetpa Infotech Pvt Ltd., Noida

26/02/2014

ITIL Foundation and Project Management

Mr. Anurag Shankar, PMP and ITIL certified, Ahana Global Ventures Pvt. Ltd.





27/01/2014

Android-Mobile Industry Transformation

Mr. Pradeep Kumar, Senior Software, Inoday Consultancy Pvt. Ltd., Noida

21/11/2013

Fear Factors of IT students

Dr. B.P. Sharma






22/10/2013

Health Monitoring through Information & Communication Technology(with special emphasis on solution to India's health care problems)





Prof. David Hewson, University of Technology of Troyes, France








23/09/2013

Server Load Balancing and clusteing

Mr. Deepak Kumar Singh, Sr. J2EE Developer/Trainer






22/08/2013

JAVA-An Object Oriented Approach

Mr. Najmul Hasan, Sr. J2EE Developer/Trainer





16/04/2013

ORACLE-All in one Database

Er. Rajat Som, Oracle Trainer/Developer

19/03/2013

JAVA-An Object Oriented Approach

Mr. Amit Srivatava, System Analyst

13/02/2013

Software Development

Mr. Rajesh Khedekar, Project Manager

29/01/2013

PHP Technology-An Industrial perspective

Mr. Sudhanshu Kumar, Senior PHP Consultant(Techmentro, Noida)

23/11/2012

Research Opportunities in Sensor Network

Dr. Vidushi Sharma, Asst. Professor, GBU, Greater Noida

17/10/12

SAP: Marking A New Era of Enterprise Resource planning

Mr. Kamal Singh, ERP+SAP Corporate Trainer, Ducat, Noida

21/09/2012

Career Opportunities in Technical writing

Mr. Vijay Malik, Director, Information Development Tech Solutions Pvt Ltd

21/08/2012

"Software Development & Testing"

Mr. Mohit Chhabra

Software Developer

SOPRA Group Pvt Limited, Noida

17/04/2012

"Overview of ERP Product-Oracle Applications"

Mr. Vijay Kumar Sharma

Functional Consultant,

Oracle Applications, Bangalore

27/03/2012

"Multiprotocol Label Switching (MPLS)-A Solution for Seamless Network Connection"

Mr. S.H. Abbas Mehdi

Assistant Director,

Software Technology Parks of India,

Ministry of Communication & Information Technology, Govt. of India, Noida

24/02/2012

"Mobile Computing Evolution"

Mr. Ashish Dixit

Software Engineer

Samsung India Electronics Pvt. Ltd., Noida

27/01/2012

"Virtualization-The Art of Virtual Version of Computing"

Mr. Saurabh Singh

Senior Associate,

Head Strong, Noida

03/11/2011

"Routing Protocols"

Mr. Vishal Kumar

Sr. Software Engineer,

Samsung India

21/10/2011

"Android - Software stack for mobile devices"

Mr. Amod Kumar

Trainer,

CETPA , Noida

23/09/2011

"Welcome to cloud computing- A paradigm shift"

Mr. Deepak Talwar Associate Manager,

Symantec Software Solution Ltd., Noida.

20/04/2011

Mr. Santu Purkait, Director, Nettech Private Limited

Internet Security and Ethical Hacking

09/02/2011

Mr. Deepak Talwar, Associate Manager Special Programs, South Asia, Symantec Software Solutions Ltd., Noida

Security Threat Landscape – A Paradigm Shift

13/09/2010

Mr. Sumit Pandey, Technical Consultant, Smart Chip
Ltd., Noida

Present Corporate
Requirements

25/08/2010

Mr. Deep Dinesh, Senior Software Engineer,
NIIT Technologies, Noida

Oracle & Concept of
Data Warehouse

21/04/2010

Mr. Vijay Malik, Lead Technical Writer, Samin TekMindz,Ghaziabad

Technical Writing : A Great Career Option

19/03/2010

Mr. Prakash Rastogi, Director, Sarvodaya Institute of Software,Ghaziabad

Hibernate

19/02/2010

Mr. Pravjot Singh, Project Lead, Real Time & Embedded Systems, Miracle Technologies, Noida

Advanced Embedded Technologies

13/11/2009

Mr. Sujoy Dutta, Project Management Consultant, Sarvodaya Institute of Software,Ghaziabad

Web Development using Net Framework

23/10/2009

Mr. Abhishek Verma, Technical Head, Indusroot Technologies, Delhi
Mr. Nishant Jain, Manager, Punj Lyod, Noida
Mr. Amit Jain, Head Business Development, Indusroot Technologies, Delhi

Effect of Recession in IT Industry: Current Scenario & Surviving Skills

19/09/2009

Mr. Dharamvir Singh

.Net Present Scenario and Its Future Outcome

28/08/2009

Chief Guest Lt. Gen A. K. Agarwal, President IETE

Next Generation Networks for Multimedia

10/04/2009

Prof. A. K. Sharma, CITMFaridabad

Information Technology in Business Transformation

24/03/2009

Mr. Baba Varanasi, Operation Lead, CSC Noida

Career Progression

21/03/2009

Mr. Bharat Bhushan, Safenet India, Noida

Information Security

06/02/2009

Dr. Krishan Anand, CEO B&M Computers Intl. Australia

A Pathology of Contemporary EnterpriseNetwork & Security

31/01/2009

Mr. Sandeep Pandey, Microword

Training on Use and Updation of Anti Virus Packages

17/11/2008

Mr. Abhishek Mahanty, NIIT

JAVA Technology with Sun Microsystems

06/06/2008

Mr. Atul Agarwal, Innobuzz Corporation Ltd, Delhi

HTTP on Network Security and Ethical Hacking
Name of the Book

Authors

Publisher

Year

Basics of Information Technology

Dr. Sonam Gupta
Ms. Lipika Goel

Krishna Prakashan Pvt. Ltd.

2019-20

Office Automation Tools

Dr. Sonam Gupta

Krishna Prakashan Pvt. Ltd.

2018-19

Integrating web services in Windows Mobile

Dr. Sachin Kumar

IGNOU, COL

2017-18

Introduction to
Windows mobile and ios

Mr. Deepak Rai

IGNOU, COL

2017-18

C: Concepts and Programming

Dr. Mamta Bhusry

IK International Pvt. Ltd.

2016-17

Operating System(A Concept-based Approach)

Dr. Inderjeet Kaur, Ms. Sonam Gupta

IK International Publishing House Pvt. Ltd

2015-16

Artificial Intelligence(ISBN: 9788192299228)

Mr. Ajay Kumar Ms. Prachi Maheshwari

JLH Publication

2012-13

Data Mining in Decision Making (A Multi Rule Algorithm(ISBN: 978-3-8473-0894-2)

Ms. Kirti Seth

Lambert Publication

2012-13

Network Technology (ISBN: 978-93-5014-190-8)

Dr. Sachin Kumar

Katsons

2011-12

Network Programming (ISBN: 978-93-5014-123-6

Dr. Sachin Kumar

Katsons

2011-12

Data Mining and Data Warehousing (ISBN: 9789380027111)

Dr. Sachin Kumar

Katsons

2010-11

E-Commerence (ISBN: 81-7008-119-X)

Ms. Mamta Bhusry

Firewall Media

2005-06
Date

Topic

Speaker

04/05/2019

A Convolution Neural Network Model for Online Medical Guidance

Mr. Vikas Kamra

04/05/2019

Learning from imbalanced data: open challenges and future directions

Mr. Ajay Kumar

29/04/2019

An Overview of Information Retrieval Techniques

Ms. Arti Pandey

05/04/2019

Software Reliability Modeling based on ISO/IEC SQuaRE

Ms. Shiva Tyagi

28/03/2019

Software Automated Testing: A solution to maximize the test plan coverage and to increase software reliability and Quality in use

Mr. Dharmendra Kumar

28/03/2019

KP-Trie Algorithm for Update and Search Operations

Mr. B.N.Pandey

19/03/2019

Two new heuristics for the dominating tree problem

Mr. Rajeev Singh

19/03/2019

Security of Internet Of Things: Perspectives and Challenges

Ms. Deepti Singh

18/03/2019

Classifier Based Text simplification for improved Machine Translation

Ms. Divya Gupta

18/03/2019

Cloud Computing Overview and Challenges

Ms. Nisha

09/03/2019

Cloud-based secure and privacy-enhanced Authentication & Authorization Protocol

Ms. Neeti Pahuja

01/02/2019

Using Class Imbalance Learning for Cross-Company Defect Prediction

Ms. Lipika Goel

29/11/2018

A fast fingerprint image enhancement algorithm using a parabolic mask

Mr. Akhilesh Verma

16/11/2018

A survey on graph queries processing

Mr. Rohit Vashisht

05/11/2018

Healthcare Big Data and Cloud Computing

Ms. Priyanka Upadhyay

05/11/2018

Only Aggressive elephants are fast elephants

Ms. Neha Bagwari

13/10/2018

EC3: Combining Clustering and Classification for Ensemble Learning

Ms. Pooja Mithoo

05/10/2018

Optimization of

Hopified

network for storage and

recalling

of static images

Mr. Jay Kant Singh Yadav

28/09/2018

Using Machine Learning Algorithms For Breast Cancer Risk Prediction and Diagnosis

Mr. Saket Kumar Singh

22/09/2018

Development of Data Mining classification Tool Benchmarked With Weka Classifier ( A case study of a high blood pressure disease dataset)

Mr. Vikas Kamra

14/09/2018

CANN: An intrusion detection system based on combining cluster centers and nearest neighbors

Mr. Santosh Kr. Upadhyay

31/08/2018

Fog Computing: A Taxonomy, Survey and Future Directions

Mr. Deepak Rai

25/08/2018

Evaluating effectiveness of software testing techniques with emphasis on enhancing software reliability

Mr. Ajay Kumar

16/08/2018

A swarm algorithm for collaborative traffic in vehicular networks

Ms. Nishu Bansal

27/07/2018

LEACH protocol in WSN: A Survey

Ms. Swimpy Pahuja

27/07/2018

Reusability of Open Source Software Across Domains: A Case study

Ms. Shiva Tyagi

14/05/2018

Software Test Automation: An Algorithm for
Management Automation Problems

Mr. Dharmendra Kumar

14/05/2018

Fast Determination of Items Support Technique from Enhanced Tree Data Structure

Mr. B. N. Pandey

03/05/2018

IOT: A

Version ,

Architectural elements

and

Future Directions

Ms. Deepti Singh

01/05/2018

An Efficient method to solve Least Cost Minimum Spanning tree problem

Mr. Rajeev Singh

01/05/2018

Assessing Sentence Scoring Techniques for Extractive Text Summarization

Ms. Nishtha Ahuja

28/04/2018

A new user Authentication, File Encryption and Distributed Server based Cloud Computing Security Architecture

Ms. Neeti Pahuja

31/03/2018

Heterogeneous Defect Prediction

Ms. Lipika Goel

23/03/2018

Mobile Edge Computing: A Survey

Ms. Nisha

23/03/2018

Analysis the Targets of Hate in Online Social Media

Ms. Deepika Varshney

16/03/2018

Frequent Pattern Analysis of Moving Objects Using Apriori Algorithm

Ms. Heena Rani

16/03/2018

Cyber Threat Intelligence for Supporting ATM Security Management

Ms. Gargi Amoli

24/02/2018

Energy Efficient VM Placement Using Genetic Algorithm in Cloud

Mr. Rohit Vashisth

16/02/2018

Intelligent Agents in Home Healthcare

Mr. Shashank Sahu

16/02/2018

Collusive Data Leak and More: Large-Scale Threat Analysis of Inter-app Communications

Ms. Garima Modi

02/02/2018

A Hybrid Approach for Hindi-English Machine Translation

Ms. Divya Gupta

27/01/2018

On the interoperability of capture device in fingerprint presentation attack detection

Mr. Akhilesh Verma

27/01/2018

Resilience of DoS attacks in designing anonymous user authentication protocol for wireless sensor network

Ms. Swimpy Pahuja

08/12/2017

Evaluation of Automated Web Testing Tools

Mr. Ajay Kumar

30/11/2017

A Micro-Artificial Bee Colony based Multicast Routing in Vehicular Advice Networks

Ms. Nishu Bansal

25/11/2017

The Adaptive Radix Tree: ARTful Indexing for Main Memory Database

Mr. B.N. Pandey

20/11/2017

A Comparative Study: Cloud Testing Tools and Challenges

Mr. Dharmendra Kumar

11/11/2017

Jackal: A Compiler based Implementation of Java for Clusters of Workstations

Mr. Rajeev Singh

03/11/2017

MCDB: Using Multi Clouds to ensure Security in Cloud Computing

Ms. Neeti Pahuja

03/11/2017

Modeling and Analysis of Reliability of Open Source Software Incorporating Fault Detection and Correction Process

Ms. Shiva Tyagi

28-10-2017

Dynamic Resource Caching in IOT Application Layer for Smart Cities

Ms. Deepti Singh

27-10-2017

MCDB: Using Multi Clouds to ensure Security in Cloud Computing

Ms. Neeti Pahuja

27-10-2017

An Empirical Study of a Hybrid Code Clone Detection Approach on Java Byte Code

Ms. Sonam Gupta

06-10-2017

Detecting Video Spammer in YouTube Social Media

Ms. Deepika Varshney

06-10-2017

An Investigation on the Effect of Cross Project data for Prediction Accuracy

Ms. Lipika Goel

22-09-2017

Semantic Graph reduction Approach for Abstractive Text Summarization

Ms. Nishtha Ahuja

15-09-2017

Augmented Reality in Reality

Ms. Nisha

08-09-2017

A Proposal for mobile E-care Health Service System Using IOT for Indian Scenario

Ms. Heena Rani

01-09-2017

iSeneior: A Support System for Elderly Citizens

Ms. Gargi Amoli

01-09-2017

Energy Optimization in Cloud Computing

Mr. Rohit Vashisht

18-08-2017

Android Inter-App Communication Threats and Detection Techniques

Ms. Garima Modi

12-08-2017

A Review of Fuzzy Methods in Automotive Engineering Application

Mr. Shashank Sahu

04-08-2017

Making Headlines in Hindi: Automatic English to Hindi News Headline Translation

Ms. Divya Gupta

28-07-2017

Effective Algorithm for Security and Integrity in WSN

Ms. Swimpy Pahuja

28-07-2017

Periocular and Iris Local Descriptors for Identify Verification in Mobile Applications

Mr. Akhilesh Verma

22-04-2017

Energy Efficient Hierarchial Routing for Wireless Sensor Networks: A swarm Intelligence Approach

Ms. Nishu Bansal

22-04-2017

Detection of Ships in Marine Environment by Square integration mode and Multilayer Perception

Mr. Ajay Kumar

08-04-2017

Enhanced Two Sliding Window Algorithm for Pattern Matching

Mr. Deepak Rai

31-03-2017

Cloud Testing Tools and Its Challenges: A Comparative Study

Ms. Dharmendra Kumar

24-03-2017

Non Blocking Patricia Tries with Replace Operations

Mr. B. N. Pandey

22-03-2017

Improved Heuristics for Bounded Diameter Minimum Spanning Tree

Mr. Rajeev Singh

21-03-2017

Improving Software Reliability Prediction through Multi Criteria based Dynamic Model Selection and Combination

Ms. Shiva Tyagi

03-03-2017

Internet of things for smart cities

Ms. Deepti Singh

25-02-2017

Syntax Tree Fingerprinting: A Foundation for Source Code Similarity Detection

Ms. Sonam Gupta

25-02-2017

A Novel Fuzzy Model and Control of Single Intersection

Mr. Shashank Sahu

10-02-2017

Supporting Large English-Hindi Parallel Corpus using Word Alignment

Ms. Divya Gupta

10-02-2017

Security Oriented Cloud Computing Platform for critical infrastructure

Ms. Neeti Pahuja

27-01-2017

A Scheduling and Runtime Framework for a Cluster of Heterogeneous Machines

Ms. Shubhangi Rastogi

20-01-2017

A Robust Embedded Biometric Authentication System Based on Fingerprint and Chaotic Encryption

Mr. Akhilesh Verma

13-01-2017

A Secure Routing Protocol for WSN

Ms. Swimpy Pahuja

02-12-2016

Artificial Intelligence Methods and Systems for Medical Consultation

Mr. Ajay Kumar

26-11-2016

Four Sliding Windows Pattern Matching Algorithm (FSW)

Mr. Deepak Rai

26-11-2016

ON the Framework and Key Technologies of Modern GIR System

Mr. Arun Kumar Yadav

18-11-2016

A Survey of Outlier Detection Methodologies

Mr. Vikas Kumar

11-11-2016

Energy Balanced Unequal Clustering Protocol for Wireless Sensor Networks

Ms. Nishu Bansal

04-11-2016

When and what to automate in software testing? A multi-vocal literature review

Mr. Dharmendra Kumar

28-10-2016

Raliabilty Analysis & Optimal Version-Updation for Open Source Software

Ms. Shiva Tyagi

21-10-2016

Evaluating Alternatives Structures for Prefix Trees

Mr. B N Pandey

08-10-2016

Adaptive Key Frame Extraction for video summarization using an aggregation mechanism

Ms. Charu Agarwal

30-09-2016

An Efficient Method to solve Least-Cost Minimum Spanning Tree(LC-MST) problem

Mr. Rajeev Singh

24-09-2016

A Novel Security Scheme for Wireless Adhoc Network

Ms. Deepti Singh

16-09-2016

Data Mining Approach for Detecting Higher Level Clones in Software

Ms. Sonam Gupta

10-09-2016

Secure Virtualization for Cloud Computing

Ms. Neeti Pahuja

02-09-2016

Significant RegionBased Image Watermarking in the Lifting Wavelet Transform Domain

Mr. Vivek Singh Verma

27-08-2016

Machine Translation of Bilingual Hindi English(Hinglish) Text

Ms. Divya Gupta

19-08-2016

Air Indexing for On-Demand XML Data Broadcast

Mr. Vikas Goel

13-08-2016

Learning within the BDI Framework: An Emperical Analysis

Mr. Shashank Sahu

06-08-2016

Multiscale Local Binary Patterns for Facial Expression-Based Human Emotion Recognition

Mr. Akhilesh Verma

29-07-2016

Breadth First Graph Traversal on GPUs

Ms. Shubhangi Rastogi

23-07-2016

Secure Ant Based Routing Protocol for WSN

Ms. Swimpy Pahuja

07-05-2016

NADEEF: A Generalized Data Cleaning System

Ms. Reema Aswani

07-05-2016

TVSBS: A fast exact pattern matching algorithm for biological sequences

Mr. Deepak Rai

30-04-2016

REACT: An interactive Educational tool for AI planning

Mr. Ajay Kumar

22-04-2016

gSkeletonClu: Density-based Network Clustering via Structure-Connected Tree Division or Agglomeration

Mr. Vikas Kumar

16-04-2016

Uequal clustering by improving PSO in Wireless sensor network

Ms. Nishu Bansal

08-04-2016

Indexing Structure for Geographical Web retrieval

Mr. Arun Kumar Yadav

02-04-2016

Analysis and design of Selenium Webdriver automation testing framework

Mr. Dharmendra Kumar

18-03-2016

Evauating alternative structures for Prefix tree

Mr. B N Pandey

12-03-2016

Exploring the relationship between system engineering and software engineering

Ms. Shiva Tyagi

26-02-2016

Autonomous agent based load balancing algorithm in cloud computing

Ms. Prachi Masheshwari

20-02-2016

Runtime optimization for a java DSM implementation

Mr. Rajeev Singh

12-02-2016

Cuckoo search algorithm for the selection of optimal scaling factors in Image watermarking

Ms. Charu Agarwal

06-02-2016

A study of consistent and inconsistent changes to clones

Ms. Sonam Gupta

30-01-2016

Maximum battery life routing to support ubiquitous mobile computing in wireless ad hoc networks

Ms. Deepti Singh

22-01-2016

Protecting the privacy and security of sensitive customer data in the cloud

Ms. Neeti Pahuja

16-01-2016

Improved watermarking technique based on significant difference of lifting wavelet coefficients

Mr. Vivek Singh Verma

20-11-2015

Advanced Algorithm for Matching and Reordering in Example Based Machine Translation

Ms. Divya Gupta

20-11-2015

A Combined Approach to Ensure Data Security in Cloud Computing

Ms. Neeti Chadha

05-11-2015

An Intelligent Agent Tool for Anti-corruption body (ombudsman) via Decision Support Environment

Mr. Shashank Sahu

31-10-2015

User-Steered Image Segmentation Using Lirc Marker

Mr. Akhilesh Vema

23-10-2015

Multichannel Energy Efficient Hash Scheme Broadcasting

Ms. Vikas Goel

17-10-2015

Active Queue Management for Flow Fairness and Stable Queue Length

Ms. Shubhangi Rastogi

08-10-2015

A Proposed Security Technique Based on Watermarking and Encryption for Digital Imaging and Communications in Medicine

Mr. Anuj Kumar Dwivedi

08-10-2015

Data Mining with Big Data

Ms. Reema Aswani

03-10-2015

Method for Reliability Estimation of Costs Component Based Software System

Ms. Kirti Seth

03-10-2015

Observe, Learn and Adapt(OLA)- An algorithm foe Energy Management in Smart Houses Using Wireless Sensors & Artificial Intelligence

Mr. Ajay Kumar

03-10-2015

A Secure Alternate Path Routing in Sensor Network

Ms. Swimpy Pahuja

11-09-2015

Bidirectional Search in a String with Wavelet Trees & Bidirectional Matching Statistics

Mr. Deepak Rai

04-09-2015

Visual Analytics in Medical Education: impacting Analytical Reasoning and decision making for Quality Improvement

Ms. Priyanka Sethi

28-08-2015

Multimodal News Story Clustering With Pairwise Visual Near-Duplicate Constraint

Mr. Vikas Kumar

21-08-2015

MRGIR: Open Geographical information retrieval Using MapReduce

Mr. Arun Kumar Yadav

14-08-2015

Software Test Automation: An Algorithm for Solving System Management Automation Problem

Mr. Dharmendra Kumar

07-08-2015

Software Engineering Competence Evaluation Portal

Ms. Shiva Tyagi

01-08-2015

Bio-inspired Multi-agent Data Harvesting in a Proactive Urban Monitoring Environment

Ms. Nishu Bansal

24-07-2015

A Combination of Trie-Trees and inserted files for the Index of Set-Valued Attributes

Mr. B. N. Pandey
Project Title

Funding Agency/ Company Name

Faculty Involved

Students Involved

Session

DFI (UI/UX and Android)

Vgeekers Technologies

Dr. Sonam Gupta

1. Ajeet Kumar(3rd Year)

2.Ashutosh Yadav(3rd Year)

3.Aniket Pandey (3rd year)

THOAA(UI/UX)

Vgeekers Technologies

Dr. Sonam Gupta

1.Ajeet Kumar(3rd Year)

2.Ashutosh Yadav(3rd Year)

3.Satyam Singh (3rd year)

VFI (API)

Corecon India Pvt ltd

Ms. Lipika Goel

1.Gaurav Singh(3rd year)

2.Kavinder Panwar (3rd year)

3.Sagar Agrawal (3rd year)

4.Neha Shukla(3rd year)

Web Development

Center of E-Governance, New Delhi

Dr. Inderjeet Kaur

1. Saumya Bharuka

2018-19

2. Harsh Singh

Machine Learning

Center of E-Governance, New Delhi

Dr. Inderjeet Kaur

1. Ayush Tripathi

2018-19

Travel India-Guide.com Content Management and Template Update

Eternity Infosystem Pvt. Ltd., Delhi

Dr. Sonam Gupta

1. Ayush Pratap Singh

2018-19

2. Avinash Rai

3. Ayush Gupta

4. Ayush Sahu

Re-designing of website of Antrix Academy

Froyo Technologies Pvt. Ltd., Noida

Dr. Sonam Gupta

1. Shivi Agarwal

2018-19

2. Sarvagya Jalota

3. Shivendra Gupta

E-Commerce Website

Froyo Technologies Pvt. Ltd., Noida

Dr. Sonam Gupta

1. Saurabh Srivastava

2018-19

2. Shubham Singh

3. Rishabh Agarwal

Video Based Security Surveillance (IOT)

Froyo Technologies Pvt. Ltd., Noida

Ms. Lipika Goel

1. Adarsh Pandey

2018-19

2. Yash Gaur

3. Vishal Srivastava

4. Tripti Gupta

Vehicle Tracking System

Zonic Internet Pvt. Ltd. Gurgaon

Ms. Lipika Goel

1. Nikita Agarwal

2018-19

2. Mansi Gupta

3. Kunal

4. Nayan Jain

GPS Protocol Server

Zonic Internet Pvt. Ltd. Gurgaon

Ms. Lipika Goel

1. Nikita Agarwal

2018-19

2. Mansi Gupta

3. Kunal

4. Nayan Jain

Inventory & Asset Management using PHP

Center of E-Governance, New Delhi

Dr. Inderjeet Kaur

1. Shivangi Singh

2018-19

2. Shivi Agarwal

Asset Management using Java

Center of E-Governance, New Delhi

Dr. Inderjeet Kaur

1. Aditya Barnawal

2018-19

2. Amulya Agarwal

SAEG_MACHINE_SELECTOR

Micromatic Grinding Technologies Ltd, Ghaziabad

Dr. Sachin Kumar

1. Prinkush Kalra

2016-17

2. Jagmohan Singh Chauhan

3. Mukul Agarwal

4. Rambabu Chaurasiya

ASK_THE_MD

Micromatic Grinding Technologies Ltd, Ghaziabad

Dr. Sachin Kumar
Ms. Nishu Bansal

1. Prinkush Kalra

2016-17

2. Jagmohan Singh Chauhan

3. Mukul Agarwal

4. Rambabu Chaurasiya
Academic Year
Date
Name of Programme
Duration
Facilitator
Name of Attendees
2017-18
14-10-2017
Network Security
03 days
Micothlab Pvt. Ltd.
Mr. Sunil Kr. Jha
Mr. Lokesh Kumar
Mr. Yogendra Singh
Mr. Yogesh Kumar
Mr. Ravi Dutt
Mr. Abhishek
Mr. Hemant kr. Pathak
2016-17
19-12-2016
Android Workshop
01 Day
Aptron Solutions Pvt. Ltd.
Mr. Lokesh Kumar
Mr. Manoj Kumar
Mr. Abhishek
Mr. Yogendra Singh
2016-17
17-07-2017
Networking
05 Days
Ms. Neeti Pahuja
Mr. Sunil Kr. Jha
Mr. Lokesh Kumar
Mr. Yogendra Singh
Mr. Yogesh Kumar
Mr. Ravi Dutt
Mr. Hemant kr. Pathak
2015-16
14-12-2015
Advance Programming In C
05 Days
Dr. Sachin Kumar
Mr. Sunil Kr. Jha
Mr. Lokesh Kumar
Mr. Manoj Kumar
Mr. Ravi Dutt
Mr. Hemant kr. Pathak
Mr. Abhishek
2015-16
07-07-2015
C Programming
12 Days
Dr. Sachin Kumar
Mr. Sunil Kr. Jha
Mr. Lokesh Kumar
Mr. Manoj Kumar
Mr. Koshal Vats
Mr. Ravi Dutt
Mr. Hemant kr. Pathak
Mr. Abhishek
2014-15
22-06-2-15
Linux
05 Days
Mr. Abhishek
Mr. Ravi Dutt
Mr. Lokesh Kumar
Mr. Manoj Kumar
Mr. Koshal Vats
Mr. Sunil Kr. Jha
Mr. Hemant kr. Pathak
2014-15
15-05-2015
PLC (Programmable Logic Controller)
02 Days
AKGEC-TIFAC-Core
Mr. KoshalKishor Vats
Mr. Manoj Kumar
2014-15
11-05-2015
Open Source Software KOHA
01 Day
Mr. Arun Kumar Yadav
Mr. Abhishek
2019-20
An online coding contest "Sacred Codes" was organized by the Programming Club, Department of Computer Science and Engineering on 28 September 2019. Students from all years across all domains of the college had participated in this contest. The main aim of organizing this contest was to facilitate programming skills among students, so they can cater to the demands of IT industry. The contest was organized under the supervision of Mr. Vikas Kamra, Faculty Coordinator, Programming Club and a team of 08 Student Coordinators. The contest was organized on CodeChef Online Programming Platform in two divisions, DIV-I (for 3rd and 4th year students) and DIV-II (for 1st and 2nd year students).
Total number of students registered in the contest: 312 (101 for DIV-I and 211 for DIV-II)
Total number of students appeared in the contest: 99 (26 for DIV-I and 73 for DIV-II)
Total number of students qualified in the contest: 63 (20 for DIV-I and 43 for DIV-II)
Top 02 qualified students from each division were awarded cash prizes of Rs. 1500/- and Rs. 1000/- respectively. Top 15 students from each division were awarded a certificate of excellence.
2018-19
Programming Club conducted 7 days workshop on "Data Structures & Algorithms for Competitive Programming" from 05 March 2019 to 11 March 2019. This workshop was an initiative to make the students aware about the club and to upgrade the knowledge and combative spirit of students of our college regarding competitive programming.
Total 67 students of 1st, 2nd and 3rd Year registered and attended the workshop. Certificate of participation was awarded to students having more than 70% attendance in the workshop (59 students).
COUNCIL OF SCIENCE & TECHNOLOGY, DST, U.P GRANT SCHEME 2018-19
Students of B.Tech IV year CSE successfully completed project 'Smart Home Technology for Persons with Mobility Impairment' under guidance of Dr. Sunita Yadav, HoD CSE. The project received a grant of Rs. 20,600 from Council of Science & Technology, DST, U.P under the UP Engineering Students' Grant Scheme 2018-19.
Smart Home System is a fully functional system that uses WIFI module implemented using Android application. It enables user to control appliances and machines which are Raspberry Pi enabled, with just one touch thus making it easy to be used by people with mobility impairment. The focus of this application also includes directing a security system with webcam surveillance.
Team Members: Harleen Kaur, Ayushi Goel, Disha Bhatnagar and Deeksha Singh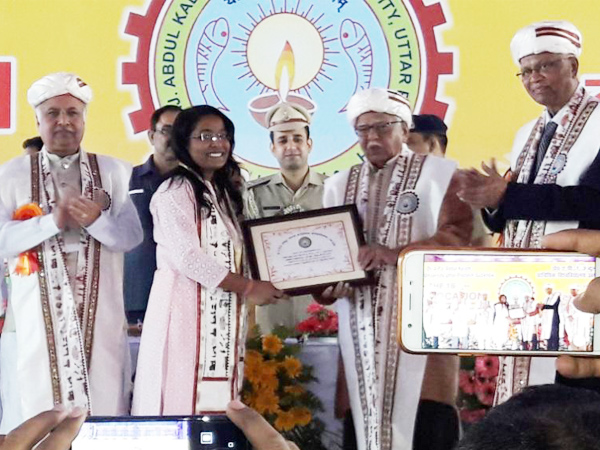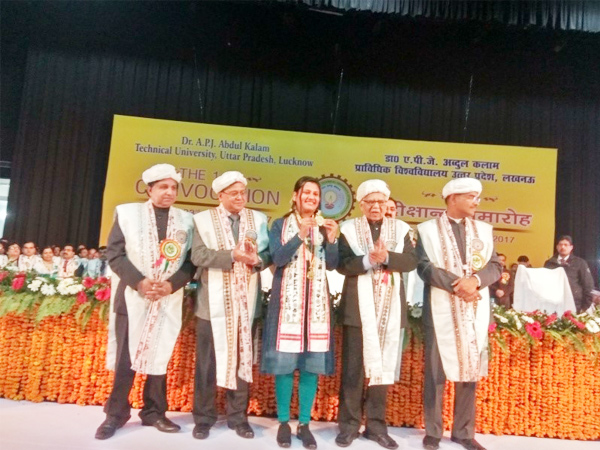 It is a matter of great pride for the College that Ms. Ayushi Agarwal of B.Tech Computer Science and Engineering 2016 pass out batch and Ms. Preeti Gupta of B.Tech Computer Science and Engineering 2018 pass out batch were awarded Chancellor Medal for achieving the first position across the branches.
Laurels/Awards won by students in Academics
PHOTO

STUDENT NAME

UNIVERSITY RANK

%AGE

YEAR

Preeti Gupta

I (Gold medal)

Chancellor's Medal

89.44
2018
Pragya Srivastava
III
88.04
2018
Anchal Garg
VII
87.36
2018

Mohit Agarwal

I

87.74

2017

Deepti Mittal

III

86.96

2017

Ayushi Agarwal

I (Gold medal)

Chancellor's Medal

88.06

2016

Rishu Tyagi

VI

85.60

2016

Prateeksha Varshney

I (Gold medal)

86.52

2015

Vibhor Agarwal

VI

84.36

2015

Mridul

XVII

83.2

2015

Somya Agarwal

I (Gold medal)

86.12

2014

Rohit Vashisht

II (Silver Medal)

86.10

2014

Deepa Kaushik

III (Bronze Medal)

86.02

2014

Surabhi Varshney

V

84.90

2014

Niyatee Jain

XI

84.08

2014

Gunjan Goel

XV

83.68

2014

Ankita Sharma

XX

83.44

2014

Iti Jain

IV

83.74

2013

Priyanshi Gupta

IX

83.26

2013

Pooja Verma

X

83.24

2013

Mayuri Rastogi

VIII

84.28

2012

Sanket Tandon

V

84.74

2011

Aastha Singh

VI

83.46

2010

Annie Pachnanda

II

84.44

2009

Sanchita Gupta

VII

83.72

2009

Aakarsh chaudhary

IV

82.10

2008

Swati Jain

VI

82.22

2007

Sonia Bansal

VIII

81.80

2006

Prerna Bhatia

III

80.08

2002

Amit Kumar

IV

79.81

2002

Supragya Dikshit

V

79.33

2002
Laurels/Awards won by students in Extra Co-Curricular Activities
EVEN SEM 2018-19
S.No.

Student's Names

Year

Mentor's Name

Event

Project Title

Prize Won

1

Harleen Kaur

Ayushi Goel

Disha Bhatnagar

Deeksha Singh

IV

Dr. Sunita Yadav

C.S.T.U.P. Engineering Student's Project Grant Scheme 2018-19

Smart Home Technology for Persons with Mobility Impairment

Rs. 20,000/- Grant for Final Year Project
S.NO.

NAME

YEAR

EVENT

PRIZE WON

1

KUNAL RAJPOOT

4th

ATHLEEMA-19

PARTICIPATION

2

VIVEK MISHRA

4th

ATHLEEMA-19

PARTICIPATION

3

KHESHAV KUMAR

4th

IEC,GZB IIT ROORKEE

PARTICIPATION

4

NAYAN JAIN

4th

IIT ROORKEE

PARTICIPATION

5

ANSHUL SHARMA

4th

IIT ROORKEE

PARTICIPATION

6

AMAN SINGH PILAKWAL

4th

IIT ROORKEE

PARTICIPATION

7

AKASH BHASKAR

4th

IIT ROORKEE

PARTICIPATION

8

SANJAY SINGH

4th

IIT ROORKEE

PARTICIPATION

9

SHUBH SAXENA

4th

IIT ROORKEE

PARTICIPATION

10

UNNATI SINGH

4th

IIT ROORKEE

PARTICIPATION

11

ASHUTOSH KR. VERMA

3rd

ATHLEEMA-19, AEG

PARTICIPATION

12

KUSHAGRA TRIPHATI

3rd

ATHLEEMA-19, AEG

PARTICIPATION

13

UTKARSH SRIVASTAVA

3rd

IEC,GZB; IIT ROORKEE

PARTICIPATION

14

ARNAV BAJPAYEE

3rd

IEC,GZB; IIT ROORKEE

PARTICIPATION

15

ABHINAV AGARWAL

3rd

IEC,GZB; IIT ROORKEE

PARTICIPATION

16

YASH KUMAR NIRANJAN

3rd

IEC,GZB; IIT ROORKEE

PARTICIPATION

17

KUSHAGRA TRIPATHI

3rd

IIT ROORKEE

PARTICIPATION

18

ARPIT GUPTA

3rd

IIT ROORKEE

PARTICIPATION

19

TEJENDER SINGH

3rd

IIT ROORKEE

PARTICIPATION

20

PRIYANKA KHURMAI

3rd

IIT ROORKEE

PARTICIPATION

21

SONALI SINGH

2th

ATHLEEMA-19, AEG

PARTICIPATION

22

ANKIT KUMAR

2nd

IEC,GZB

PARTICIPATION

23

GHULAM QUADIR NABEEL

2nd

IIT ROORKEE

PARTICIPATION

24

PRAKAHAR GUPTA

1st

ATHLEEMA-19, AEG

PARTICIPATION

25

HIMANSHU UPADHYAY

1st

ATHLEEMA-19, AEG

PARTICIPATION

26

SHUBHANSHU RAWAT

1st

ATHLEEMA-19, AEG

PARTICIPATION

27

APURVA MISHRA

1st

ATHLEEMA-19, AEG

PARTICIPATION

28

SHIVANSH PANDEY

1st

IIT ROORKEE

PARTICIPATION

29

DEEPAK KUMAR

1st

IIT ROORKEE

PARTICIPATION

30

SAMRIDDHI SINGH

1st

IIT ROORKEE

PARTICIPATION

31

DIVYANSHU TRIVEDI

4TH

KIET

3rd POSITION

GALGOTIA UNIVERSITY

PARTICIPATION

AKTU ZONALS

PARTICIPATION

32

GARV GAUR

4TH

KIET

3rd POSITION

GALGOTIA UNIVERSITY

PARTICIPATION

AKTU ZONALS

PARTICIPATION

33

MITALI SINGH

3RD

KIET

3rd POSITION

GALGOTIA UNIVERSITY

PARTICIPATION

AKTU ZONALS

PARTICIPATION

34

NANDLAL MISHRA

3RD

KIET

3rd POSITION

GALGOTIA UNIVERSITY

PARTICIPATION

AKTU ZONALS

PARTICIPATION

35

PRAJWAL MOHAN

3RD

KIET

3rd POSITION

GALGOTIA UNIVERSITY

PARTICIPATION

AKTU ZONALS

PARTICIPATION

36

RAHUL GOYAL

3RD

KIET

3rd POSITION

GALGOTIA UNIVERSITY

PARTICIPATION

AKTU ZONALS

PARTICIPATION

37

MOHD HAMZA SIDDIQUE

2ND

KIET

3rd POSITION

GALGOTIA UNIVERSITY

PARTICIPATION

AKTU ZONALS

PARTICIPATION

38

SHUBHANGI SRIVASTAV

2ND

KIET

3rd POSITION

GALGOTIA UNIVERSITY

PARTICIPATION

AKTU ZONALS

PARTICIPATION

39

SATYANSHU GUPTA

2ND

KIET

3rd POSITION

GALGOTIA UNIVERSITY

PARTICIPATION

AKTU ZONALS

PARTICIPATION

40

ABHILASH SRIVASTAVA

4TH

AKTU ZONAL

PARTICIPATION

AKTU STATES

PARTICIPATION

IIT MANDI

PARTICIPATION

41

YASH MUNDRA

3RD

AKTU ZONAL

PARTICIPATION

IIT MANDI

PARTICIPATION

42

ISHITA BAJPAI

3RD

AKTU ZONAL

PARTICIPATION

AKTU STATES

PARTICIPATION

43

BHAWANA

2ND

AKTU ZONAL

PARTICIPATION

AKTU STATES

PARTICIPATION

44

ANURAG SAGAR

4TH

THOMSO 18 (IIT ROORKEE)

PARTICIPATION

EXODIA 19 IIT MANDI

PARTICIPATION

45

KULDEEP GAUTAM

4TH

UNIFEST 19 GALGOTIA

PARTICIPATION

EXODIA 19 IIT MANDI

PARTICIPATION

46

KAJAL LAKHERA

3RD

THOMSO 18 (IIT ROORKEE)

PARTICIPATION

TECH ZONALS

PARTICIPATION

UNIFEST 19 GALGOTIA

PARTICIPATION

47

SHAISTA KHAN

3RD

THOMSO 18 (IIT ROORKEE)

PARTICIPATION

TECH ZONALS

PARTICIPATION

CULTURAL ZONALS

PARTICIPATION

UNIFEST 19 GALGOTIA

PARTICIPATION

EXODIA 19 IIT MANDI

PARTICIPATION

48

SRISHTI SRIVASTAV

3RD

THOMSO 18 (IIT ROORKEE)

PARTICIPATION

TECH ZONALS

PARTICIPATION

CULTURAL ZONALS

PARTICIPATION

49

MEGHA ARYA

2ND

THOMSO 18 (IIT ROORKEE)

PARTICIPATION

TECH ZONALS

PARTICIPATION

CULTURAL ZONALS

PARTICIPATION

UNIFEST 19 GALGOTIA

PARTICIPATION

EXODIA 19 IIT MANDI

PARTICIPATION

50

ARYEN GOYAL

2ND

EXODIA 19 IIT MANDI

PARTICIPATION

51

PRIYANK SINGH

1ST

THOMSO 18 (IIT ROORKEE)

PARTICIPATION

CULTURAL ZONALS

PARTICIPATION

UNIFEST 19 GALGOTIA

PARTICIPATION

EXODIA 19 IIT MANDI

PARTICIPATION

52

SHIVAM GUPTA

1ST

THOMSO 18 (IIT ROORKEE)

PARTICIPATION

TECH ZONALS

PARTICIPATION

UNIFEST 19 GALGOTIA

PARTICIPATION

EXODIA 19 IIT MANDI

PARTICIPATION

53

ISHIKA AGARWAL

1ST

THOMSO 18 (IIT ROORKEE)

PARTICIPATION

TECH ZONALS

PARTICIPATION

CULTURAL ZONALS

PARTICIPATION

UNIFEST 19 GALGOTIA

PARTICIPATION

54

ANANYA SRI

1ST

THOMSO 18 (IIT ROORKEE)

PARTICIPATION

TECH ZONALS

PARTICIPATION

CULTURAL ZONALS

PARTICIPATION

EXODIA 19 IIT MANDI

PARTICIPATION

55

HARSH SINGH

2ND

THOMSO 18 (IIT ROORKEE)

PARTICIPATION

TECH ZONALS

PARTICIPATION

CULTURAL ZONALS

PARTICIPATION

UNIFEST 19 GALGOTIA

PARTICIPATION

EXODIA 19 IIT MANDI

PARTICIPATION
| | | | | | |
| --- | --- | --- | --- | --- | --- |
| S.No. | Name | Year | Event | Place | Prize Won |
| 1 | Pragati Singh | III | FashP | Bits, Pilani | First |
| 2 | Ayush Pratap Singh | IV | FashP | Bits, Pilani | First |
| 3 | Rishitosh Kumar Singh | III | Challenge ACI | Gokaraju Rangaraju Institute of Engineering and Technology | Participation |
| 4 | Kushagra Tripathi | IV | Zonals | RKGIT, Ghaziabad | Gold |
| 5 | Mohit Rathaur | III | India International Science Festival | National institute of immunology at Indira Gandhi Pratishthan, Lucknow | Participation |
| 7 | Rahul Goyal | III | Short Movie | IIT-Roorkee | First |
| 8 | NandLal Mishra | III | Short Movie | IIT-Roorkee | First |
| 9 | Prajjwal Mohan | III | Short Movie | IIT-Roorkee | First |
| 10 | Priyanka Khurmai | III | Zonals | RKGIT, Ghaziabad | First |
| 11 | Prakhar Agarwal | III | E-summit | IIT Kanpur | Participation |
| 12 | Prakhar Agarwal | III | IISF-2018 (LUCKNOW) | Ministry of science and technology | Participation |
| 13 | Prakhar Agarwal | III | CHALLENGE ACI @ GRIET HYDERABAD | CDAC,ICS,CLOVE TECHNOLOGIES, GRIET HYDERABAD | Participation |
| 14 | Prakhar Agarwal | III | mobility hackathon 2018 | NITI AYOG | Participation |
| 15 | Prakhar Agarwal | III | CODEFEST @ IIT BHU | IIT BHU | Participation |
| 16 | Sarthak Khatana | III | Open mic | IIT ROORKEE | Participation |
| 17 | Sarthak Khatana | III | Design Boat | UX/UI Workshop | Participation |
| 18 | Prabhanshu Chauhan | III | Designboat | UI/UX workshop | Participation |
| 19 | Prabhanshu Chauhan | III | Thomso'18 | IIT-Roorkee | Participation |
S.No.

Name

Year

Event

Place

Prize Won

1

Sanjay Singh

III

Athletics

ABESIT (Zonals)

Silver

2

Prakher Jain

IV

Athletics

ABESIT (Zonals)

Participated

3

Aman Singh Pilkhwal

III

Football

ABESIT (Zonals)

Participated

4

Shubh Saxena

III

Football

ABESIT (Zonals)

Participated

5

Dhawal Goel

IV

Volleyball

ABESIT (Zonals)

Participated

6

Keshav Kumar

III

Volleyball

ABESIT (Zonals)

Participated

7

Kaustubh Jaiswal

III

Chess

ABESIT (Zonals)

Participated

8

Pulkit Rathore

IV

Chess

ABESIT (Zonals)

Participated

9

Utkarsh Srivastava

II

Basketball

ABESIT (Zonals)

Gold

10

Keshav Kumar

III

Basketball

ABESIT (Zonals)

Gold

11

Abhinav Agarwal

II

Basketball

ABESIT (Zonals)

Gold

12

Mohit Kumar

IV

Basketball

ABESIT (Zonals)

Gold

13

Sunanda

IV

Athletics

ABESIT (Zonals)

Gold

14

Shivankshi

Tyagi

II

Athletics

ABESIT (Zonals)

Gold

15

Priyanka Khurmai

II

Athletics

ABESIT (Zonals)

Participated

16

Sneha Kumari

IV

Volleyball

ABESIT (Zonals)

Silver

17

Isha

II

Volleyball

ABESIT (Zonals)

Silver

18

Kritikka Singh

II

Volleyball

ABESIT (Zonals)

Silver

19

Sonali Singh

I

Volleyball

ABESIT (Zonals)

Silver

20

Krittika Khanwalkar

IV

Table Tennis

ABESIT (Zonals)

Gold

21

Unnati Singh

III

Table Tennis

ABESIT (Zonals)

Silver

22

Sanjay Singh

III

Athletics

ABESIT (Zonals)

Participated

23

Gaurav Raghuvanshi

IV

Group Dance

KEC, Ghaziabad

Participated

24

Mohit Verma

IV

Group Dance

KEC, Ghaziabad

Participated

25

Shaista Khan

II

Group Dance

KEC, Ghaziabad

Participated

26

Abhilash Srivastava

III

Duet Singing

KEC, Ghaziabad

First

27

Abhilash Srivastava

III

Group Singing

KEC, Ghaziabad

Participated

28

Rupanshu Verma

IV

Band Wars

KEC, Ghaziabad

First

29

Rahul Goyal

II

GOONJ(SKIT)

KEC, Ghaziabad

Participated

30

Shubham Agarwal

IV

Euphony (Singing)

KEC, Ghaziabad

Participated

31

Divyanshu Trivedi

III

Skit/Play

KEC, Ghaziabad

Participated

32

Garv Gaur

III

Skit/Play

KEC, Ghaziabad

Participated

33

Mitali Singh

III

Skit/Play

KEC, Ghaziabad

Participated

34

Prajjwal Mohan

II

Mimicry/ Standup

KEC, Ghaziabad

Participated

35

Digvijay Singh

II

Fashion Jalwa

KEC, Ghaziabad

Participated

36

Pragati Singh

II

Fashion Jalwa

KEC, Ghaziabad

Participated

37

Krittika Khanwalkar

IV

Rangoli Making

KEC, Ghaziabad

Second

38

Charu Upadhyay

III

Rangoli Making

KEC, Ghaziabad

Second

39

Kunal

III

Face Painting

KEC, Ghaziabad

First

40

Jyoti Chauhan

III

Collage Making

KEC, Ghaziabad

Participated

41

Kunwar Aditya

II

Business Plan

AKTU

Participated

42

Shagun Awanindra Singh

II

Debate (English)

AKTU

Participated

43

Aditya Gautam

I

Debate (English)

AKTU

Third

44

Mofd

. Hamza

I

Debate (Hindi)

AKTU

Second
S.No.

Name

Year

Event

Place

Prize Won

1

Shubham Agarwal

IV

THOMSO'17

(Battle of Bands)

IIT Roorkee

-

2

Shubham Agarwal

IV

Aao Milke Desh Mazboot Banayein (Band)

ABESIT

-

3

Rupanshu Verma

IV

THOMSO'17

(Solo Instrumental)

IIT Roorkee

-

4

Abhilash Srivastava

III

Thomso'17

(Battle of Bands, Solo Singing, Duet Singing)

IIT Roorkee

-

5

Abhilash Srivastava

III

Aao Milke Desh Mazboot Banayein (Solo Singing)

ABESIT

2nd

6

Abhilash Srivastava

III

Genero'17 (Solo Singing)

ABESEC

-

7

Yash Mundra

II

THOMSO'17

(Battle of Bands, Group Instrumental)

IIT Roorkee

3rd

8

Yash Mundra

II

Aao Milke Desh Mazboot Banayein (Band)

ABESIT

-

9

Shubhi Kapoor

IV

FashP (Fresher's Party)

BITS, Goa

4th

10

Sakshi Singh

IV

FashP (Fresher's Party)

BITS, Goa

4th

11

Kunal Chaudhary

IV

FashP (Fresher's Party)

BITS, Goa

4th

12

Vivek Mishra

III

FashP (Fresher's Party)

BITS, Goa

4th

13

Vartika Raj

III

FashP (Fresher's Party)

BITS, Goa

4th

14

Ayush Pratap Singh

III

FashP (Fresher's Party)

BITS, Goa

4th

15

Digvijay Singh

II

FashP (Fresher's Party)

BITS, Goa

4th

16

Divyanshu Trivedi

III

JPS Cultural Society Event

AIIMS

Rendezvous

Thomso'17

ABESIT

Delhi

IIT, Delhi

IIT, Roorkee

-

17

Garv Gaur

III

JPS Cultural Society Event

AIIMS

Rendezvous

Thomso'17

ABESIT

Delhi

IIT, Delhi

IIT, Roorkee

-

18

Mitali Singh

III

JPS Cultural Society Event

AIIMS

Rendezvous

Thomso'17

ABESIT

Delhi

IIT, Delhi

IIT, Roorkee

-

19

Shivam Paliwal

III

JPS Cultural Society Event

AIIMS

Rendezvous

ABESIT

Delhi

IIT, Delhi

-

20

Nandlal Mishra

II

AIIMS

Rendezvous

Thomso'17

Delhi

IIT, Delhi

IIT, Roorkee

-

21

Prajjwal Mohan

II

AIIMS

Rendezvous

Thomso'17

Delhi

IIT, Delhi

IIT, Roorkee

-

22

Rahul Goyal

II

AIIMS

Rendezvous

Thomso'17

Delhi

IIT, Delhi

IIT, Roorkee

-

23

Gaurav Raghuvanshi

IV

Antaragini'17

Genero, KEC

IIT Kanpur

ABESEC, Ghaziabad

-

1st

24

Mohit Verma

IV

Antaragini'17

Genero, KEC

IIT Kanpur

ABESEC, Ghaziabad

-

1st

25

Shubham Chandel

IV

Antaragini'17

Genero, KEC

IIT Kanpur

ABESEC, Ghaziabad

-

1st

26

Urvashi Rathi

IV

Antaragini'17

Genero, KEC

IIT Kanpur

ABESEC, Ghaziabad

-

1st

27

Anurag Sagar

III

Antaragini'17

Genero, KEC

IIT Kanpur

ABESEC, Ghaziabad

-

1st

28

Kuldeep Gautam

III

Antaragini'17

Genero, KEC

IIT Kanpur

ABESEC, Ghaziabad

-

1st

29

Kajal Lakhera

II

Antaragini'17

Genero, KEC

IIT Kanpur

ABESEC, Ghaziabad

-

1st

30

Shaista Khan

II

Antaragini'17

Genero, KEC

IIT Kanpur

ABESEC, Ghaziabad

-

1st

31

Srishti Srivastava

II

Antaragini'17

Genero, KEC

IIT Kanpur

ABESEC, Ghaziabad

-

1st
| | | | | | |
| --- | --- | --- | --- | --- | --- |
| S. No. | Name | Year | Event | Place | Prize Won |
| 1 | Aditi Singh | IV | AKTU Sports Volleyball (Zonals) | ABES, Ghaziabad | 1st |
| 2 | Aditi Singh | IV | AKTU Sports Volleyball (states) | IMS, Ghaziabad | 1st |
| 3 | Aman Singhal | IV | AKTU Sports Volleyball (Zonals) | ABES, Ghaziabad | - |
| 4 | Adarsh Kamya | IV | Basketball National Event | Shankara, Jaipur | - |
| 5 | Sakshi Tyagi | IV | AKTU Dance Fest (Zonals) | KNMIT, Modinagar | 1st |
| 6 | Sakshi Tyagi | IV | AKTU Dance Fest (states) | RKGIT, Ghaziabad | 1st |
| 7 | Sakshi Tyagi | IV | AKTU Sports Basketball (Zonals) | ABES, Ghaziabad | 1st |
| 8 | Sakshi Tyagi | IV | AKTU Sports Basketball (states) | IMS, Ghaziabad | 1st |
| 9 | Sakshi Tyagi | IV | JU Rhythm | JECRC, Jaipur | |
| 10 | Sakshi Tyagi | IV | Group Dance Event | Galgotias | |
| 11 | Satyarth Saxena | IV | AKTU Cultural Fest (Zonals) | KNMIT, Modinagar | 1`st |
| 12 | Satyarth Saxena | IV | AKTU Cultural Fest (States) | RKGIT, Ghaziabad | 1st |
| 13 | Satyarth Saxena | IV | War of Bands | KIET, Ghaziabad | - |
| 14 | Satyarth Saxena | IV | War Of Bands | IMS, Ghaziabad | 1st |
| 15 | Satyarth Saxena | IV | War Of Bands | JSSATE, Noida | 1st |
| 16 | Satyarth Saxena | IV | War Of Bands | ITS, Ghaziabad | - |
| 17 | Sanchit Rastogi | IV | Chakravyu | IMS, Ghaziabad | 1st |
| 18 | Sanchit Rastogi | IV | AKTU Sports Table Tennis (Zonals) | ABES, Ghaziabad | 1st |
| 19 | Sanchit Rastogi | IV | AKTU Sports Table Tennis (states) | IMS, Ghaziabad | 1st |
| 20 | Sanchit Rastogi | IV | Table Tennis National | Shankara, Jaipur | 1st |
| 21 | Rachit Rastogi | IV | Chakravyu | IMS, Ghaziabad | 1st |
| 22 | Rachit Rastogi | IV | AKTU Sports Table Tennis (Zonals) | ABES, Ghaziabad | 1st |
| 23 | Rachit Rastogi | IV | AKTU Sports Table Tennis (States) | IMS, Ghaziabad | 1st |
| 24 | Rachit Rastogi | IV | Table Tennis National | Shankara, Jaipur | 1st |
| 25 | Dhaval Goel | III | AKTU Sports Volleyball (Zonals) | ABES, Ghaziabad | - |
| 26 | Dhaval Goel | III | Volleyball National Event | Shankara, Jaipur | - |
| 27 | Gaurav Raghuvanshi | III | AKTU Dance Fest (Zonals) | KNMIT, Modinagar | 1st |
| 28 | Gaurav Raghuvanshi | III | AKTU Dance Fest (states) | RKGIT, Ghaziabad | 1st |
| 29 | Gaurav Raghuvanshi | III | JU Rhythm | JECRC, Jaipur | |
| 30 | Gaurav Raghuvanshi | III | Group Dance Event | Galgotias, Gr. Noida | |
| 31 | Kritika Khanwalkar | III | AKTU Rangoli (Zonals) | KNMIT, Modinagar | 1st |
| 32 | Kritika Khanwalkar | III | AKTU Rangoli (States) | RKGIT, Ghaziabad | 1st |
| 33 | Kritika Khanwalkar | III | AKTU Sports Table Tennis (Zonals) | ABES, Ghaziabad | 1st |
| 34 | Kritika Khanwalkar | III | AKTU Sports Table Tennis (states) | IMS, Ghaziabad | 1st |
| 35 | Kritika Khanwalkar | III | Table Tennis National Event | Shankara, Jaipur | 1st |
| 36 | Ravinder Singh | III | AKTU Sports Shotput (Zonals) | ABES, Ghaziabad | - |
| 37 | Mohit Verma | III | AKTU Dance Fest (Zonals) | KNMIT, Modinagar | 1st |
| 38 | Mohit Verma | III | JU Rhythm | JECRC, Jaipur | |
| 39 | Mohit Verma | III | Group Dance Event | Galgotias, Gr. Noida | |
| 40 | Mohit Kumar | III | AKTU Sports Basketball (Zonals) | ABES, Ghaziabad | 1st |
| 41 | Mohit Kumar | III | AKTU Sports Basketball (states) | IMS, Ghaziabad | 1st |
| 42 | Sunanda | III | AKTU Relay Race Both (Zonals) | ABES, Ghaziabad | 1st |
| 43 | Sunanda | III | AKTU 100m (Zonals) | ABES, Ghaziabad | 1st |
| 44 | Sunanda | III | AKTU Relay Race Both (states) | IMS, Ghaziabad | 1st |
| 45 | Sneha Kumari | III | AKTU Sports Volleyball (Zonals) | ABES, Ghaziabad | 1st |
| 46 | Sneha Kumari | III | AKTU Sports Volleyball (states) | IMS, Ghaziabad | 1st |
| 47 | Urvashi Rathi | III | JU Rhythm | JECRC, Jaipur | - |
| 48 | Urvashi Rathi | III | Group Dance Event | Galgotias, Gr. Noida | - |
| 49 | Shubham Chandel | III | AKTU Dance Fest (Zonals) | KNMIT, Modinagar | 1st |
| 50 | Shubham Chandel | III | AKTU Dance Fest (states) | RKGIT, Ghaziabad | 1st |
| 51 | Shubham Chandel | III | JU Rhythm | JECRC, Jaipur | |
| 52 | Shubham Chandel | III | Group Dance Fest | Galgotias, Gr. Noida | |
| 53 | Shubham Agarwal | III | AKTU Cultural Fest (Zonals) | KNMIT, Modinagar | 1`st |
| 54 | Shubham Agarwal | III | AKTU Cultural Fest (States) | RKGIT, Ghaziabad | 1st |
| 55 | Shubham Agarwal | III | War of Bands | KIET, Ghaziabad | |
| 56 | Shubham Agarwal | III | War Of Bands | IMS, Ghaziabad | 1st |
| 57 | Shubham Agarwal | III | War Of Bands | JSSATE,Noida | 1st |
| 58 | Shubham Agarwal | III | War Of Bands | ITS, Ghaziabad | 2nd |
| 59 | Shubham Agarwal | III | War Of Bands | IMS, Ghaziabad | 1st |
| 60 | Charu Upadhyaya | II | AKTU Rangoli (States) | RKGIT, Ghaziabad | 1st |
| 61 | Kuldeep Gautam | II | AKTU Dance Fest (Zonals) | KNMIT, Modinagar | 1st |
| 62 | Kuldeep Gautam | II | AKTU Dance Fest (states) | RKGIT, Ghaziabad | 1st |
| 63 | Kuldeep Gautam | II | JU Rhythm | JECRC, Jaipur | |
| 64 | Kuldeep Gautam | II | Group Dance Fest | Galgotias, Gr. Noida | - |
| 65 | Kuldeep Gautam | II | National Convention | Vigyan Bhawan, New Delhi | - |
| 66 | Paras Gaur | II | AKTU (Zonals) | ABES, Ghaziabad | 2nd |
| 67 | Kunal | II | AKTU (Zonals) | ABES, Ghaziabad | - |
| 68 | Keshav Kumar | II | AKTU Sports Basketball (Zonals) | ABES, Ghaziabad | 1st |
| 69 | Keshav Kumar | II | AKTU Sports Basketball (States) | IMS, Ghaziabad | 1st |
| 70 | Keshav Kumar | II | AKTU Sports Volleyball (Zonals) | ABES, Ghaziabad | |
| 71 | Keshav Kumar | II | Basketball National Event | Shankara, Jaipur | |
| 72 | Kaustubh Jaiswal | II | AKTU (Zonals) | ABES, Ghaziabad | - |
| 83 | Abhilash Srivastava | II | AKTU Cultural Fest (Zonals) | KNMIT, Modinagar | 1`st |
| 84 | Abhilash Srivastava | II | AKTU Cultural Fest (states) | RKGIT, Ghaziabad | 1st |
| 85 | Abhilash Srivastava | II | Solo Singing | IIT-BHU | |
| 86 | Abhilash Srivastava | II | War of Bands | IIT-BHU | |
| 87 | Abhilash Srivastava | II | War of Bands | KIET, Ghaziabad | |
| 88 | Abhilash Srivastava | II | War of Bands | IMS, Ghaziabad | 1st |
| | | | | |
| --- | --- | --- | --- | --- |
| S. No. | Name | Year | Event Name | Prize Won |
| 1. | Satyarth Saxena | III | War of Bands | I Position |
| 2. | Krittika Khanwalkar | III | Rangoli making | I Position |
| 3. | Charu Upadhyaya | II | Rangoli making | I Position |
| 4. | Mayank Lehri | IV | Group Dance | I Position |
| 5. | Sakshi Tyagi | IV | Group Dance | I Position |
| 6. | Shubham Chandel | III | Group Dance | I Position |
| 7. | Mohit Verma | III | Group Dance | I Position |
| 8. | Gaurav Dev | IV | Group Dance | I Position |
| 9. | Charu Upadhyaya | II | Duet Dance | I Position |
| 10. | Dishank Agrawal | III | Play | II Position |
| 11. | Mod. Zaid | IV | Play | II Position |
| 12. | Mayank Lehri | IV | Rubaroo '16 | III Position |
| 13. | Sakshi Tyagi | IV | Rubaroo '16 | III Position |
| 14 | Shubham Chandel | III | Rubaroo '16 | III Position |
| 15. | Mohit Verma | III | Rubaroo '16 | III Position |
| 16. | Gaurav Dev | IV | Rubaroo '16 | III Position |
| 17. | Dishank Agrawal | III | Genero '16 | I Position |
| 18. | Mod. Zaid | IV | Genero '16 | I Position |
| 19. | Dishank Agrawal | III | Rendezvous '16 | III Position |
| 20. | Mod. Zaid | IV | Rendezvous '16 | III Position |
| | | | | |
| --- | --- | --- | --- | --- |
| S. No. | Name | Year | Event Name | Prize Won |
| 1. | Vardan Gandhi | III | Participated in LINE Follower And Maze Solving | NIL |
| 2. | Sidhant Kanpal | II | Participated in English Debate | NIL |
| 3. | Srajita Singh | II | Participated in Business Plan | NIL |
| 4. | Ankit Yadav | III | Participated in Business Plan | NIL |
| 5. | Harshit Agarwal | III | Participated in Business Plan | NIL |
| 6. | Gaurav Raghuvanshi | II | Participated in Entertainment Quiz | NIL |
| 7. | Mayank Agarwal | IV | Participated in Group Dance | NIL |
| 8. | Nadini Satsangi | IV | Participated in Group Dance | NIL |
| 9. | Navneet Kumar | III | Participated in T-Shirt Painting | NIL |
| 10. | Sneha Pal | II | Participated in 3-D Rangoli | NIL |
| 11. | Nandini Gupta | III | Participated in Mehendi Design | NIL |
| 12. | Satyarth Saxena | III | Participated in Band Wars | I Position |
| 13. | Shubham Agarwal | II | Participated in Band Wars | I Position |
| | | | | |
| --- | --- | --- | --- | --- |
| S. No. | Name | Year | Event Name | Prize Won |
| 1 | Akansh Singhal | IV | Participated in IIT Delhi in Shades, Komiketto, Paintara, Paint-a-Spot | NIL |
| 2 | Shweta Yadav | IV | Participated in IIT Delhi in Shades, Komiketto, Paintara, Paint-a-Spot | NIL |
| 3 | Nandini Gupta | III | Participated in IIT Delhi in Brush-off Brush, Komiketto | NIL |
| 4 | Navneet | III | Participated in IIT Delhi in Brush-off Brush, Paint-a-Spot | NIL |
| 5 | Akash Gautam | III | Participated in IIT Delhi in Shades, Yeh Dil Mange More | NIL |
| 6 | Pranav Chaudhary | III | Participated in IIT Delhi in The Minimalist, Design Revolution, Yeh Dil Mange More | NIL |
| 7 | Kritika Khanwalkar | II | Participated in IIT Delhi in Shades, Komiketto, Paint-a-Spot, Brush-off Brush, Masquerade | NIL |
| 8 | Dhaval Goel | II | Participated in IMS sports event: Chakravyuh 2015 | NIL |
| 9 | Dhruv Singhal | II | Participated in IMS sports event: Chakravyuh 2015 | NIL |
| 10 | Keshan Kumar | I | Participated in IMS sports event: Chakravyuh 2015 | NIL |
| 11 | Akriti Mittal | IV | Participated in IMS sports event: Chakravyuh 2015 | Gold Medal |
| 12 | Sneha Pal | II | Participated in IMS sports event: Chakravyuh 2015 | Gold Medal |
| 13 | Rajat Agarwal | IV | Participated in IMS sports event: Chakravyuh 2015 | NIL |
| 14 | Rishi Ranjan | III | Participated in IMS sports event: Chakravyuh 2015 | NIL |
| 15 | Mohit Kumar | II | Participated in IMS sports event: Chakravyuh 2015 | NIL |
| 16 | Kehav Kumar | I | Participated in IMS sports event: Chakravyuh 2015 | NIL |
| 17 | Anas Khalid | III | Participated in IMS sports event: Chakravyuh 2015 | NIL |
| 18 | Akashdeep Tyagi | IV | Participated in IMS sports event: Chakravyuh 2015 | NIL |
| 19 | Kritika Khanwalkar | II | Participated in IMS sports event: Chakravyuh 2015 | Gold Medal |
| 20 | Sanchit Rastogi | III | Participated in IMS sports event: Chakravyuh 2015 | Gold Medal |
| 21 | Rachit Rastogi | III | Participated in IMS sports event: Chakravyuh 2015 | Gold Medal |
| 22 | Paras Gupta | III | Participated in IMS sports event: Chakravyuh 2015 | Gold Medal |
S. No.

Student Name

Event Name

Event Date

Remarks

1.

Prateek Gupta (4th Year)
Aman Singhal (2nd Year)
Rajat Agarwal (3rd Year)

Rishi Kesarwani (2ndYear)
Adarsh Kamya (2nd Year)

REVAMP – 2K15
Krishna Engineering College, Mohan Nagar, Ghaziabad

18 – 21 February 2015

Participated

2.

Nikhil Kumar (2nd Year)
Abhinav Rai (2nd Year)
Rajat Srivastava (2ndYear)

Arjit Srivastava (3rd Year)

TECH MARATHON – 2015 Annual Tech Fest
Deendayal Upadhyaya College, University of Delhi

25 – 26 February 2015

Students participated in WEBGATOR and secured 2nd position.

3.

Rishi Kesarwani (2nd Year)

Adarsh Kamya (2nd Year)

Rachit Rastogi (2nd Year)

Sanchit Rastogi (2nd Year)

Paras Gupta (2nd Year)

Prateek Gupta(4TH YR)
Aman Singhal (2nd Year)

Harshit Srivastava (4thYear)
Tushar Matta (2nd Year)

Prashant Bajpai (3rd Year)

SITE – 2015
• Table Tennis
• Chess
• Volleyball
• Basketball
• Football
• Badminton

Shankara Group of Institutions,
Jaipur

25 – 28 February 2015

Table Tennis:- Students participated and secure 2nd position with cash prize and trophy

Chess:- Students participated and secure 1st position with cash prize and trophy Volleyball:- Students participated and secure 2nd position with cash prize and trophy Basketball, Football & Badminton:- Participated

4.

Karan Sukhija (3rd Year)
Vishal Chandra (4th Year)
Rishabh Gupta (4th Year)

Cricket Tournament
ITS , Mohan Nagar, Ghaziabad

17 – 20 MARCH 2015

Participated

5.

Vardan Gandhi (2nd Year)

ROBOWIZ
Vidya College Of Engineering, Knowlwdge Park,

Baghpat Road, Meerut

19 – 20, MARCH 2015

Students participated and secure 1st position

6.

Sakshi Singhal (4th Year)

Jatin Bhatia (3rd Year)
Mayank Agarwal (3rdYear)
Nandini Satsangi (3rdYear)

Sakshi Tyagi (2nd Year)
Shubham Chandel (2ndYear)
Anika Garg (2nd Year)

G-QUASAR – 15
Galgotia College of Engineering, Greater Noida

29 March 2015

Students participated and secure 1st position with cash prize
S. No.

Student Name

Event Name

Event Date

Remarks

1.

Jatin Bhatia

Udaan '14 (Jaipuria Institute of Management, Ghaziabad)

19-09-14

Participated

2.

Mayank Agarwal

Genero '14 (ABES Engineering. College, Ghaziabad)

07-11-14 to

08-11-14

Participated in Group Dance

3.

Jatin Bhatia

Genero '14 (ABES Engineering. College, Ghaziabad)

07-11-14 to

08-11-14

Participated in Group Dance

4.

Gaurav Dev

Genero '14 (ABES Engineering. College, Ghaziabad)

07-11-14 to

08-11-14

Participated in Group Dance

5.

Rajat Agarwal

NBA,JAM '14 (Ramjas College

DU, Delhi)

14-11-14

Participated in the Basketball Competition organized by NBA (U.S)

6.

Rishi Ranjan Kesharwani

NBA,JAM '14 (Ramjas College

DU, Delhi)

14-11-14

Participated in the Basketball Competition organized by NBA (U.S)
Place of visit

Faculty Involved

Topic

Date


Centre for E- Governance, New Delhi


1. Mr. Saket Kumar Singh

2. Ms. Priyanka Upadhyay

Educational Tour
08/02/2019

Telecom Technology and Management, New Delhi


1. Mr. Saket Kumar Singh

2. Ms. Priyanka Upadhyay

Educational Tour
12/09/2018

Centre for E- Governance, New Delhi


1. Dr. Inderjeet Kaur

2. Mr. Deepak Rai

Educational Tour
20/08/2018

Centre for E- Governance, New Delhi


1. Dr. Inderjeet Kaur

2. Mr. Rohit Vashisht

Educational Tour
15/03/2018

1. Dr. Inderjeet Kaur

2. Mr. Deepak Rai

Educational Tour

31/01/2018

1. Dr. Inderjeet Kaur

2. Mr. B.N. Pandey

Educational Tour

19/09/2017

1. Dr. Inderjeet Kaur

2. Mr. Deepak Rai

Educational Tour

28/07/2017

1. Dr. Inderjeet Kaur

2. Mr. Deepak Rai

Educational Tour

07/03/2017

1. Ms. Charu Agarwal

2. Mr. Deepak Rai

Educational Tour

27/09/2016

1. Mr. Shashank Sahu

2. Ms. Reema Aswani

CISCO Networking

06/02/2016

1. Dr. Inderjeet Kaur

2. Mr. Deepak Rai

Entrepreneurship Orientation Program

15/01/2016

1. Dr. Inderjeet Kaur

2. Mr. Deepak Rai

E-Governance projects

13/10/2015

1. Dr. Inderjeet Kaur

2. Mr. Deepak Rai

Educational Tour

26/06/2015

1. Mr. Shashank Sahu

2. Dr. Inderjeet Kaur

Red Hat Operating System

13/04/2015
Date

Topic

Name

Report

03/04/2019

Basic Concepts of Machine Learning

Workshop on "Machine Learning"
View

15/02/2019

Basic Concepts of Python

Workshop on "Python Programming"
View
28/09/2018
Basic Concepts of Java 9

Workshop on "JAVA 9

"
View
10/03/2018-11/03/2018
Basic Concepts of Python, Scope of Python, Website designing with HTML5 and CSS, Web application development using Python, Basics of IoT
Workshop on "Python and its Application with IOT"
View

26/09/2017

Basic Concepts of Android, Scope of Android, User Interface Design with XML, Wire Frame Design, Android Programming: Container with Block, Call phone, Manifest, Web View

Workshop on "Android"

19/02/2016

Basic Concepts of Android, Scope of Android, User Interface Design with XML, Wire Frame Design, Android Programming: Container with Block, Call phone, Manifest, Web View

Workshop on "Android"