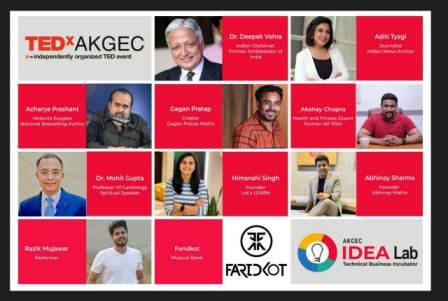 On November 18, 2022, Ajay Kumar Garg Engineering College in Ghaziabad hosted the 2nd TEDx event. The event was brought to life by eight speakers and two dazzling musicians from diverse disciplines who shared their insights and life stories with the audience. The theme of this year' TEDx was 'Yes You Can.'
This year's TED speakers have included:
• Deepak Vohra – Indian Diplomat and former ambassador of India
• Dr. Mohit Gupta- Professor of cardiology and a spiritual speaker
• Himanshi Singh- Educator, founder of Let's Learn
• Akshay Chopra- Health and fitness expert, former IAF pilot
• Abhinay Sharma- Author, Educator, and founder of Abhinay Maths
• Aditi Tyagi- Journalist, Indian news anchor
• Gagan Pratap- Educator, author, and founder of Gagan Pratap Maths
• Acharya Prashant- Vedanta Exegete,
National best selling author, IIT-IIM alumnus and With the sparkling music performances given by Razik Mujawar and Faridkot- the band.
In the spirit of ideas worth spreading, TEDx is a program of local, self-organized events that bring people together to share a TED-like experience. At a TEDx event, TED Talks video and live speakers combine to spark deep discussion and connection. These local, self-organized events are branded TEDx, where x = independently organized TED event.
Dr R K Agarwal, Director General of AKGEC, Ghaziabad, remarked on the occasion, "The TED platform is a unique one, and it is our honor to welcome the stalwarts from industry, academia, sports, and other different sectors of society at AKGEC." We are dedicated to preparing the next generation for a rewarding career."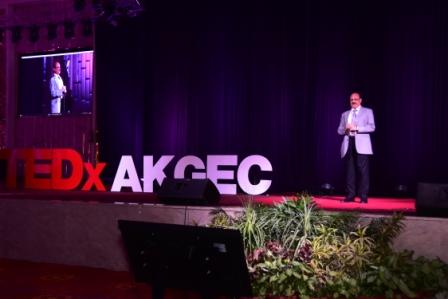 Mr. Rahul Sharma, Chief Organiser TEDx AKGEC and Head, IDEA Lab, stated that "AKGEC believes in creating the ideal atmosphere and chances for the employees and students to sharpen their abilities and engage in ideas with one another." We are able to gather curious minds under one roof with TEDx Talks, motivating the young of our region, who are passports to the future."