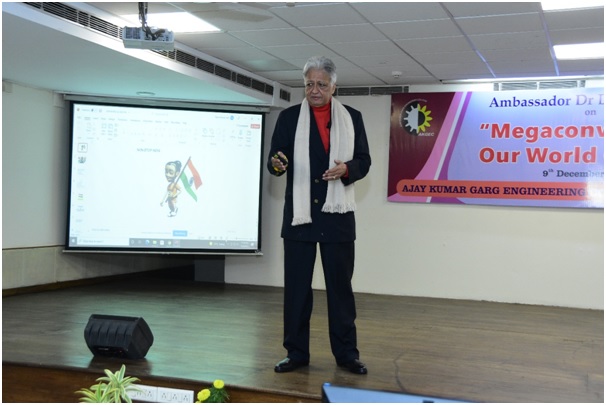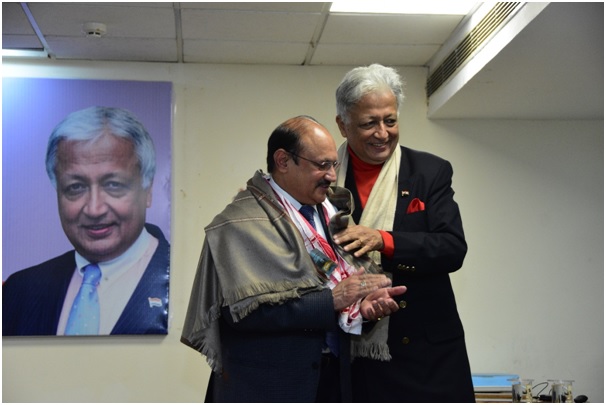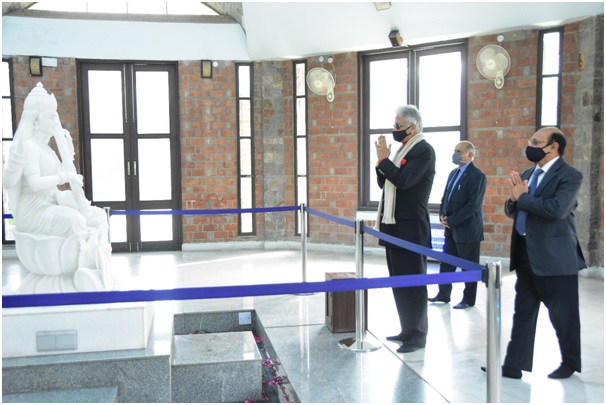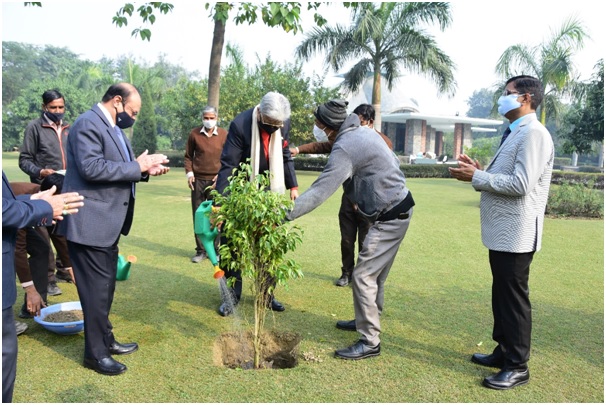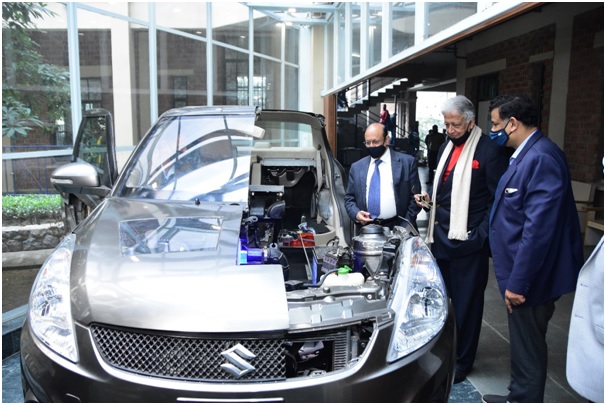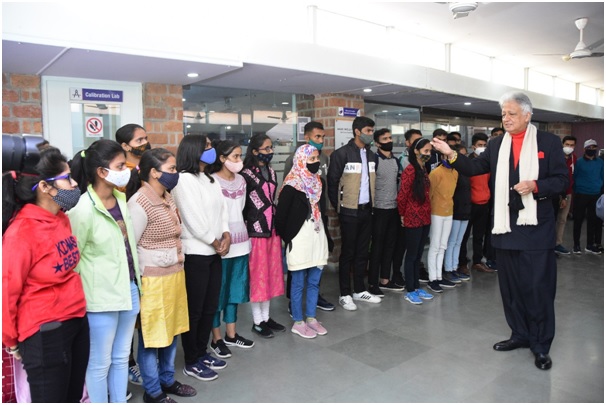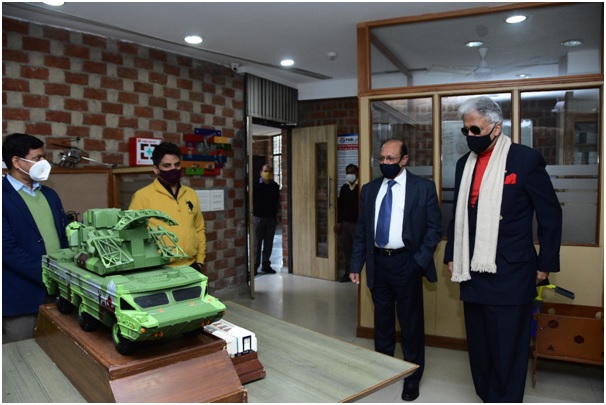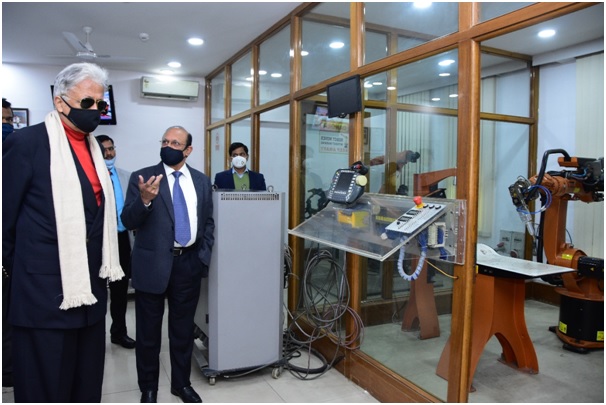 AKGEC invited Ambassador Dr. Deepak Vohra to share an insight on the topic 'Megaconvergence Our World @ 2025' on 9 December, 2021. Dr. Vohra is Ambassador of India and Special Advisor to Prime Ministers in Africa and to Autonomous Hill Councils in Ladakh.
Dr. Vohra visited various skill centres in the college and appreciated the facilities and skill training being imparted to the students to make them ready for new India. He applauded the efforts of the college in fostering research in Applied Robotics. He met the trainees seeking training under the Deen Dayal Upadhyaya Grameen Kaushalya Yojana (DDU-GKY) scheme of the Government of India, at the AKGEC Centres of Excellence and motivated them to work hard and pursue their dreams. He also visited the academic areas and the College Faith Centre. As is custom with the College, Dr. Vohra planted a tree in the College lawns.
Dr. Vohra was formally welcomed by the Director General AKGEC by elaborating on his vast experience. Dr. Vohra, a follower of Buddhism, presented the Director General with a customary shawl as a token of respect.
Dr. Vohra addressed a gathering of around 4000 students and faculty members through live broadcast of the session in all classrooms and seminar halls of the institute. Dr. Vohra's address on the topic 'Megaconvergence our World @ 2025' was full of energy, patriotism and self belief. The presentation by Dr. Vohra has given new dimension to the thought process of the students and the faculty members.
At the end of the address, Dr. Vohra was presented momento by Dr. R.K. Agarwal, Director General, AKGEC, as a token of gratitude for sparing time to visit the college and address the students and faculty. Dr. T.R. Pandey, Director, AKGIM, presented the Vote of Thanks.
A Spiritual Talk on "Managing Expectations" was organized by Value Education (VE) Cell, AKGEC, on 27 November, 2021. The talk was conducted by Brahma Kumari Sangeeta Didi, a CA and Tax Consultant by profession, now a spiritualist from the well-known organization Brahma Kumaris. The talk was attended by almost 400 participants; the senior faculty and staff attended physically from the college main seminar hall and others through video conferencing and Google Meet from the other seminar halls and class rooms.
During the talk, BK Sangeeta Didi discussed the golden principle of 'Soul on a Long Journey'. According to her, there are many recordings (Sanskars) on the soul, and they all are different. She also explained the seven virtues of soul i.e., Knowledge, Peace, Purity, Love, Happiness, Bliss and Willpower. At the end of the talk, she advised all to follow three simple acts on a daily basis : (i) I will only give Respect, Peace and Understanding; (ii) I will create No Anger Zone in my area and (iii) Daily start your day with 30 mins on your Personal Growth.
The spiritual talk was followed by a meditation session which filled the audience with peace, bliss and happiness. The Q&A session further enlightened the audience on various aspects related to the theme.
Director General AKGEC, Dr. R.K. Agarwal, presented mementos to both BK Sangeeta Didi and BK Medha Didi. Vote of thanks was delivered by Dr. Gopal Babu to thank the Brahma Kumari sisters for their wonderful session on "Managing Expectations".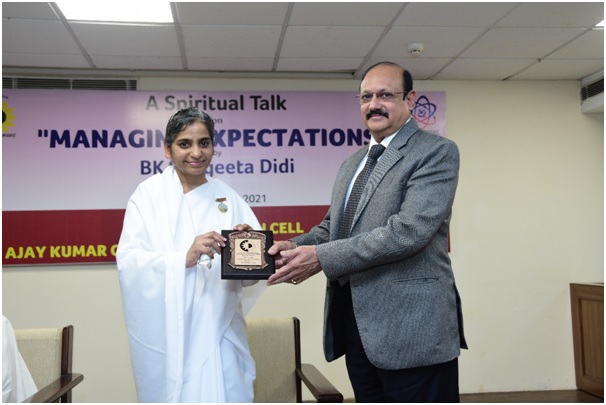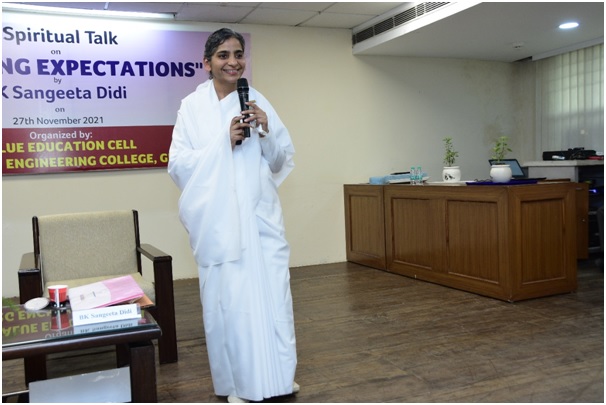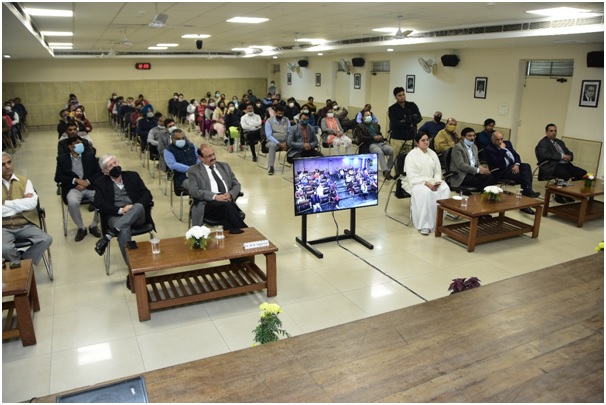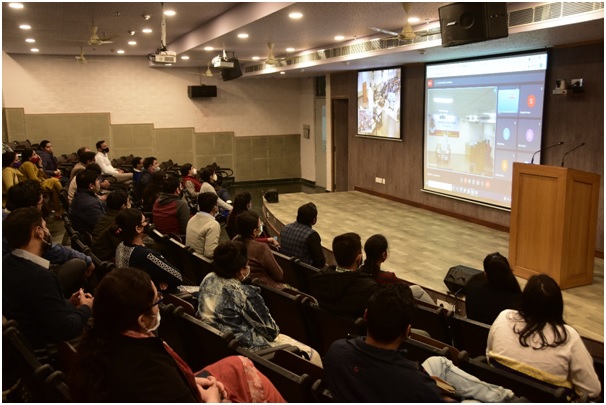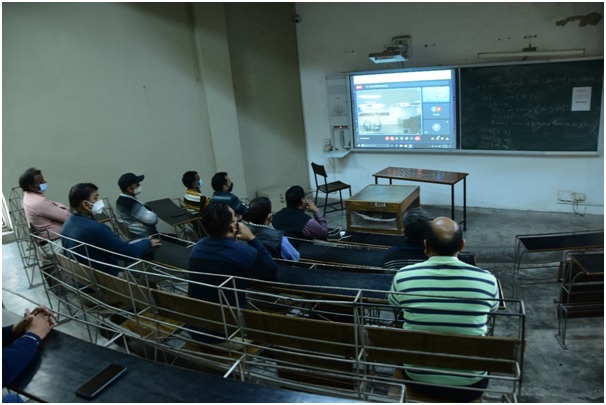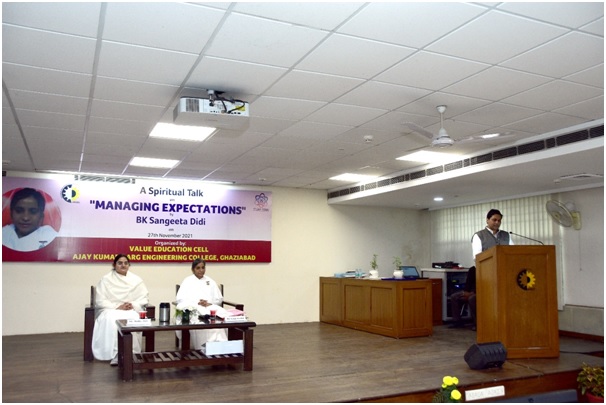 It is a matter of pride for AKGEC that Hon'able Prime Minister Shri Narendra Modi visited AKGEC Skills Foundation (ASF) Stall during visit to Modern Coach Factory (MCF) at Rae Bareli on 16th December 2018. He appreciated the joint efforts of ASF & MCF to conduct First In Plant Robotic Training Program for technical professionals of MCF and other coach factories of Indian Railways.
AKGEC team briefed the Prime Minister on the joint activities conducted by ASF and MCF in recent past in their endeavor to support 'Make in India' and 'Skill India' initiatives of Govt. of India, These included 'Training Program on Smart Manufacturing' conducted at AKGEC Campus for ten young officers of Indian Railways during 17th July'18 to 31st July' 18 and a one day workshop on "Manufacturing Execution System" conducted at MCF plant for senior and middle management of MCF. These are now being followed up with regular inplant training programs conducted by AKGEC at MCF, Rae Bareli.